Feature Articles

October Issue 2001
The Columbia Museum Of Art in Columbia, SC, Presents Tiffany Exhibition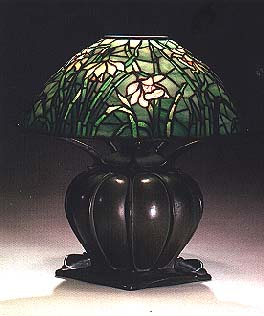 A Private Garden: The Jack and Elaine Folline Collection of the Works of Louis Comfort Tiffany opens at the Columbia Museum of Art on Oct.6 and runs through Jan. 21, 2002. Presenting works crafted in the studios of the well-known leader of the early 20th century's American art glass movement; this exhibition highlights the careful coloration, technical perfection, and love of natural, organic forms that characterized Tiffany's work.
Over a 100 objects dating from the late nineteenth century through the 1920s will be featured, from beautifully iridescent Favrile glass vessels to dramatically glowing lamps, as well as select examples of small bronze accessories. Organized by chronology, technique and decorative motifs, each work reflects the achievements of craftspeople working to create an American expression of Aesthetic movement and Art Nouveau sensibilities.
In the past half century, renewed interest in the artistry of Louis Comfort Tiffany has reestablished the international reputation of this master of American glass design. Born in New York City to the founder of Tiffany & Co., Louis Comfort Tiffany began his career by studying painting with George Inness and Samuel Colman. Prompted by his father's chief designer Edward C. Moore, Tiffany traveled throughout the Mediterranean, which stirred a life-long interest in color theory and exotic motifs. Tiffany's travels not only influenced his career but also acquainted him with the designs of ancient Roman and Islamic glass. While glass eventually offered a new challenge for Tiffany - at first in the form of windows - his next endeavor in design and decorative arts was largely as an interior designer. His commissions for Mark Twain, Cornelius Vanderbilt and the White House under President Chester Arthur earned him an international reputation and great success. By the 1890s Tiffany had focused his interest on glass - whether as windows, lamps, or his acclaimed Favrile glass vessels. America's best-known proponent of the Art Nouveau style, Tiffany's remarkable career spanned over five decades.
This exhibition is organized by the Columbia Museum of Art and is generously sponsored by Blue Cross and Blue Shield of SC and The National Bank of SC.
On Oct. 6, from 2-3pm, Arlie Sulka, Manager, Lillian Nassau Ltd. of New York, NY and Antiques Roadshow appraiser, will give a slide-illustrated lecture and gallery talk entitled, Tiffany Lamps and Their Imitators. The event is free and open to the public.
The museum will be offering guided tours of the exhibit, every Sat. at 12:30pm, beginning on Oct. 13. The tour is free with museum membership or admission.
The museum is also showing the exhibitions: From Fauvism to Impressionism: Albert Marquet at the Pompidou, on view from Oct. 13 through Dec. 30, and Carl Blair: The Patterned Landscape, featuring a striking group of oil paintings and monotypes, on view through Dec. 2.
For more information check our SC Institutional Gallery listings, call the museum at 803/799-2810 or on the web at (http://www.columbiamuseum.org).

[ | October'01 | Feature Articles | Home | ]

Mailing Address: Carolina Arts, P.O. Drawer 427, Bonneau, SC 29431
Telephone, Answering Machine and FAX: 843/825-3408
E-Mail: carolinart@aol.com
Subscriptions are available for $18 a year.
Carolina Arts is published monthly by Shoestring Publishing Company, a subsidiary of PSMG, Inc.
Copyright© 2001 by PSMG, Inc., which published Charleston Arts from July 1987 - Dec. 1994 and South Carolina Arts from Jan. 1995 - Dec. 1996. It also publishes Carolina Arts Online, Copyright© 2001 by PSMG, Inc. All rights reserved by PSMG, Inc. or by the authors of articles. Reproduction or use without written permission is strictly prohibited. Carolina Arts is available throughout North & South Carolina.