Feature Articles


For more information about this article or gallery, please call the gallery phone number listed in the last line of the article, "For more info..."

October Issue 2003
Ann Long Fine Art in Charleston, SC, Features Works by Daniel Graves & Frank Strazzulla, Jr.
Opening Oct. 3, 2003, Ann Long Fine Art in Charleston, SC, will focus on new works from landscape artists Daniel Graves and Frank Strazzula, Jr. through Oct. 31, 2003.
As an art, landscape painting began as a means to preserve the memory of having visited a foreign place before the advent of photography. Today most of us who are able to get away to unspoiled country can preserve our memories with a click of the shutter, but this fact does not take away from the contemporary relevance of landscape painting. Carrying on the legacy that began in Florence, Italy during the Renaissance, Graves and Strazzulla bring to their audiences landscapes rendered in a style inspired by the old Master painters which impregnates the image with a timeless and universally humanistic appreciation of Nature.

Graves graduated from the Maryland Art Institute in 1972 where he studied with Joseph Shepard and Frank Russell. He continued his studies at the Villa Schifanoia Graduate School of Fine Art with Richard Serrin. Following his studies with Rickard Lack in Minneapolis, he taught at the Atelier Lack Studio of Fine Art. In the late 1970s, Graves worked with Nerina Simi, who maintained a classical 19th Century studio. Simi was the daughter of the Florentine painter Filadelfo Simi, who had studied with Jean-Leon Gerome, the head of the French Academy in Paris in the 1870s. From these influences emerged a style that blended the Florentine tradition with the French Academy resulting into a modern approach within the traditions of realistic oil painting.

In 1984, Daniel Graves joined Charles Cecil to found the Atelier Studio Cecil-Graves and trained many contemporary artists who paint in the classical tradition. Seven years later in 1991, Graves went on to found The Florence Academy of Art, which strives to provide the highest level of instruction to train a select group of highly skilled Realist artists.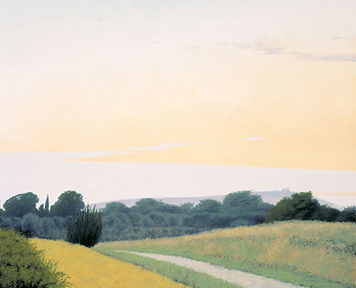 Frank Strazzula
Graves' student Frank Strazzulla, Jr. is counted as an exemplar of such a group. Strazzulla was born in Quincy, MA, and graduated from the Massachusetts College of Art with a Bachelor of Fine Arts in 1980. During college, he traveled to summer programs at the University of London and through Boston University to Florence, Italy. He joined the graduate program at the Villa Schifanoia as Graves did before him. While there Strazzulla started a friendship with classical realist Ben Long. At Long's suggestion, Strazzulla enrolled at the Studio Cecil-Graves, where he became well-versed in the 19th Century Parisian atelier method. After his return to the United States and Boston he discovered another mentor in Robert Cormier, who went on to become the President of the Guild of Boston Artists. For such a young artist, Strazzulla's career is in full bloom. Extensively shown throughout the South, Midwest and North America as well as in Florence, Italy, he is also collected at the Hilstead Museum in Farmington, CT, and has a large private patronage as well as winning several awards from the Copley Society in Boston.

The works to be featured at Ann Long Fine Art this October encompass Graves' and Strazzulla's American and European landscapes.

For more information check our SC Commercial Gallery listings or call the gallery at 843/577-0447 or on the web at (www.annlongfineart.com).


[ | Oct03 | Feature Articles | Gallery Listings | Home | ]

Carolina Arts is published monthly by Shoestring Publishing Company, a subsidiary of PSMG, Inc.
Copyright© 2003 by PSMG, Inc., which published Charleston Arts from July 1987 - Dec. 1994 and South Carolina Arts from Jan. 1995 - Dec. 1996. It also publishes Carolina Arts Online, Copyright© 2003 by PSMG, Inc. All rights reserved by PSMG, Inc. or by the authors of articles. Reproduction or use without written permission is strictly prohibited. Carolina Arts is available throughout North & South Carolina.