Feature Articles


For more information about this article or gallery, please call the gallery phone number listed in the last line of the article, "For more info..."

October Issue 2003
The Charles Street Gallery in Beaufort, SC, Features Works by Maggie Keyserling & Cassandra M. Gillens
Elvis is in the building! From Oct. 1 - 18, 2003, The Charles Street Gallery in Beaufort, SC, will feature the exhibit, Elvis, Bond & Beyond, featuring a decoupage hommage to The King by Maggie Keyserling. And, from Oct. 20 - Nov. 8, 2003, works by Cassandra M. Gillens will be presented.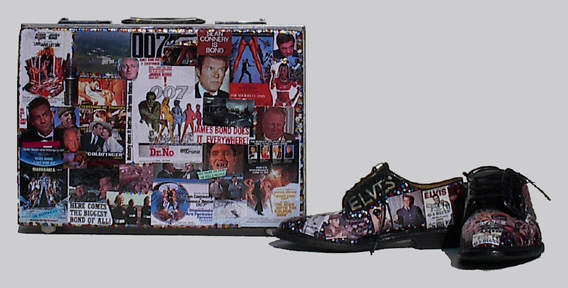 Maggie Keyserling
Maggie Keyserling is a graduate of the United States Air Force Academy. Before moving to Beaufort, where she began to explore her interests in art, Keyserling served as a Captain in the Air Force and worked as an undercover police officer in St. Petersburg, FL. She has written a memoir about her police work and two screen plays, both of which were recognized in regional and national competitions. Turning to the visual side, Keyserling discovered the art of decoupage and married it to her love of Elvis Presley, which led to this show.

Ask Keyserling why she's an Elvis fan and she'll tell you that he "was a revolutionary force in music history". Ask her why she pasted thousands of images of him onto furniture and canvases, and she'll tell you how the post-comeback Elvis reminds her "of a simpler, stress-free, non-carb-counting time" in her life. The King represents a carefree childhood, and offers a connection to her parents: listening to American Trilogy in the car with her father and the memory that Elvis concerts made her mother happy "in a way nothing else did".
In reflecting on her fascination with Elvis, Keyserling confides, "...when my suspicious mind works overtime, and I think everyone's a devil in disguise, Elvis enters the building and welcomes me to his world. I play my Aloha compact disc and dance like crazy... just like I did as a child back home in Paducah, Ky."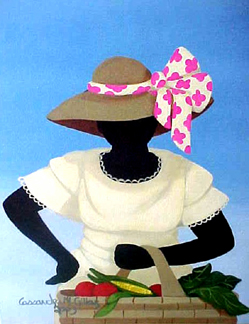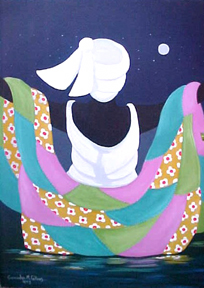 Cassandra M. Gillens
Cassandra M. Gillens is a self-taught artist, residing in Beaufort, SC. Although she was raised in Massachusetts, her childhood visits to the Lowcountry provide the inspiration for her art. Gillens' paintings show her love of the area and its culture in the vivid colors of the southern seasons and images of good old southern living.

Gillens is a member of The Beaufort Arts Association, whose paintings can be found in private collections throughout the United States. She has been featured in Southern Living, Skirt, and United Airlines' Magazine. Her participation in one of the Piccolo Spoleto Festival art exhibits resulted in a sell out.

For further information check our SC Commercial Gallery listings or call the gallery at 843/521-9054.
[ | Oct03 | Feature Articles | Gallery Listings | Home | ]

Carolina Arts is published monthly by Shoestring Publishing Company, a subsidiary of PSMG, Inc.
Copyright© 2003 by PSMG, Inc., which published Charleston Arts from July 1987 - Dec. 1994 and South Carolina Arts from Jan. 1995 - Dec. 1996. It also publishes Carolina Arts Online, Copyright© 2003 by PSMG, Inc. All rights reserved by PSMG, Inc. or by the authors of articles. Reproduction or use without written permission is strictly prohibited. Carolina Arts is available throughout North & South Carolina.