Feature Articles


For more information about this article or gallery, please call the gallery phone number listed in the last line of the article, "For more info..."

October Issue 2003
Coleman Fine Art in Charleston, SC, Features New Works by Mary Whyte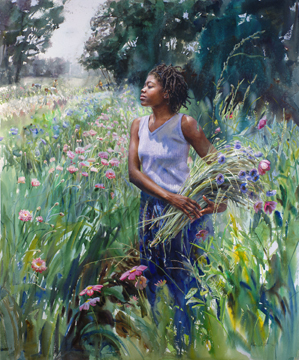 Recent works by Mary Whyte build upon the tradition of Charleston, SC's visual artists such as Alice Ravenel Huger Smith and Elizabeth O'Neill Verner. Like these artists, Whyte records the stories of the African Americans of the Lowcountry in watercolor. Mary Whyte's highly anticipated show, Intertwined: A Painters Journal of an Everchanging Culture, will open Nov. 7, and continue through Dec. 7, 2003, at Coleman Fine Art, located in downtown Charleston, SC. The exhibit opening corresponds with the Fifth Fine Art Annual, hosted by the Charleston Fine Art Dealers' Association. The gallery will donate 10% of all sales to the Hebron Zion Church of where Whyte finds many of her models.
Intertwined will explore aspects of life in the South Carolina Lowcountry, the genre for which Whyte is most recognized. Images of young children wrapped in quilts and older women cooking in a steamy kitchen will be abundant in the upcoming exhibit, and will hearken to Whyte's newly acclaimed book, Alfreda's World (Wyrick & Company).
Every painting tells its own story and reveals the true spirit of the model. One wonders what stories models Alfreda and Georgeanna could tell us from the many meals they have prepared and shared with others. Whyte paints her subjects during private moments that we would normally not have the privilege of seeing and has the capability of transferring the ordinary into nothing less than extraordinary.
Whyte is most recognized for her watercolor portraits and her Lowcountry Series, a moving collection of watercolors that depict the rich heritage and culture of the Gullah people. Her work is exhibited in over two hundred corporate, university, museum, and private collections. Whyte has been teaching for over twenty years and is the illustrator of more than a dozen children's books. She has written several feature articles for American Artist, The Artist's Magazine and Watercolor magazines. She is also the author of the popular instructional book, Watercolor for the Serious Beginner, published by Watson-Guptill and now in its fifth printing.
The Hickory Museum of Art in Hickory, NC, is presenting an exhibition of works by Whyte entitled, Mary Whyte: Alfreda's World - Paintings of Life in the South Carolina Lowcountry, featuring an amazing collection of watercolors depicting scenes of everyday life on Johns Island, a barrier island of the South Carolina coast. The exhibit is on view from Oct. 4 through Jan. 4, 2004.
For more info check our SC Commercial Gallery listings, contact the gallery at 843/853-7000, e-mail to (info@colemanfineart.com), or on the web at (www.colemanfineart.com)
[ | Oct03 | Feature Articles | Gallery Listings | Home | ]

Carolina Arts is published monthly by Shoestring Publishing Company, a subsidiary of PSMG, Inc.
Copyright© 2003 by PSMG, Inc., which published Charleston Arts from July 1987 - Dec. 1994 and South Carolina Arts from Jan. 1995 - Dec. 1996. It also publishes Carolina Arts Online, Copyright© 2003 by PSMG, Inc. All rights reserved by PSMG, Inc. or by the authors of articles. Reproduction or use without written permission is strictly prohibited. Carolina Arts is available throughout North & South Carolina.