Feature Articles


For more information about this article or gallery, please call the gallery phone number listed in the last line of the article, "For more info..."

October Issue 2003
Converse College in Spartanburg, SC, Features Works by Johnnie Lee Gray, Mike Corbin and Mark Olencki
Original paintings by Johnnie Lee Gray will be exhibited in the Milliken Art Gallery at Converse College in Spartanburg, SC, through Oct. 10, 2003. From Oct. 14 - Nov. 14, 2003, the Milliken Art Gallery will showcase original works by respected photo-artists Mike Corbin and Mark Olencki.
The 22 original paintings by Johnnie Lee Gray on exhibit are being shown for the first time publicly.

Born in Spartanburg in 1941, Gray was a self-taught painter for most of his life. The majority of his work centers upon life in the African-American community during the Jim Crow era. Gray was largely ignored by the public and critics alike until 2002 - two years after his death - when the New York Life Insurance Company committed sponsorship for a nationwide touring exhibit of much of his work. The exhibit has been shown at the Russell Rotunda in Washington, DC; Forbes Galleries in NYC; Schomburg Center for Research in Black Culture in NYC; the Chicago Historical Society; and the Atlanta History Center. The exhibit will also be seen at the Main Gallery of California State University in LA.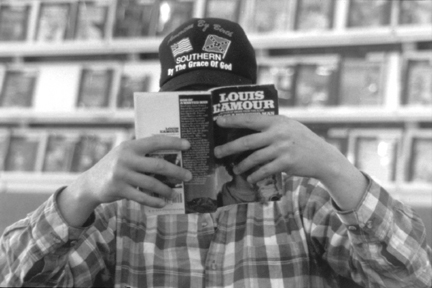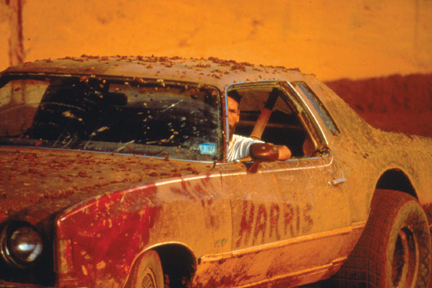 Photos by Mike Corbin
Mike Corbin has taught art and photography to junior high school students and at Converse College as an adjunct professor for many years. "For me," he says, "the most satisfying part of the kind of photography that I do is in the journey. The places and people that I have gotten to know through the camera are unforgettable to me."
A photo-documentary by Corbin of a family peach farm has been part of a traveling exhibit that has visited Charlotte, NC, Washington, DC, and Oxford, MS. This particular documentary eventually led to his book, Family Trees (1998).
As his work became recognized, Corbin became a highly sought after commissioned photographer. In 1998, he was commissioned to document people, places, and events in five counties of the Carolinas in 1998 for the Spartanburg Regional Medical Center, a project which resulted in over 200 photographs in the permanent collection of the Gibbs Cancer Treatment Center at the hospital. In 2000-01, Corbin completed a corporate collection of over 80 works documenting people in Spartanburg for the First National Bank of Spartanburg. Another project involved taking portraits and making recordings to mark the close of the Riverdale textile mill in Enoree. The portraits and interviews were included in Textile Town: The History of the Textile Industry in Spartanburg County.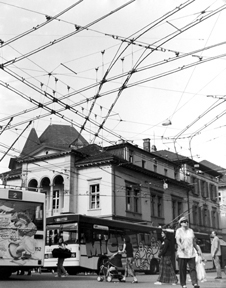 Photo by Mark Olencki
During the exhibit at the Milliken Gallery, Mark Olencki will showcase photographs that were taken during a cultural exchange program sponsored by the Arts Partnership of Greater Spartanburg and Winterthur, Switzerland in 2001. "These photographs depict all aspects of the Swiss peoples, cultures, buildings, and everyday life," said Olencki. "They truly show how everyday people live in Switzerland."
Commercial work by Olencki has appeared in numerous books, magazines, newspapers, and specialty business publications in the Southeast. His photographs are included in the permanent collection of the State of SC, as well as private collections of many corporations and individuals. His graphic designs and photography have been featured in all 16 books of the Hub City Writers Project, and two books produced by the Spartanburg Chamber of Commerce.
For more information check our SC Institutional Gallery listings, call the gallery at 864/596-9181 or e-mail to (art.design@converse.edu).



[ | Oct03 | Feature Articles | Gallery Listings | Home | ]

Carolina Arts is published monthly by Shoestring Publishing Company, a subsidiary of PSMG, Inc.
Copyright© 2003 by PSMG, Inc., which published Charleston Arts from July 1987 - Dec. 1994 and South Carolina Arts from Jan. 1995 - Dec. 1996. It also publishes Carolina Arts Online, Copyright© 2003 by PSMG, Inc. All rights reserved by PSMG, Inc. or by the authors of articles. Reproduction or use without written permission is strictly prohibited. Carolina Arts is available throughout North & South Carolina.