Feature Articles


For more information about this article or gallery, please call the gallery phone number listed in the last line of the article, "For more info..."

October Issue 2003
The Arts Center in Hendersonville, NC, Features Ceramic Works by Picasso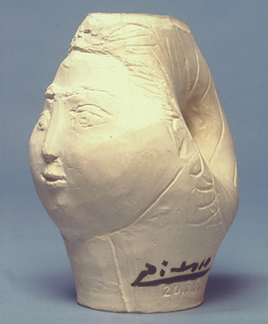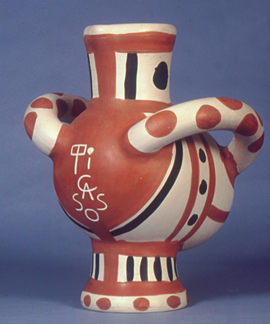 The Arts Center in Hendersonville, NC, will present Picasso: 25 Years of Edition Ceramics from the Edward and Ann Weston Collection, from Oct. 7 through Dec. 20, 2003. This exhibit is made possible with funding from the Perry N. Rudnick foundation.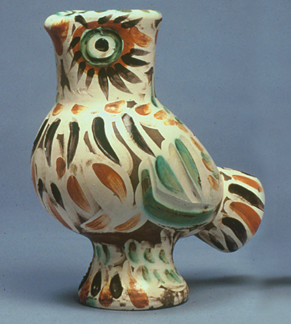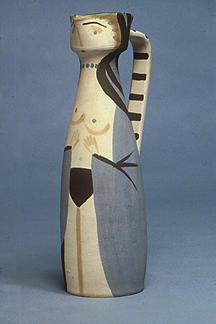 The exhibition presents a selection of the ceramics created by Pablo Picasso in collaboration with George and Suzanne Ramie and the artisans at their Madoura pottery workshop in Vallauris, Southern France, between the years 1947 and 1971. Included in the exhibition are 65 ceramic works - plates, bowls, pitchers, and vases, and plaques, plus posters from previous Picasso ceramics exhibitions and photographs of Picasso at work at the Madoura workshop. The exhibition, organized by Landau Traveling Exhibitions, will be exhibited at more than 25 venues during its national museum tour which continues through 2006.
Internationally famed for his paintings, sculpture, and graphics, Pablo Picasso (1881-1973) was long intrigued by ceramics. After seeing the works of the Madoura potters at a crafts fair in 1946, he asked Georges and Suzanne Ramie, who operated the studio, to provide him with the opportunity to work with ceramics.
From 1947 to 1971 the Ramies set aside space in their studio for Picasso to create whenever he pleased. In return, Picasso allowed the Ramies to make and sell editions of ceramic pieces he produced at Madoura, and to retain all profits. Picasso also made thousands of individual ceramic pieces. He kept virtually all of his own thrown pieces, most of which are now owned by his family or by museums.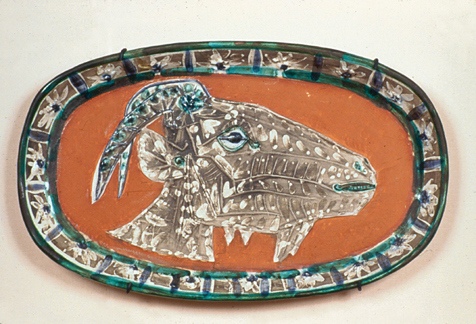 Over the years, Picasso and the Madoura studio produced 633 different plates, bowls, vases and pitchers, in limited editions ranging from 25 to 500. Picasso's involvement in producing the objects varied. Sometimes he made the clay molds used for designs, while other times he painted on plates or pitchers taken from the drying racks. Picasso and Madoura's artisans then finished the prototypes and produced the editions.
The Edward and Ann Weston Collection of Picasso Edition Ceramics of Los Angeles, CA, includes more than 200 pieces. Edward Weston purchased his first Picasso ceramic work on a trip to Vallauris in the 1950's. In the mid-1980's the Westons began to build their collection, now one of the largest in the United States.
The exhibition was curated by Gerald Nordland, noted author and independent curator, and former Director of the San Francisco Art Museum, The Milwaukee Art Museum, The Washington (DC) Gallery of Modern Art, and The Wight Gallery, UCLA.
The Arts Center is a community-supported arts venue that receives no local, state or federal funding. Founded in 1992, its mission is to bring arts experiences to a diverse community in western North Carolina. Previously, The Arts Center has presented works by such artists as Salvador Dali, Ansel Adams and Norman Rockwell. It is located on Main Street, on the second floor of the historic Skyland Hotel, where legend holds that F. Scott Figerald lived and wrote while Zelda was an in-patient in a hospital in nearby Asheville, NC.
For more info check our NC Institutional Gallery listings, call the center at 828/693-8504, or on the web at (www.theartscenterofhc.com).
[ | Oct03 | Feature Articles | Gallery Listings | Home | ]

Carolina Arts is published monthly by Shoestring Publishing Company, a subsidiary of PSMG, Inc.
Copyright© 2003 by PSMG, Inc., which published Charleston Arts from July 1987 - Dec. 1994 and South Carolina Arts from Jan. 1995 - Dec. 1996. It also publishes Carolina Arts Online, Copyright© 2003 by PSMG, Inc. All rights reserved by PSMG, Inc. or by the authors of articles. Reproduction or use without written permission is strictly prohibited. Carolina Arts is available throughout North & South Carolina.