Feature Articles


For more information about this article or gallery, please call the gallery phone number listed in the last line of the article, "For more info..."

October Issue 2003
HoFP Gallery in Columbia, SC, Features Works by Jan Clayton Pagratis and Phillip Clark
HoFP Gallery in Columbia, SC, is hosting Jewel Tones featuring new original oils and pastels by Jan Clayton Pagratis and handmade jewelry by Phillip Clark. The show will run from Oct. 16 through Nov. 8, 2003.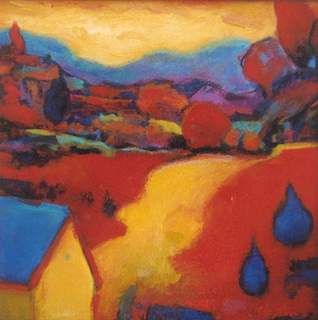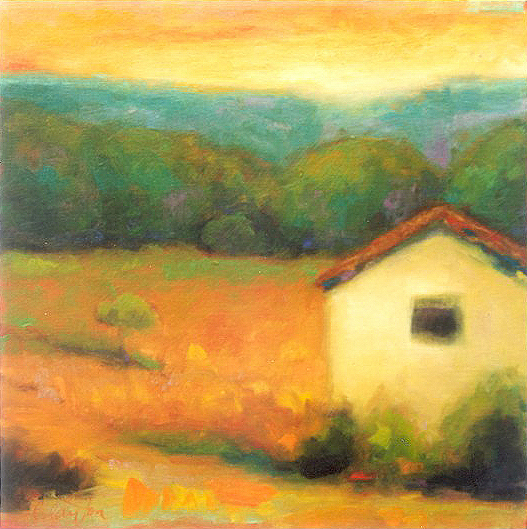 Jan Clayton Pagratis
Jan Clayton Pagratis paints with a balanced mixture of light and dark values to create colorful landscapes. Her palette includes vibrant primary colors, rich golden tones, and brilliant greens. Her compositions are multi-layered with light, producing many unusual shades. Altruistic colors saturate her entire canvas. The final product is a masterful presentation of an impressionistic vision of the world. As the viewer, your eye moves effortlessly through the artist's alternative world. The journey through this land is not passive. Because there is a European familiarity to Pagratis' landscapes, you will be challenged to recall where you have seen some of these vistas. In actuality, they exist only in her mind. Pagratis describes her work best with, "Carmine clouds, steel gray curbs, red clay rooftops; these are pieces of imagery that spill onto the canvas as I work."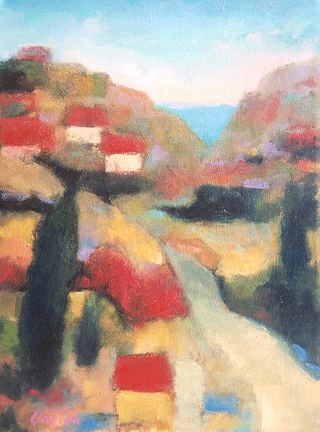 Jan Clayton Pagratis
A native of Miami, FL, Pagratis currently lives in Savannah, GA. She earned her BA from the University of Maryland and her MFA from George Washington University. She began exhibiting in 1991 and has had numerous shows since then. Her work is in over 20 public and private collections. Pagratis has been featured in many publications. Coastal Arts & Antiques states that Pagratis is an artist to collect. Most recently, she has been featured on the cover of the Sept. 2003 issue of Southern Living magazine.

Phillip Clark creates unusual and striking handmade jewelry. Whimsical, intriguing, light-hearted, even fantastical have all been used to describe his unique creations. For his pieces, Clark uses genuine stones (precious and semi-precious), and silver. A new series he is working on uses coins from around the world. Some coins are no longer in production or are from a country that no longer exists. Another series includes many members of the oft maligned insect family. Lady bugs and spiders gleam in brilliant jewel tones. His average piece takes 16-18 hours to complete.
Clark is a native of Aiken, SC, currently residing in Columbia. He earned his BA from the University of South Carolina. He studied studio art and majored in painting. Post academia Clark was a visual manager and a member of the Design Team for a well-known, high-end retailer. After a successful career with many innovative designs, Clark left for Spain to launch an apparel line. While in Spain he was inspired by Giselle Sanchez to create jewelry. Upon completion of his first piece (turquoise) he promptly sent it to her. A new career was born.

For more information check our SC Commercial Gallery listings, call the gallery at 803/799-7405, or on the web at (www.hofpgallery.com).
[ | Oct03 | Feature Articles | Gallery Listings | Home | ]

Carolina Arts is published monthly by Shoestring Publishing Company, a subsidiary of PSMG, Inc.
Copyright© 2003 by PSMG, Inc., which published Charleston Arts from July 1987 - Dec. 1994 and South Carolina Arts from Jan. 1995 - Dec. 1996. It also publishes Carolina Arts Online, Copyright© 2003 by PSMG, Inc. All rights reserved by PSMG, Inc. or by the authors of articles. Reproduction or use without written permission is strictly prohibited. Carolina Arts is available throughout North & South Carolina.