Feature Articles


For more information about this article or gallery, please call the gallery phone number listed in the last line of the article, "For more info..."

October Issue 2003
I. Pinckney Simons in Beaufort, SC, Features Works by Mike Williams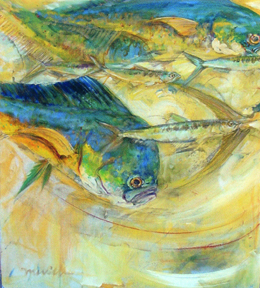 The I. Pinckney Simons Gallery in Beaufort, SC, will celebrate the fall season with an exhibition of the wildly exuberant original fish paintings by the highly collected SC artist Mike Williams, on view Oct. 1 - 31, 2003. The featured works are dominated by the Palmetto State's flamboyant and challenging game fish which include tuna, dolphin, tarpon, red fish, and flounder.
Painting what he knows in Williams' case means fish, swamps, and the landscapes of his native SC. But to these traditional themes, Williams brings a modern, often semi-abstract, fiercely expressionist style. He paints all-out but deliberately. He is unafraid to apply paint, lots of paint, but sufficiently restrained to make his action on flat space work the way he wants it to. That approach has made the 39-year-old painter and sculptor one of SC's most successful young artists, both in terms of critical acclaim and commercial success.
Williams, who lives in Columbia, SC, has been hunting and fishing since he was a little boy in Sumter, SC. "When I am out there and squint my eyes, that's really what I see," he says about both real swamps and his painted reality. Williams' subject matter automatically expands his potential audience beyond what modem painters often can expect. But he doesn't lose the modem-art aficionados in the process and at the same time gives more traditional art lovers a clean shot at learning to appreciate contemporary art. Williams paints anything from small pieces on masonite to huge canvasses and even bigger murals.
Williams the sculptor works with welded metal and steel. He builds small metal wall pieces, large sculptures, and enormous installations such as the elaborate groupings of metal fish hanging from the ceilings of restaurants in North and South Carolina. While the fish are representational, Williams' sculpture includes semi-representational and purely abstract work that often combines organic and geometric forms.
"Abstract shapes suggest reality and exist in reality," Williams says. And so, when Columbia in 2000 decorated the town with 85 Palmetto trees, Williams produced a realistic-looking tree welded together from cut metal, individually rather abstract pieces. At auction, his palmetto creation fetched the highest bid.
Williams has been making art since 1988, two years before he graduated with a BFA studio degree from the University of South Carolina. His work has been shown in individual and group exhibitions across the Southeast and beyond. Williams was part of a 2000 group show at the SC State Museum in an exhibition that also traveled to the Lake County Museum in Chicago. In addition to many private and corporate collections, Williams' work is in the Columbia Museum of Art and in public spaces in Charlotte, NC, Columbia, and Sumter.
"Art making is the most mentally and physically challenging activity I've yet to find" says Williams, "and that is what keeps me inspired!"
For more info check our SC Commercial Gallery listings, call the gallery at 843/379-4774, or email to (simonsgallery@aol.com).
[ | Oct03 | Feature Articles | Gallery Listings | Home | ]

Carolina Arts is published monthly by Shoestring Publishing Company, a subsidiary of PSMG, Inc.
Copyright© 2003 by PSMG, Inc., which published Charleston Arts from July 1987 - Dec. 1994 and South Carolina Arts from Jan. 1995 - Dec. 1996. It also publishes Carolina Arts Online, Copyright© 2003 by PSMG, Inc. All rights reserved by PSMG, Inc. or by the authors of articles. Reproduction or use without written permission is strictly prohibited. Carolina Arts is available throughout North & South Carolina.