Feature Articles


For more information about this article or gallery, please call the gallery phone number listed in the last line of the article, "For more info..."

October Issue 2003
Redux Center in Charleston, SC, Features Art in a Suitcase
Redux Contemporary Art Center in Charleston, SC, will present a traveling exhibition organized by the Tri State Sculptors Educational Association, entitled, The Suitcase Show, from Oct. 9 through Nov. 6, 2003.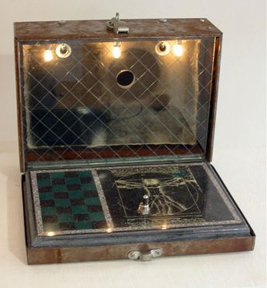 Michael Fels
Tri State Sculptor (TSS) members were invited to create new and/or submit existing work for a traveling sculpture exhibition that will be whisked - via suitcase - to various locations within the US and - with any luck - abroad. The concept for the exhibition is to meet with and temporarily exchange work with other sculptors internationally. The maximum size of the work is to be no larger than 12 x 14 x 16 inches (30 x 35 x 40 cm). When the show travels to any given location, the idea is not only to set up an exhibition of current work, but also to leave with our bags packed with the work of the sculptors of that region. Then TSS will set up an exhibition of their work in other locations.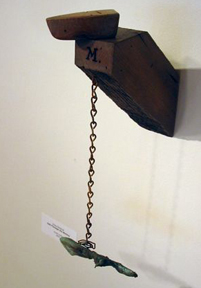 Greg Shellnut
"In the post 9/11 world, there is even more need to attempt cross-border communication," said The Suitcase Show curator, Greg Shelnutt. "The most important aspect of this entire process is the dialogue. Even in the era of e-mails, faxes and instant messaging, nothing can replace direct human contact."

"It's been difficult to find overseas venues for the show," lamented Shelnutt. "In a strange way, that almost proves the point for the show; what the worlds needs now, perhaps more than ever, is direct human communication. Talking and sharing our creative labors with the world," says Shelnutt.
The Tri State Sculptors Educational Association was formed in 1978 by a group of sculptors from Virginia, North Carolina, and South Carolina to promote public awareness and appreciation of sculpture in the region and to exchange ideas and information among its members. The organization holds annual fall conferences with concurrent exhibitions. Presentations cover a wide range of topics of interest to sculptors and those interested in sculpture - casting techniques, public art, studio hazards, gallery relations, etc. Each spring there is a more informal conference when members can get together to share ideas and socialize. Other events and exhibitions are organized each year as the need or opportunity arises. Members also stay connected and informed through a quarterly newsletter, The TSS Sculptor's Voice. For further info check out their web site at (www.tristatesculptors.org).
On Oct. 31, 2003, from 9pm-until, Redux Contemporary Art Center presents, The Redux Halloween Bash, featuring 4 musical acts including a string duet, Mount Saint Stereo, Zonaea, and the Hayloft Saints! Admission will be $5 per person. There will also be a costume contest and many beverages! And, for one night only on display in Gallery B: the eerie work of Tiffany Cole.
For further information check our SC Institutional Gallery listings, call the Center at 843/364-2958 or at (www.reduxstudios.org).
[ | Oct03 | Feature Articles | Gallery Listings | Home | ]

Carolina Arts is published monthly by Shoestring Publishing Company, a subsidiary of PSMG, Inc.
Copyright© 2003 by PSMG, Inc., which published Charleston Arts from July 1987 - Dec. 1994 and South Carolina Arts from Jan. 1995 - Dec. 1996. It also publishes Carolina Arts Online, Copyright© 2003 by PSMG, Inc. All rights reserved by PSMG, Inc. or by the authors of articles. Reproduction or use without written permission is strictly prohibited. Carolina Arts is available throughout North & South Carolina.