Feature Articles


For more information about this article or gallery, please call the gallery phone number listed in the last line of the article, "For more info..."

October Issue 2003
Somerhill Gallery in Chapel Hill, NC, Features Works by Mark Chatterley and Rodger Bechtold
Somerhill Gallery in Chapel Hill, NC, announces a two person exhibition of recent works by Mark Chatterley, featuring ceramic sculpture; and Rodger Bechtold, featuring landscape paintings. The exhibition will be on view through Oct 24, 2003.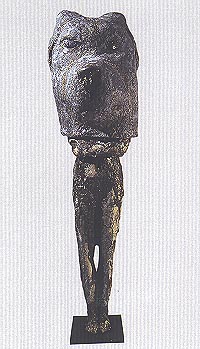 Mark Chatterley
Chatterley explores the common images of the human condition. He describes his own work as "ancient representations of the soul", and asks his viewers to visualize what his sculptures are thinking and feeling. The abstracted figures sculpted in clay, in a variety of scales, are often life sized. Textures ranging from shiny metallic to crusty, weathered surfaces imbue each work with unique identities, harkening to a universally understood visual vocabulary. "I apply the glazes with brushes, flinging them everywhere in a painterly frenzy" exclaims Chatterley. From tranquil dream-like states to provocative soulfulness, Chatterley has the masterful ability to evoke a wide array of emotion in his audience.
Gallery Director Joe Rowand recently commented, "Mark's sculpture seems to evoke a mystery of past civilizations now hidden in a subterranean grotto. I live with his work at my residence and their mysteries are constantly morphing into unknown illusions of somewhere else."
Chatterley received both his BA and MFA degrees from Michigan State University. He has exhibited widely throughout the United States. His works can be found in many public and private collections, including the NC State University Visual Arts Center, Radison Aruba Resort and Casino, Williamston Elementary School, and the Holocaust Museum of St. Petersburg, FL. In addition, he has also taught advanced-level ceramics at Michigan State University.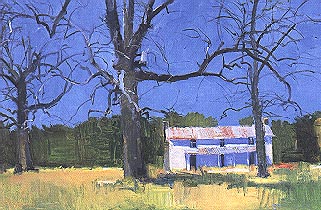 Rodger Bechtold
Rodger Bechtold's often large scale contemporary landscapes take the traditional landscape to the next level. Bechtold's canvases seem to vibrate with radiant light and vivid color. In response to a recent visit to North Carolina's Orange County, Bechtold was inspired to create a dazzling new group of paintings, offering rich views of Orange County's fabulous rolling landscapes. In the tradition of the plein air painters, Bechtold paints many of his scenes outdoors in the field. "Rodger's heightened color sense and his ability to transform a literal image into one of a captured essence makes him one of Somerhill's most unique and important artists." says Joe Rowand.
Illinois resident, Bechtold, has studied at the American Academy of Art, Chicago, IL, and the School of the Art Institute also in Chicago. In addition, he has studied extensively with artist Wolf Kahn. He has exhibited throughout the United States and is a recipient of numerous awards. His work is included in a number of public and private collections including Central Carolina Bank in North Carolina, and the Weidner Center for Performing Arts of Wisconsin. Rodger Bechtold was honored by being included in the First Glance Books publication The Artist and the American Landscape by John Driscoll and Arnold Skolnick. This book is the most comprehensive survey of contemporary landscape painting in the United States. The artist resides in both northern Illinois and Washington Island, Wisconsin.
For more information check our NC Commercial Gallery listings, Call the gallery at 919/968-8868 or view the exhibit online at (www.somerhill.com).
[ | Oct03 | Feature Articles | Gallery Listings | Home | ]

Carolina Arts is published monthly by Shoestring Publishing Company, a subsidiary of PSMG, Inc.
Copyright© 2003 by PSMG, Inc., which published Charleston Arts from July 1987 - Dec. 1994 and South Carolina Arts from Jan. 1995 - Dec. 1996. It also publishes Carolina Arts Online, Copyright© 2003 by PSMG, Inc. All rights reserved by PSMG, Inc. or by the authors of articles. Reproduction or use without written permission is strictly prohibited. Carolina Arts is available throughout North & South Carolina.