Feature Articles


For more information about this article or gallery, please call the gallery phone number listed in the last line of the article, "For more info..."

October Issue 2003
Wickwire Gallery in Hendersonville, NC, Presents Annual Exhibit Honoring Sandburg's Connemara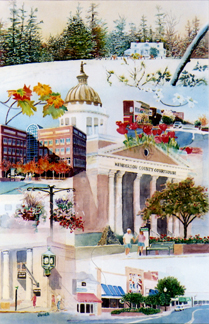 Al Junek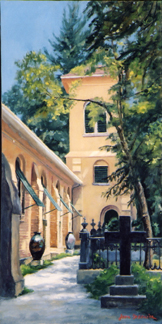 Jane Desonier
WICKWIRE fine art/folk art, in historic downtown Hendersonville, NC and co-sponsor Hand In Hand Gallery, in historic Flat Rock, NC, are proud to present a Fourth Annual, City of Four Seasons in Two Dimensions, juried competition and exhibition of two-dimensional art. The exhibit will be on view from Oct. 24 - Nov. 30, 2003, at both galleries.
Hank T. Foreman, Director and Chief Curator of the Turchin Center for the Visual Arts at Appalachian State University, Boone, NC - the largest visual arts center in northwestern North Carolina, eastern Tennessee, and southwestern Virginia, will judge the competition. As art administrator for the Center that exhibits a blend of new and historically important art work and features works of nationally and internationally renowned artists as well as many of the finest artists of the region, Foreman's professional activities include lecturing and designing exhibitions. Foreman received his BCA in Painting and Sculpture from the University of North Carolina at Charlotte and his MA in Art Education from Appalachian State University.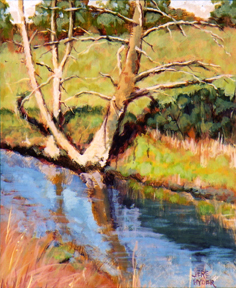 Jere Hyder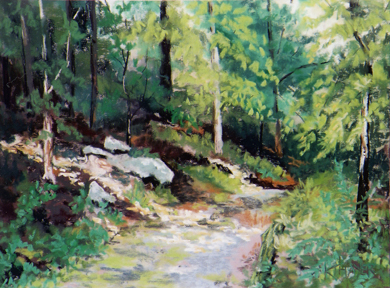 Kate Thayer
Participating artists will depict views and visions of Connemara (home and grounds) in recognition of the 35th Anniversary of the Carl Sandburg Home National Historic Site. From the surrounding landscape rich in natural beauty and abundant in history, artists will glean their own, individual and distinctly unique interpretations of the timeless home and grounds. WICKWIRE gallery owner, Shirley Palmer-Hill and Hand in Hand Gallery owners, Molly Sharp and David Voorhees collaborated to create an opportunity for artists and the community to reflect on all that has made this national historic site such a unique place to visit in Western North Carolina.

Sharp and Voorhees have created a place where they could share their love of fine handcrafted art with others, as well as the inspiration and joy found in creating their work, hand in hand... they are artists in their own right, and together their union opened Hand in Hand Gallery in 1996.

Works of over 80 regional artists in a variety of media in both fine crafts and fine art are featured. Since 1998, WICKWIRE fine art/folk art has provided exceptional art choices in an environment for reflection and inspiration -". . . where the heart finds art." Original paintings, American handmade craft and handcrafted furniture are offered on two floors of open, refreshing gallery space.

For further info check our NC Commercial Gallery listings, contact Wickwire at 828/692-6222, e-mail at (wickwire@bellsouth.net) and at (www.wickwireartgallery.com) and Hand and Hand Gallery at 828/697-7719, e-mail at (info@handinhandgallery.com) and at (www.handinhandgallery.com).
[ | Oct03 | Feature Articles | Gallery Listings | Home | ]

Carolina Arts is published monthly by Shoestring Publishing Company, a subsidiary of PSMG, Inc.
Copyright© 2003 by PSMG, Inc., which published Charleston Arts from July 1987 - Dec. 1994 and South Carolina Arts from Jan. 1995 - Dec. 1996. It also publishes Carolina Arts Online, Copyright© 2003 by PSMG, Inc. All rights reserved by PSMG, Inc. or by the authors of articles. Reproduction or use without written permission is strictly prohibited. Carolina Arts is available throughout North & South Carolina.