Feature Articles


For more information about this article or gallery, please call the gallery phone number listed in the last line of the article, "For more info..."

October Issue 2003
Wildwoods Gallery in Boone, NC, Features Woodworks by Heritage Artist Jim McGie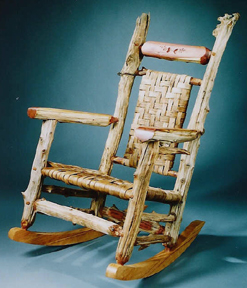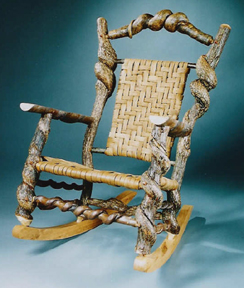 Anyone who appreciates the craft of woodworking should not miss, The Process of Handcarved Rockers, featuring work by Tennessee artist Jim McGie. He is now showing a collection of work at Wildwoods Gallery in Boone, NC, through Dec. 22, 2003.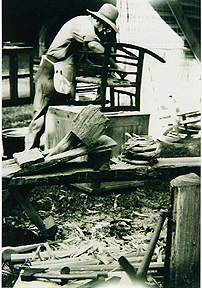 McGie is one of only a handful of craftsman who still work by the old ways of the Smoky Mountain woodworker: using only traditional hand tools. Sitting in one of his rockers is like sitting in piece of Smoky Mountain history.
McGie's story is just as interesting as the rockers he makes. He lives in a non-electric, horse and buggy community in the hills of Tennessee. Here, he and his wife are raising eight children while maintaining old time living. McGie and his family are helping preserve a lifestyle that has virtually disappeared. He welcomes visitors to his home and workshop for demonstrations and a chance to share in the history of the Smoky Mountain woodworker. He also teaches various workshops, keeping alive the old ways of the Smokey Mountain woodworker. Among the workshops he offers are Gathering and Using Hickory Bark, Shaving Horse Construction, Dough Bowls and Tools of the Appalachian Craftsman.
McGie is a master Heritage Artist who has been recognized by both the Southern Highlands Craft Guild and the Foothills Craft Guild for his pieces that are made just as they were in days gone by. He travels the East selling his one-of-a-kind traditional family heirlooms, in addition to rockers; he also makes rustic bark baskets, hand-carved spoons and dough bowls, footstools and benches.
The creation process of his rockers begins with finding the perfect piece of wood in the forests of Tennessee. Once he finds the wood, he removes the limbs and the trunk is pulled to his workshop by a pair of draft horses or mules. There, it is cut into sections by a crosscut saw. A section of the log is split with a froe and a large wooden mallet (called a froe club). The piece is first split into halves and then fourths, then each piece is hand-split to approximate size for the chair part desired.
Each chair part is shaped by hand using a shaving horse and a drawknife. The shaving horse is simply a large vise; which holds a piece in place by pushing a lever with the person's foot. Once the piece of wood is firmly in place, the drawknife is used to shape and smooth it into one of the many parts of this classic rocker. The back pieces are shaped by hand and are either soaked overnight or placed in boiling water for 10-15 minutes; next they are positioned in a jig which bends them to the comfortable curve which supports the back so you can rock for hours.
The joints, which hold the chair together, are individually drilled with a hand-brace and bit; slots for the backs are first drilled, then a chisel and mallet are used to finish the mortise slot. The chairs are assembled without the use of glue, screws or nails. A combination of seasoned wood and partially greenwood is used in each rocker and as the green pieces dry around the seasoned parts, each joint is then pegged with a solid black walnut or cherry peg.
Hickory bark is woven for the seat of the rocking chair, providing a very unique and durable seat, making this rocker authentic in its traditional "Smoky Mountain" style. To gather the hickory bark, a tree is found and brought back to the workshop. The rough outer bark is removed with a drawknife, exposing the inner layer of bark. This inner bark is cut into one-inch strips the length of the tree. After it is removed from the tree it is rolled and hung to dry. When the chair is ready to be woven, the hickory bark is placed in hot water for about an hour, which makes it pliable enough to weave. Once the bark has dried, the chair is named, signed and dated. Now the rocker is complete and ready for generations of contented enjoyment.
For further info check our NC Commercial Gallery listings, call the gallery at 828/963-8190, or e-mail at (wildwoods@boone.net).
[ | Oct03 | Feature Articles | Gallery Listings | Home | ]

Carolina Arts is published monthly by Shoestring Publishing Company, a subsidiary of PSMG, Inc.
Copyright© 2003 by PSMG, Inc., which published Charleston Arts from July 1987 - Dec. 1994 and South Carolina Arts from Jan. 1995 - Dec. 1996. It also publishes Carolina Arts Online, Copyright© 2003 by PSMG, Inc. All rights reserved by PSMG, Inc. or by the authors of articles. Reproduction or use without written permission is strictly prohibited. Carolina Arts is available throughout North & South Carolina.