Feature Articles


For more information about this article or gallery, please call the gallery phone number listed in the last line of the article, "For more info..."

October Issue 2004
Carolina Galleries in Charleston, SC, Offers Works by Stephen Chesley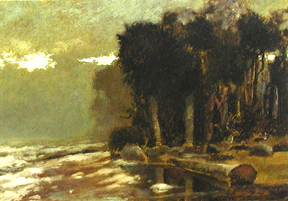 As part of the Charleston Fine Art Dealers' Association, Sixth Charleston Fine Art Annual, taking place Nov. 5 - 7, 2004, Carolina Galleries in Charleston, SC, will present an exhibit of new paintings by Stephen Chesley titled, Sea Islands and the Mosquito Fleet in Charleston. The exhibition will remain on view through Nov. 24, 2004.

The small boat fishing industry in the Sea Islands of Charleston's Lowcountry was largely dominated by former slaves and their descendants from the end of the Civil War until the 1940's and 50's. These fishermen would leave early in the mornings each day and return in the evenings, sails out, and resembled hordes of mosquitoes from afar. They became known affectionately as the Mosquito Fleet. This exhibit will also depict the Sea Islands, and some of the paintings will include Marsh Tackies, a strain of pony descended from horses brought over to America by the Spanish.

A modern tonalist who explores the atmospheric effect of dawn and dusk upon the elements of the coastal landscape, Chesley will also bring his intimate knowledge of boats to this collection of images of fishermen in Lowcountry coastal settings.
In addition to being Charleston's oldest gallery specializing in the art of the Charleston Renaissance, Carolina Galleries also features contemporary paintings celebrating the region's continuing aesthetic evolution. A walk through the gallery, which has been widely featured in major national magazines, is equivalent to a journey through time, with works on display spanning from the 1850's to the present. Landscapes and genre scenes represent two centuries in Charleston art, with a primary focus on nineteenth and twentieth century masterpieces.
Additionally, our "painting in the park" artist this year for the Fine Art Annual will be Carl Turner.

For further information check our SC Commercial Gallery listings, call 843/723-2266 or at (www.carolinagalleries.com).

[ | Oct'04 | Feature Articles | Gallery Listings | Home | ]


Carolina Arts is published monthly by Shoestring Publishing Company, a subsidiary of PSMG, Inc. Copyright© 2004 by PSMG, Inc., which published Charleston Arts from July 1987 - Dec. 1994 and South Carolina Arts from Jan. 1995 - Dec. 1996. It also publishes Carolina Arts Online, Copyright© 2004 by PSMG, Inc. All rights reserved by PSMG, Inc. or by the authors of articles. Reproduction or use without written permission is strictly prohibited. Carolina Arts is available throughout North & South Carolina.