Feature Articles


For more information about this article or gallery, please call the gallery phone number listed in the last line of the article, "For more info..."

October Issue 2004
Columbia Museum of Art in Columbia, SC, Features Exhibition of Urhobo Art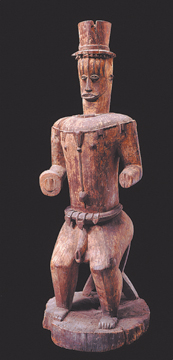 Male Figure (edjo rakare)
At the Columbia Museum of Art in Columbia, SC, from Oct. 15, 2004 through Jan. 15, 2005, the exhibition, Where Gods and Mortals Meet: Continuity and Renewal in Urhobo Art, is the first to focus exclusively on the art of the Urhobo people of the Niger River Delta in southern Nigeria. Approximately 80 artworks, photographs, video and audio recordings of cultural performances, from the 19th century to the present day are included in this exhibition.

The exhibition includes traditional artworks from 1850 to 1975 such as monumental wood figures, metal and clay sculpture, masks and costumes. Photographs and video footage of Urhobo customs and ceremonies round out the exhibition. Also included is a selection of contemporary works by Bruce Onobrakpeya, an Urhobo by birth and one of Africa's foremost artists whose style draws upon historical Urhobo art as its key source of inspiration.
Where Gods and Mortals Meet was curated by Dr. Perkins Foss who holds two Urhobo chieftancy titles and studied the culture of the Urhobo since the 1960s, first as an ethnographer for the Nigerian Department of Antiquities and subsequently on trips to the region. The exhibition's artists, scholars and consultants include six Urhobo nationals who are purposefully maintaining their cultural heritage in art, dance, poetry, music, rituals, ceremonies and written scholarship.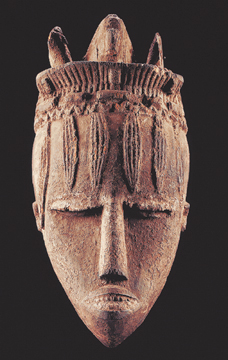 Mask (opharo edjo)
Where Gods and Mortals Meet addresses the effort by the Urhobo people to maintain their culture, religion and art in the face of modernization. The decline in Urhobo culture has prompted a response among many Urhobo who want to celebrate and preserve their traditions for future generations. The Columbia Museum of Art makes a major contribution to this effort through the presentation of Where Gods and Mortals Meet and introduces the spiritual beliefs, social and economic life, and the role that art plays among the Urhobo people.

This exhibition was organized by and exhibited at the Museum for African Art in New York and curated by Dr. Perkins Foss, Guest Curator. The Columbia presentation is sponsored, in part, by BlueCross BlueShield of South Carolina.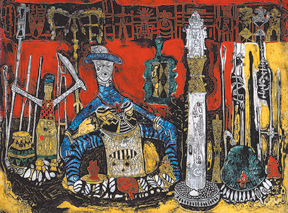 Bruce Onabrakpeya
In conjunction with the exhibition, works by Bruce Onabrakpeya from the Collection of Tyrone Geter will be presented in the Museum's Caroline Guignard Focus Gallery from Nov. 19 through Jan. 9, 2005. This collection of five deep etchings by one of the most well known Nigerian artists, comes from the collection of Tyrone Geter, director of the Ponder Art Gallery at Benedict College in Columbia, SC.
A number of programs have been planned in conjunction with the exhibit, Where Gods and Mortals Meet: Continuity and Renewal in Urhobo Art. Check with the Museum for further details on these events.

The Columbia Museum of Art is South Carolina's premier international art museum with extraordinary collections of European and American fine and decorative art that span centuries. Founded in 1950, the museum opened its new building in 1998 by transforming an urban department store to a sleek and airy, light-filled space with 25 galleries. The collections include masterpieces of the Italian Renaissance and Baroque from the Samuel H. Kress Collection, works by significant furniture and silver makers, as well as modern and contemporary art from the present time. Of particular interest are Sandro Botticelli's Nativity, Claude Monet's The Seine at Giverny and art glass by Louis Comfort Tiffany. The museum also offers changing exhibitions from renowned museums and educational programs that include group and public tours, lectures, films, and concert series. The museum shop is open during museum hours.
For further infomation check our SC Institutional Gallery listings, call the Museum at 803/799-2810 or at (www.columbiamuseum.org).


[ | Oct'04 | Feature Articles | Gallery Listings | Home | ]


Carolina Arts is published monthly by Shoestring Publishing Company, a subsidiary of PSMG, Inc. Copyright© 2004 by PSMG, Inc., which published Charleston Arts from July 1987 - Dec. 1994 and South Carolina Arts from Jan. 1995 - Dec. 1996. It also publishes Carolina Arts Online, Copyright© 2004 by PSMG, Inc. All rights reserved by PSMG, Inc. or by the authors of articles. Reproduction or use without written permission is strictly prohibited. Carolina Arts is available throughout North & South Carolina.