Feature Articles


For more information about this article or gallery, please call the gallery phone number listed in the last line of the article, "For more info..."

October Issue 2004
Gibbes Museum of Art in Charleston, SC, Presents Works by Linda Fantuzzo and Manning Williams
The Gibbes Museum of Art in Charleston, SC, announces the opening of the exhibition Framing a Vision: Landscapes by Linda Fantuzzo and Manning Williams on Oct. 10, 2004. Featuring artists of the Lowcountry region who have both trained at the Pennsylvania Academy of Fine Arts in Philadelphia and achieved acclaim on the national scene, this dynamic exhibition examines the relevance of landscape painting in contemporary culture, and more specifically the use of that genre to represent personal and public visions of the Lowcountry. Framing a Vision: Landscapes by Linda Fantuzzo and Manning Williams will be on view in the Main Gallery of the Gibbes Museum of Art through Jan. 2, 2005.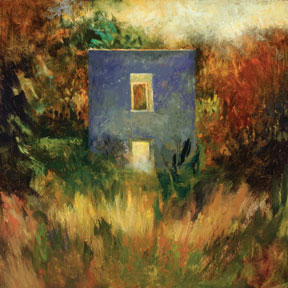 Linda Fantuzzo
Linda Fantuzzo (American. b. 1950) and Manning Williams (American. b. 1939), both Charleston artists boasting successful, prolific careers, cross paths in their academic training and preference for landscape as subject matter. Differing greatly in their choice of media and stylistic approaches, Fantuzzo and Williams come together with a shared high level of skill that reflects parallels in their strong classical training and enduring romance with landscape.

Framing a Vision: Landscapes by Linda Fantuzzo and Manning Williams features approximately forty works that showcase the artists' different approaches to rendering Lowcountry terrain and atmosphere, as well as the sensations and stories contained therein. This exhibition is the first show at the Gibbes co-curated by the Museum's Executive Director Betsy Fleming and Chief Curator Angela Mack.
"While both artists have been featured in numerous solo exhibitions and general group shows, this exhibition presents the first opportunity to examine the ties, as professional colleagues and friends, between Fantuzzo and Williams," explains Executive Director Betsy Fleming. "Having known each other at the Pennsylvania Academy, painted en plein air together, and encouraged as well as critiqued each other's work in Charleston for the past thirty years, the artists' landscapes represent absolutely unique perspectives but also capture universal experiences within the Lowcountry landscape. The paintings will stir the soul and mind of anyone who loves the land."

Landscape painting emerged as an important artistic and intellectual endeavor in American art in the latter half of the eighteenth century. Charleston artists were among the first in the country to sketch or paint scenery using aesthetic concepts established abroad. Having achieved parity in the nineteenth century with other genre like religious or history painting, landscape painting lost its primacy with the advent of photography and the Modernist movement. For the better part of the twentieth century, landscape painting was a subject matter that was considered outdated and exhausted.

Yet, in the South the tradition remained strong and since the 1960s it has offered artists the opportunity to express deeply personal points of view on environmental issues, historic preservation, and humanity's relationship with the earth, as well as the mythologies and traditions associated with landscape painting itself.
A New York native, Fantuzzo has resided in Charleston for more than twenty years. She received her artistic training at the Pennsylvania Academy of Fine Arts and the College of Charleston. The recipient of numerous awards and honors, Fantuzzo has participated in many one-person and group exhibitions including a 1992 solo exhibition organized by the Gibbes, and more recently a two-person exhibition at the University of Virginia. Corporate commissions include Bank of South Carolina, Strozzi Vineyards of Italy and Kiawah Resort Association.

Spatial relationships are at the core of Fantuzzo's work, whether painting landscape or still life, the latter subject matter for which she is most known. Drawn to Charleston because "it was not a 'hub' in the art world," Fantuzzo's paintings reflect her need for isolation to create. Natural light, lush vegetation and aging architecture are the elements of the Lowcountry that intrigue her the most. Working in oil, her paintings are studies in the diffusion of light, pigment layering and perspective.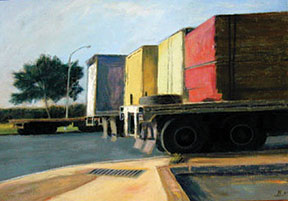 Manning Williams
Williams is a Charleston native and a graduate of the College of Charleston, and like Fantuzzo, studied at the Pennsylvania Academy of Fine Arts. He has exhibited throughout the Southeast, received numerous awards, grants and prizes and has participated in many one-person exhibitions and group invitationals.
A true son of the South, Williams's paintings tell stories. His landscapes are rooted in the history, traditions and terrain of the Lowcountry and they suggest a profound level of southern consciousness. Williams's large dry-textured, acrylic canvases reflect his early stint as a house painter, to support himself. His decisive handling of pigment and sparing compositions reflect his preoccupation with developing a narrative within a contemporary southern setting. His current, mostly abstract work can be viewed as an outgrowth of this preoccupation. Moving from representational depictions to abstracted form is a path many artists have chosen and is most indicative of those who are at ease with their personal vision.

This exhibition is made possible through the generous support of an anonymous donor and Kiawah Development Partners.
For further information check our SC Institutional Gallery listings, call the Museum at 843/722-2706 or at (www.gibbesmuseum.org).

[ | Oct'04 | Feature Articles | Gallery Listings | Home | ]


Carolina Arts is published monthly by Shoestring Publishing Company, a subsidiary of PSMG, Inc. Copyright© 2004 by PSMG, Inc., which published Charleston Arts from July 1987 - Dec. 1994 and South Carolina Arts from Jan. 1995 - Dec. 1996. It also publishes Carolina Arts Online, Copyright© 2004 by PSMG, Inc. All rights reserved by PSMG, Inc. or by the authors of articles. Reproduction or use without written permission is strictly prohibited. Carolina Arts is available throughout North & South Carolina.