Feature Articles


For more information about this article or gallery, please call the gallery phone number listed in the last line of the article, "For more info..."
October Issue 2009

Artspace in Raleigh, NC, Features Works by Karol Tucker and Scott Hazard
Artspace in Raleigh, NC, is presenting two new exhibits including: Drawing, An Intimate View, featuring works by Karol Tucker on view from Oct. 2 -31, 2009, in the Upfront Gallery and Topographic Ruminations, featuring works by Scott Hazard, on view from Oct. 2 - 31, 2009, in the Lobby gallery.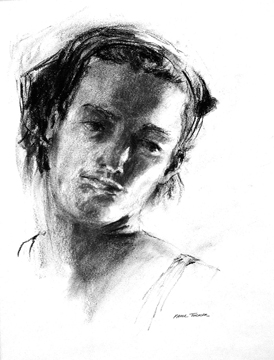 Karol Tucker
Although Karol Tucker enjoys working in a variety of media, she often returns to her first love ­ drawing, and especially charcoal drawing. She notes that there is an immediacy and expressive quality with charcoal that she finds incredibly satisfying. Tucker often chooses to work with the human form. In Drawing, An Intimate View, Tucker presents a grouping of some of her favorites. Along with her larger works, she has taken the opportunity to share some of her small, intimate sketches done in airports, restaurants, on the street, and even in the hospital. They are done without any erasing ­ just very quickly ­ and often without the subject even being aware of her process. Most are done in pencil or ball point pen. All drawings in this exhibit are completed from life. Tucker hopes they convey freshness, emotion, and the dignity of the human spirit.

Born in 1941 in northern OH, Tucker spent most her childhood playing in the barns and cornfields that surrounded her home. However, once a week, she attended the Toledo Museum of Art to partake in youth art classes. She earned a BFA from Bowling Green State University, Bowling Green, OH. After teaching art for a few years, Tucker focused on the family business and raising two daughters. In 1994, she took her first art class in 30 years and has continued to study art ever since. Her work has been exhibited nationally and is part of both private and corporate collections.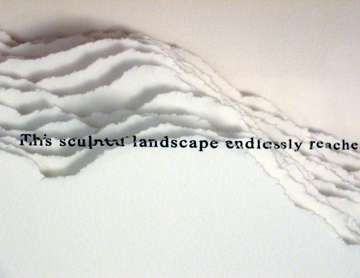 Scott Hazard
Through his work Scott Hazard aims to illuminate facets and poetic understandings of our world that are often unseen or unnoticed. Commonplace elements in the natural and built worlds provide points of origin for helping people gain insights into and understandings of the landscape around them.
Hazard notes that in a world with a seemingly endless amount of stimuli, most of us are concerned with our own business, unable to let the details of the world reveal themselves. Taking note of these details might help us better appreciate or gain an enhanced understanding of the world we live in. As Walt Whitman wrote in the preface to Leaves of Grass, "The greatest poet dilates any thing that was before thought smallwith the grandeur and life of the universe. He is a seer." Through his artwork Hazard wishes to transmit a glimpse of this poetic vision to the viewer.

Hazard graduated with an MFA with a focus on sculpture from the University of Florida, Gainesville, FL. His undergraduate degree in landscape architecture from Cal Poly State University at San Luis Obispo, CA, prepared him for a career as a designer, which complements his work creating sculpture, installations, and environments. Based in Raleigh, Hazard has exhibited his work at Artspace, the Durham Arts Council, the Appleton Museum, The Atlantic Center for the Arts, and Artspace in Richmond, VA.
For further information check our NC Institutional Gallery listings, call the Center at 919/821-2787 or visit (www.artspacenc.org).




[ | October'09 | Feature Articles | Carolina Arts Unleashed | Gallery Listings | Home | ]
Carolina Arts is published monthly by Shoestring Publishing Company, a subsidiary of PSMG, Inc. Copyright© 2009 by PSMG, Inc., which published Charleston Arts from July 1987 - Dec. 1994 and South Carolina Arts from Jan. 1995 - Dec. 1996. It also publishes Carolina Arts Online, Copyright© 2009 by PSMG, Inc. All rights reserved by PSMG, Inc. or by the authors of articles. Reproduction or use without written permission is strictly prohibited. Carolina Arts is available throughout North & South Carolina.