Feature Articles


For more information about this article or gallery, please call the gallery phone number listed in the last line of the article, "For more info..."
October Issue 2010

Arts Council of Moore County in Southern Pines, NC, Offers Exhibit of Blogging Potters
The Arts Council of Moore County in Southern Pines, NC, will present the exhibit, Clay and Blogs: Telling a Story, featuring works by clay artists from throughout the world, on view at the Campbell House Galleries, from Oct. 1 - 29, 2010.
The exhibition was organized and curated by Meredith Heywood of Whynot Pottery in Seagrove, NC. It is hoped that the exhibit will give a glimpse into the unique community of 50 working potters who are separated by distance, but brought together through the common language of clay and the written word in a digital world. These potters share their lives, skills, thoughts, triumphs and defeats through an on-line medium called a blog or web log.
Heywood offering the following about how this show came about. "Two years ago I was planning a show with a friend who is a collector. We had planned to pull together a show from the prospectives of the maker, buyer and collector. My friend's life became very busy and we had a fire at our pottery studio. For me during the ups and downs and trials of the fire, I found great strength through writing about what we were going through on my blog. But what pulled it all together for me were the comments which came back from the readers. The positive reinforcement that I needed was out there. I was not alone. I was also touched at how sharing the potters were. They were willing to share what they have learned and encourage other potters to step out and try new things."
"I found that different potters blog for different reasons. The blogs run from very personal to very business like, but none of them are without that personal element. The blogs are like daily or weekly diaries into the life of a potter. Some make me laugh and some make me think. But what I found was a real connection between me and what was being written."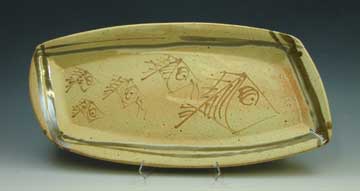 Tom Gray
The idea to organize an exhibit featuring works by these blogging potters evolved and before Heywood knew it, the blog connections had spread from Seagrove throughout the US, into Canada and Europe - going as far away as Australia.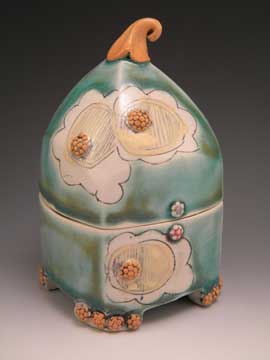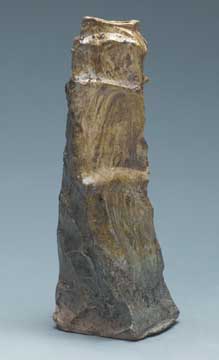 Tim Ayers
Jennifer Mecca
The exhibition includes works by the following artists and bloggers: Blanie Avery, Seagrove, NC; Tim Ayers, Lewisville, NC; Zygote Blum, Stockton, CA; Tracey Broome, Chapel Hill, NC; Kyle Carpenter, Asheville, NC; Meagan Chaney, Ocala, FL; Joe & Christy Cole,Mineral Point, WI; Barbara Edwards, Berkeley, CA; Hollis Engley, E. Falmouth, MA; Carole Epp, Saskatoon, Canada; Dan Finnegan; Fredericksburg, VA; Doug Fitch, Devon, United Kingdom; Bruce Gholson & Samantha Henneke, Seagrove, NC; Jim Gottuso, Louisville, KY; Tom Gray, Seagrove, NC; Peter Gregory, Otago, New Zeagland; Patricia Griffin, Cambria, CA; Mark & Meredith Heywood, Seagrove, NC; Kari Weaver Hopkins, Burnsville, NC; Paul Jessop, Ilminster, United Kingdom; Michael Kline, Bakersville, NC; Po-Wen Liu, Greensboro, NC; Chris Luther, Seagrove, NC; Michael Mahan, Seagrove, NC; Renee Margocee, Charleston, WV; Jeff Martin, Boone, NC; Hannah McAndrew, Castle Douglas, United Kingdom; Jennifer Mecca, York, SC; Pru Morrison, Brisbane, Australia; Emily Murphy, Minneapolis, MN; Ron Philbeck, Shelby, NC; Brandon Phillips, Abilene, TX; Gary Rith, Ithaca, NY; Mel Robson, Brisbane, Australia; Cindy Shake, Anchorage, AK; Kitty Shepherd, Granada, Spain; Hitomi & Takuro Shibata, Seagrove, NC; Judy Shreve, Johns Creek, GA; Annie Singletary, Black Mountain, NC; Alex & Nancy Solla, Trumansburg, NY; Linda Starr, Lecanto, FL; Joy Tanner, Bakersville, NC; Judi Tavill, Rumson, NJ; Julia Wilkins, Mountain West, UT; and Angela Walford, Adelaide, Australia.
You can make your own connection with these bloggers by visiting Heywood's blog at (http://whynotpotteryblog.blogspot.com/). At the top of her blog page is a link to the other 50 blogs.
For further information check our NC Institutional Gallery listings, call the Arts Council at 910/692-4356 or visit (www.mooreart.org).


[ | October 2010 | Feature Articles | Carolina Arts Unleashed | Gallery Listings | Home | ]
Carolina Arts is published monthly by Shoestring Publishing Company, a subsidiary of PSMG, Inc. Copyright© 2010 by PSMG, Inc., which published Charleston Arts from July 1987 - Dec. 1994 and South Carolina Arts from Jan. 1995 - Dec. 1996. It also publishes Carolina Arts Online, Copyright© 2010 by PSMG, Inc. All rights reserved by PSMG, Inc. or by the authors of articles. Reproduction or use without written permission is strictly prohibited. Carolina Arts is available throughout North & South Carolina.