Feature Articles


For more information about this article or gallery, please call the gallery phone number listed in the last line of the article, "For more info..."
October Issue 2010

Charleston Artist Guild in Charleston, SC, Features Works by Mary Sayas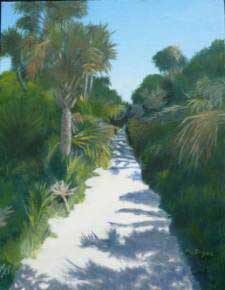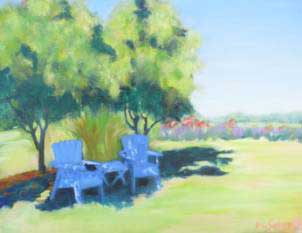 The Charleston Artist Guild in Charleston, SC, will present the exhibit, Close to Home, featuring works by Mary Sayas, on view in the Guild Gallery from Oct. 1 - 31, 2010.

Sayas was born in Charleston, and grew up on James Island where she still lives with her husband Ali and Hobbes the cat. Her love of art began as a child, but she did not have an opportunity to pursue art full time until the children were raised and she retired from a career in government service. Sayas presently works in the family business and is co-manager of the Charleston Artist Guild Gallery, but always finds time to paint.
Sayas' studio is close to her house in a 1935 era building that used to be a tractor shed, a chicken house, and then a horse stall. "It was half demolished after hurricane Hugo, and we remodeled it two years ago as an art studio. It is a very meaningful place to me, and an inspirational place for me to work."
Sayas is primarily self-taught, working in both watercolor and oil in a realistic style. She believes in lifetime learning and has taken classes and workshops with several prominent local artists, as well as classes with nationally known artists at the Scottsdale Artists School. Probably the greatest influences in her artistic life were workshops and painting trips to the south of France, taken with nationally known Summerville, SC, artist Margaret Hall Hoybach.
Sayas offered the following about her exhibit, "When planning this exhibit, several possible themes ran through my mind. As an artist I love to paint many different subjects: French villages, Italian scenes, the clear aqua water of the Caribbean, still life. I love to paint it all, so what should I choose? But the brush has a mind of its own. A recurring theme that has been emerging from my brush and palette knife this spring and summer has been scenes from close to home. I am a true native of the Lowcountry. Our beautiful landscapes are so familiar and such a part of my everyday experience that I sometimes take them for granted; but the beauty of the Lowcountry draws visitors from all over the world. Therefore, I decided to paint landscapes from a slightly different viewpoint, landscapes close to my home, my neighborhood, my island."
"In Lowcountry Black Eyed Susans, a small vase of flowers sits on a small table under a twisted live oak limb close to my studio," says Sayas. "In another painting, a glimpse of a creek is seen through the mossy limbs of a live oak leaning precariously over the edge. In another, spring phlox along a country road give way to a field of oats, with a stand of dark pine trees in the distance. These are the scenes running through my subconscious as I dream, and I hope they will strike a chord within the viewer also."
For further information check our SC Institutional Gallery listings, call the Guild at 843/722-2454 or visit (www.charlestonartistguild.com).

[ | October 2010 | Feature Articles | Carolina Arts Unleashed | Gallery Listings | Home | ]
Carolina Arts is published monthly by Shoestring Publishing Company, a subsidiary of PSMG, Inc. Copyright© 2010 by PSMG, Inc., which published Charleston Arts from July 1987 - Dec. 1994 and South Carolina Arts from Jan. 1995 - Dec. 1996. It also publishes Carolina Arts Online, Copyright© 2010 by PSMG, Inc. All rights reserved by PSMG, Inc. or by the authors of articles. Reproduction or use without written permission is strictly prohibited. Carolina Arts is available throughout North & South Carolina.