Feature Articles


For more information about this article or gallery, please call the gallery phone number listed in the last line of the article, "For more info..."
October Issue 2010

City Art Gallery in Columbia, SC, Features New Works by Blue Sky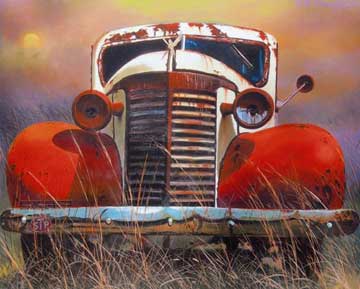 City Art Gallery in Columbia, SC, will present a double feature show by artist, Blue Sky - pre-viewing two California destined exhibits - Car Face and Truck Butts, featuring works by Blue Sky, on view from Oct. 1 - 14, 2010. Car Face then travels on to Los Angeles and Truck Butts will follow shortly thereafter. A selection of Blue Sky's other recent works will remain on exhibit through Nov. 13, 2010.

Car Face is an art show devoted to the relationship between the styling of cars and the features of the human face. The artist, Sky, imbues rusting hulks of abandoned cars with such soulful feeling that they evoke a sense of pathos in the viewer. Of the idea and theme behind the show, he says, "You are something distinct from the car you drive. But you feel that you are the car. Driving it becomes an extension of operating our body and we adapt our identity to the car we drive."

Sky acknowledges, "Usually if our car body breaks down, we simply buy a new one, a perfect one, with a warranty. Thus, realizing mankind's oldest dream ­ perpetual youth."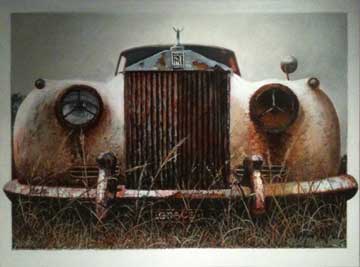 But Sky's interest in painting them is primarily driven not by the shiny new ones in the showrooms, but by the ones he sees while roaming the countryside; "You see them beside the road, the unloved ones, old, sagging, abandoned, battered, and too far gone to repair. Some may be taken in, and travel a few more miles. Some may be hauled off to junk yards. Most will simply disintegrate into the earth."
In 1971, describing one of Sky's earlier car face paintings, Perry T. Rathbone, Boston Museum said, "It is a poetic distillation of reality. It takes a while for the image to emerge from a pastel fog, but when it does it turns out to be the most prosaic, commonplace thing in American life ­ an old cast-off car on a used car lot."
Sky notes, "We seldom use sidewalks. We move in streets. We are sealed in steel. We seldom leave home without it."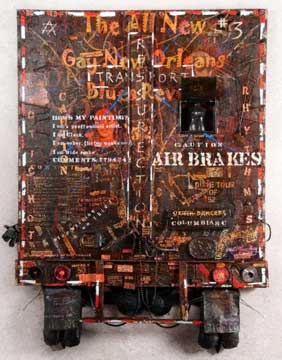 In conjunction with Car Face, City Art will exhibit Blue Sky's show entitled Truck Butts, consisting of several large acrylics on canvas and assemblage paintings depicting the rear end of the eighteen-wheelers which rumble across the American landscape as seen from a car following too closely behind, or from - a "Car Face" - if you will.
Art critic Donald B. Kuspit said of one of Sky's Truck Butts, Air Brakes, (purchased by the Mississippi Museum), whereas Blue Sky "deals with the South as part of the American highway culture" as he presents "the elegant backside of a truck." Robert Rauschenberg presents the South's contemporary scene with "the junk culture and literal junk that flourishes along the highway. Both works are sinister." Kuspit compares them in his essays of the Post-War period for the massive exhibition Painting in the South 1564-1980: "The potential for death is great in the painting by Blue Sky; we are following too close behind the truck, close enough to read and to be hypnotized by every detail of its rear. I find both works morbid in their physiognomy, but elegant physically."
And Harry Lowe of the Smithsonian said of one of Sky's Truck Butts, "The artist has taken a realistic subject and has moved it into something else. Beneath this realism is a beautiful abstraction."
This special preview of Car Face and Truck Butts, at City Art offers Columbia - and South Carolina, an opportunity to see the paintings before the show travels to Los Angeles for the opening there next month.
Sky's works are in the collections of the Smithsonian, Price-Waterhouse, Mississippi Museum, IBM, SC State Museum, RJ Reynolds, Florence Museum, two Federal Reserve Banks, Columbia Museum, Bank of America, Cayce Historical Museum, Wachovia Bank, Wake Forest University, SC State Art Collection, & USC.
Sky has exhibited at the Chicago Museum of Contemporary Art, National Academy of Design in New York, Virginia Museum of Fine Arts, DeCordova, Greenville Museum, Gibbes Museum, Georgia Tech, Smithsonian, Columbia Museum, & Mint Museum.
Blue Sky (b. 1938 as Warren Edward Johnson) legally changed his name to Blue Sky in 1974. In 1975 he created the 50' x 75' mural TUNNELVISION which celebrates its 35th year in October. Sky has a BA and MFA, from the University of South Carolina and studied at the University of Mexico, and the Art Students League in New York.
Recently Sky's works have been published in the June issue of the magazine, Art E Dossier (special edition Arte e Illusione) in Florence, Italy and upcoming art history books in Greece and Belgium, recent inclusions in books in Amsterdam, Germany & a Tromp l'Oeil exhibition at the Nationalmuseum in Sweden.
For further info check or SC Commercial Gallery listings, call the gallery at 803/252-3613 or visit (www.cityartonline.com).

[ | October 2010 | Feature Articles | Carolina Arts Unleashed | Gallery Listings | Home | ]
Carolina Arts is published monthly by Shoestring Publishing Company, a subsidiary of PSMG, Inc. Copyright© 2010 by PSMG, Inc., which published Charleston Arts from July 1987 - Dec. 1994 and South Carolina Arts from Jan. 1995 - Dec. 1996. It also publishes Carolina Arts Online, Copyright© 2010 by PSMG, Inc. All rights reserved by PSMG, Inc. or by the authors of articles. Reproduction or use without written permission is strictly prohibited. Carolina Arts is available throughout North & South Carolina.