Feature Articles


For more information about this article or gallery, please call the gallery phone number listed in the last line of the article, "For more info..."
October Issue 2010

Coastal Discovery Museum at Honey Horn on Hilton Head Island, SC, Features Major Basket Exhibition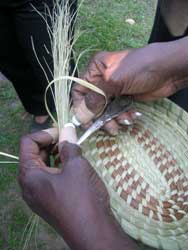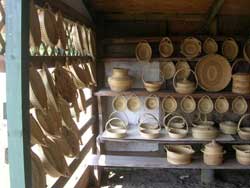 The Coastal Discovery Museum at Honey Horn on Hilton Head Island, SC, is presenting the exhibit Grass Roots: African Origins of an American Art, on view in the Hilton Head Regional Healthcare Temporary Exhibit Gallery through Jan. 2011.
This exhibition traces the histories of coiled basketry in Africa and America and explores the evolution of an ancient art. Featuring baskets from the lowcountry of South Carolina and Georgia as well as from diverse regions of Africa, the exhibition traces the story of coiled basketry from the domestication of rice in Africa, through the trans-Atlantic slave trade and the Carolina rice plantation, and then into the present day.
Visitors to the exhibition will experience diverse artifacts including baskets, basket-making tools and, historic rice cultivation artifacts. Grass Roots highlights the remarkable beauty of coiled basketry and shows how the market basket can be viewed simultaneously as a work of art, object of use, and container of memory. In this exhibition the humble but beautifully crafted coiled basket, made in Africa and the southern United States, becomes a prism in which audiences will learn about creativity and artistry characteristic of Africans in America from the 17th century to the present.
The Coastal Discovery Museum has also added many local baskets to the exhibition for its stay here on Hilton Head Island. Local collectors helped us to provide many of these that have never been shown in exhibitions before. Among these will be several baskets by Jannie Cohen, a local Hilton Head Island maker. She was one of the last remaining basketmakers on Hilton Head Island; several baskets from the 1950s by Caesar Johnson, a Hilton Head Island resident, who learned in the 1880s and continued making baskets into the 1960s; as well as several unique modern baskets from Beaufort County collectors, an historic small fanner basket from St. Helena Island, and a large bulrush basket dating to around 1900 - made at Penn Normal, Industrial and Agricultural School (Penn Center today).
In conjunction with the exhibit, the Museum will have programs to further educate the public on coiled basketry. For further information call 843/689-3033, ext. 225.
Grass Roots is sponsored by the National Endowment for the Humanities and the Mid-America Arts Alliance. This traveling exhibition is part of the NEH "On The Road" project. The original Grass Roots exhibition is currently on display at the Smithsonian Institute's National Museum of African Art in Washington, DC. It was curated by Enid Schildkrout from the Museum for African Art and Dale Rosengarten from the College of Charleston. Additional partners in South Carolina include: the Sweetgrass Cultural Arts Festival Association, McKissick Museum at the University of South Carolina, and The Avery Research Center at the College of Charleston.
For further information check our SC Institutional Gallery listings, contact Natalie Hefter by calling 843/689-3033, ext. 225 or e-mail to (nhefter@coastaldiscovery.org).

[ | October 2010 | Feature Articles | Carolina Arts Unleashed | Gallery Listings | Home | ]
Carolina Arts is published monthly by Shoestring Publishing Company, a subsidiary of PSMG, Inc. Copyright© 2010 by PSMG, Inc., which published Charleston Arts from July 1987 - Dec. 1994 and South Carolina Arts from Jan. 1995 - Dec. 1996. It also publishes Carolina Arts Online, Copyright© 2010 by PSMG, Inc. All rights reserved by PSMG, Inc. or by the authors of articles. Reproduction or use without written permission is strictly prohibited. Carolina Arts is available throughout North & South Carolina.