Feature Articles


For more information about this article or gallery, please call the gallery phone number listed in the last line of the article, "For more info..."
October Issue 2010

Hodges Taylor Gallery in Charlotte, NC, Changes Business Plan and Features Works by Russ Warren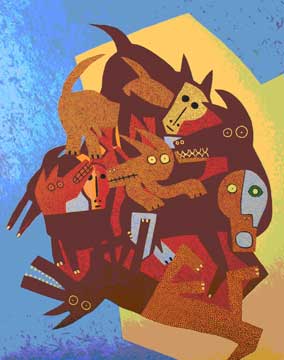 Hodges Taylor Art Consultancy, formerly Hodges Taylor Gallery in Charlotte, NC, is presenting the recent work of contemporary painter Russ Warren on through Oct. 29, 2010.
The featured paintings, though recent and fresh out of the studio represent the midnights and dawns of the greater "Magic Mountain", a series Warren began in 2009 in Virginia. These paintings reflect many moments from his past artistic career, from his earliest 60s work in Texas (Allens' Landing) through his Mexican/Spanish forays and beyond.
Warren began his lifelong study of Picasso at age 14 when he traveled from Houston to New York for this purpose. He had his first exhibition in Houston in 1969 and exhibited in his first juried show in 1971, which led to shows such as one at the New Orleans Museum of Art in 1975, and the North Carolina Museum of Art in 1980, winning "Best in Show" in both.
Warren showed in New York and Chicago with the Phyllis Kind Gallery in the 1980s and in major exhibitions such as the Whitney Biennial in 1981 and the Venice Biennale in 1984. He began teaching art at Davidson College in 1978 through 2008 and has exhibited with Hodges Taylor Gallery for over 20 years. He taught at Davidson until 2008, when he moved to Charlottesville, VA, where he now paints full time and also exhibits with Les Yeux du Monde.
Beginning August 2010, Hodges Taylor Art Consultancy began operating as a private gallery and art consultancy, open by appointment and for special events.
While the primary focus is to provide consulting expertise to corporate and individual collectors, Hodges Taylor remains committed to uptown Charlotte and to connecting artists and clients in meaningful ways. It will continue to show and promote art work, support artists, and provide programming to stimulate the artistic conversation in the community.
For further information check our NC Commercial Gallery listings, call 704/334-3799 or visit (www.hodgestaylor.com).

[ | October 2010 | Feature Articles | Carolina Arts Unleashed | Gallery Listings | Home | ]
Carolina Arts is published monthly by Shoestring Publishing Company, a subsidiary of PSMG, Inc. Copyright© 2010 by PSMG, Inc., which published Charleston Arts from July 1987 - Dec. 1994 and South Carolina Arts from Jan. 1995 - Dec. 1996. It also publishes Carolina Arts Online, Copyright© 2010 by PSMG, Inc. All rights reserved by PSMG, Inc. or by the authors of articles. Reproduction or use without written permission is strictly prohibited. Carolina Arts is available throughout North & South Carolina.