Feature Articles


For more information about this article or gallery, please call the gallery phone number listed in the last line of the article, "For more info..."
October Issue 2010

Lark & Key Gallery in Charlotte, NC, Features Mixed Media Exhibition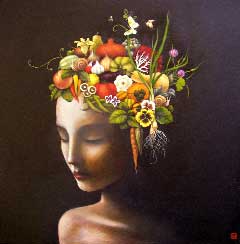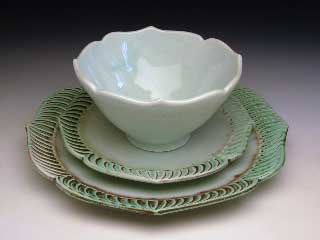 Emily Reason
Duy Huynh
Lark & Key Gallery - Southend in Charlotte, NC, presents the exhibit, Table Manners, a group exhibition featuring functional pottery and two-dimensional artwork, on view from Oct. 1 through Nov. 27, 2010. The exhibit aims to showcase a diverse collection of ceramic tableware and bring awareness to the hand-made in conjunction to the homemade.
Mealtime often revolves around rituals and routines; the use of hand-made plates, bowls and other tableware can enhance these events. The care and love with which they have been made contributes to the joy of eating and provides a sense of connection and community with the artists that created them. The combination of homemade and handmade allows us to focus on the moment - the aromas, tastes and textures of the food along with the visual and tactile experience of the vessels in which it is being served.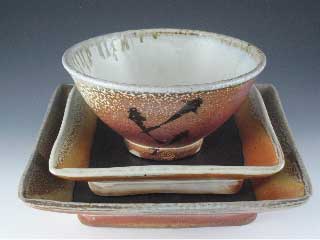 Jason Bohnert
The exhibition is being curated by two of the gallery's primary ceramic artists, Julie Wiggins and Amy Sanders. Their work will be featured in the exhibit along with a number of other potters including Robert Briscoe, Jason Bohnert, Ben Carter, Naomi Cleary, Chandra DeBuse, Susan Dewsnap, Amy Halko, Molly Hatch, Shawn Ireland, Nick Joerling, Linda Johnson, Suze Lindsay, Allison McGowan, Kent McLaughlin, Kelly O'Briant, Kristin Pavelka, Joe Pintz, Emily Reason, Elizabeth Robinson Wiley, Joe Singewald, Gay Smith and Lana Wilson.
Backdrops for the pottery include a black walnut table by local craftsman, Stephen Owen and two-dimensional artwork that reflects the exhibition theme from several artists including Duy Huynh, Priscilla Jones, Vicki Sawyer, Wanda Steppe and Alyssa Wood.
For further information check our NC Commercial Gallery listings, call the gallery at 704/334-4616 or visit (www.larkandkey.com).

[ | October 2010 | Feature Articles | Carolina Arts Unleashed | Gallery Listings | Home | ]
Carolina Arts is published monthly by Shoestring Publishing Company, a subsidiary of PSMG, Inc. Copyright© 2010 by PSMG, Inc., which published Charleston Arts from July 1987 - Dec. 1994 and South Carolina Arts from Jan. 1995 - Dec. 1996. It also publishes Carolina Arts Online, Copyright© 2010 by PSMG, Inc. All rights reserved by PSMG, Inc. or by the authors of articles. Reproduction or use without written permission is strictly prohibited. Carolina Arts is available throughout North & South Carolina.