Feature Articles


For more information about this article or gallery, please call the gallery phone number listed in the last line of the article, "For more info..."
October Issue 2010

McClellanville Arts Center in McClellanville, SCOffers Works by Bret Waller & Jim Innes
The McClellanville Arts Center in McClellanville, SC, will present the exhibit Procession, an exhibit based on a book of the same title, produced from a collaborative portfolio of poems by Bret Waller and prints by the late Jim Innes. The exhibition will be on view from Oct. 9 - 23, 2010.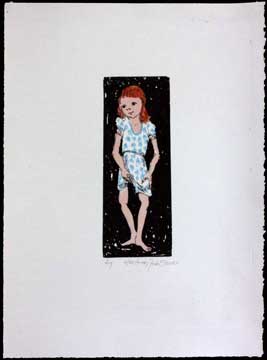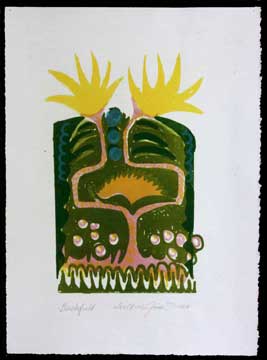 Jim Innes
Innes and Waller were students at the Kansas City Art Institute in the 1950s. Collaboration on this project began somewhat by accident after both had retired. Innes sent Waller a print he'd recently completed - The Procession (under the house) - and Waller responded within a few hours with a verse inspired by the print. From that beginning the work continued. Sometimes the print came first, but just as often the poem preceded the print.
Subjects for the work show strains of the whimsical but also bits of serious irony. What may at first appear to be light and frothy catches the reader/viewer off guard with a sudden twist.
Both the Portfolio and the book are available for purchase and for signing. The Portfolio, a limited edition of ten, includes ten original lithographs by Innes produced between 2004 and 2008 accompanied by the poems written by Waller. The book is offered in a limited edition of 200 copies.
Bret Waller, Director of the Indianapolis Museum of Art 1990 - 2001 continues to serve the museum as Director Emeritus. Other positions at major museums include Rochester, NY, University of Michigan, Metropolitan Museum of Art; University of Kansas; Citadel Memorial Military Museum. He taught art history courses for University of Rochester, University of Michigan, University of Kansas, and City College of NY. Waller's extensive list of publications includes articles and reviews for academic journals, papers for conferences and collaborative work for numerous major exhibits and their catalogs. He received a Fulbright Grant for study in Norway and a National Endowment for the Arts Grant.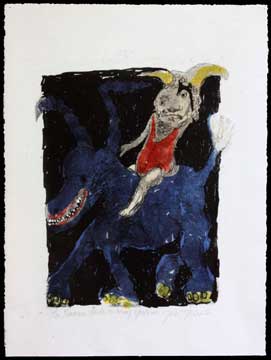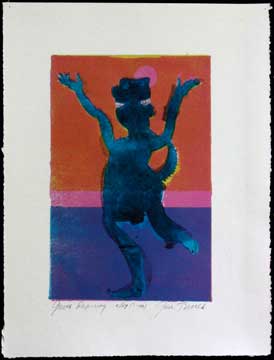 Jim Innes
Jim Innes (1929 - 2009) was Professor Emeritus at Indiana University of Pennsylvania where he taught figure drawing and art history courses for 25 years. His work is part of permanent collections in the University of Kansas Museum of Art, Canton Art Institute, Hagerstown Museum of Art, Indiana University of PA Museum of Art, Indiana PA Hospital, Sewickley PA Hospital, Pittsburgh Plate Glass Collection. Innes' prints are part of collections in University of Ohio, Miami University, and University of Cincinnati. Locally, his work has been exhibited at City Gallery at the Dock Street Theater, New Perspectives Gallery, City Gallery at Waterfront Park, and Lime Blue. Innes won the 2009 Piccolo Spoleto Festival and Children's Festival poster contest, the first artist to win both awards.
For further information check our SC Institutional Gallery listings, call the Arts Center at 843/887-3157 or visit (www.mcclellanvilleartscouncil.com).

[ | October 2010 | Feature Articles | Carolina Arts Unleashed | Gallery Listings | Home | ]
Carolina Arts is published monthly by Shoestring Publishing Company, a subsidiary of PSMG, Inc. Copyright© 2010 by PSMG, Inc., which published Charleston Arts from July 1987 - Dec. 1994 and South Carolina Arts from Jan. 1995 - Dec. 1996. It also publishes Carolina Arts Online, Copyright© 2010 by PSMG, Inc. All rights reserved by PSMG, Inc. or by the authors of articles. Reproduction or use without written permission is strictly prohibited. Carolina Arts is available throughout North & South Carolina.