Feature Articles


For more information about this article or gallery, please call the gallery phone number listed in the last line of the article, "For more info..."
October Issue 2010

Mesh Gallery in Morganton, NC, Offers Group Exhibition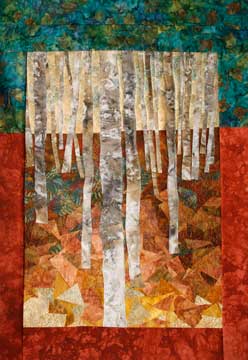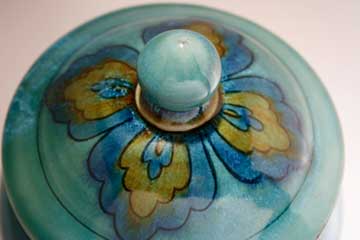 Courtney Long (detail)
Beth Bailey
Mesh Gallery in Morganton, NC, is presenting, Foundations and Explorations, an exhibition of contemporary works in clay and fiber, on view through Oct. 16, 2010.

This exhibit showcases works that portray the freedom today's craftspeople enjoy; either rejecting or building upon traditional techniques for personal expression. Expressive textiles and pottery together form a cohesive grouping reflective of the area's crafts heritage.

In a region known for its large furniture and textile manufacturers, these industries have overshadowed studio craft as a legitimate way of living and working. Studio craft artisans explore traditional materials and techniques while striving for originality and the creation of new processes. Admittedly, good design and evolution of technique does come from the factory system. In the face of manufacturers' massive workforce, cheaper goods and mass markets, the very survival of handicraft items shows its cultural importance and desire for one-of- a-kind objects indicative of a region or individual artisan.

Historically, textile skills were needed to produce protective items such as quilts or those that contain such as satchels. Sewing circles provided social outlets and sharing of learned skills. These skills provided security through the sale of goods, allowing women and also men to supplement family incomes or support their families entirely. Fiber works can either be directly or indirectly autobiographical through choice or availability of fabrics.
Thirteen fiber artists including Beth Bailey, Nancy Bailey, Jane Bradley, Norma Bradley, Linda Costner, Sally Dixon, Sondra Dorn, Vyvyan Emery, Susan Fretz, Patricia Lackey, Joanne Seng, Kristen Steiner and Jackie Williams create clothing, weaving, purses and art quilts. Through original patterns, expressive landscapes and narrative works, these artisans break out of traditional symmetrical grids making works more expressive and contemporary.

"I am relatively new to the art of landscape quilting, and fascinated with the process of composing with cloth," said co-curator Beth Bailey. Inspired by the surrounding foothills and mountain region, Bailey interprets the region's natural resources in colorful patches of hand dyed and batik fabric. Variations in fabric textures and patterns help Bailey further re-create mountain and forest scenes while providing the viewer another layer to explore.

Investigations of other tactile materials may be viewed in pottery works of Western Piedmont Community College Pottery Faculty. Courtney Long, Shane Mickey and Andrew Stephenson seek to elevate routine daily tasks through thoughtfully designed, utilitarian wares. Some of the pottery types capture the essence of North Carolina folk pottery traditions through wood and salt firing methods but others demonstrate modern interpretations of form and cross-cultural influences. "Pottery for me is a subtle way to enhance people's lives by giving them an interesting object to contemplate either while using or just relaxing and observing," said Mickey, "This becomes a process of discovery, noticing new details about the pieces each time it is used or examined."

Foundations and Explorations is a survey of contemporary fiber and clay artists mainly living in the Burke and surrounding counties. In its short existence, MESH has become Morganton's premier contemporary art gallery that displays all forms of art including studio craft. The gallery has provided a needed platform for local and regional artists to display their works while attracting cultural tourists and locals looking for something new to explore in their home town. "We have an abundance of talented artists in Morganton," remarked Bailey, "Having Mesh Gallery to showcase art and gather the community through artists' receptions helps strengthen the vitality of our downtown."

For further information check our NC Commercial Gallery listings, call 828/437-1957 or visit (www.meshgallery.com).


[ | October 2010 | Feature Articles | Carolina Arts Unleashed | Gallery Listings | Home | ]
Carolina Arts is published monthly by Shoestring Publishing Company, a subsidiary of PSMG, Inc. Copyright© 2010 by PSMG, Inc., which published Charleston Arts from July 1987 - Dec. 1994 and South Carolina Arts from Jan. 1995 - Dec. 1996. It also publishes Carolina Arts Online, Copyright© 2010 by PSMG, Inc. All rights reserved by PSMG, Inc. or by the authors of articles. Reproduction or use without written permission is strictly prohibited. Carolina Arts is available throughout North & South Carolina.