Feature Articles


For more information about this article or gallery, please call the gallery phone number listed in the last line of the article, "For more info..."
October Issue 2010

RedSky Gallery in Charlotte, NC, Features New Works by Karin Olah and Scott Summerfield
RedSky Gallery in Charlotte, NC, will present an exhibition of paintings by Karin Olah and glasswork by Scott Summerfield, on view from Oct. 8 through Nov. 10, 2010.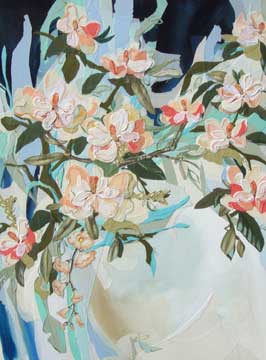 Karin Olah
Using fabric, Karin Olah works in a manner that mimics the flow of paint from a brush. Intricately cut, placed, and pasted textiles are combined with gouache, acrylic, and graphite to create Collage Paintings that are deep in color and texture. Olah uses a vocabulary of tricks pulled from quilt making, printmaking, graffiti art, and calligraphy in the construction and invention of her collage paintings.
Olah fell in love with Amish quilts while growing up in Lancaster, PA. She uses the sights in the world around her as shapes and symbols in her work as quilt makers have historically done. She looks, in particular, for the abstract shapes that come into focus. Most recently, her work takes its cue from the natural world - especially the bloom of flowers in spring and summer.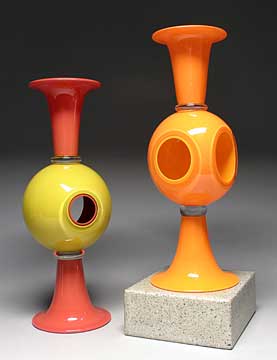 Scott Summerfield
Scott Summerfield creates a variety of blown glass works ranging from functional home dècor to abstract sculptures. His process involves hand blown parts, which are later cut, ground, polished and assembled. Although his larger works are titled as recognizable familiar objects, such as bottles or teapots, they are purely sculptural forms. The intention is not for a bottle to function as a vessel, rather to stimulate the viewer through its movement, color, fluidity, and grace. Growing up on the Southeast coast of North Carolina has influenced Summerfield's work and reflects a delicate balance of beauty and tension.
RedSky Gallery features original works on paper and canvas, sculpture, ceramic, glass, studio furniture, art-to-wear, jewelry, and more. Over 500 regional and national artists are represented at two gallery locations in Dilworth and the EpiCentre in Uptown.
For further information check our NC Commercial Gallery listings, call the gallery at 704/377-6400 or visit (www.redskygallery.com).

[ | October 2010 | Feature Articles | Carolina Arts Unleashed | Gallery Listings | Home | ]
Carolina Arts is published monthly by Shoestring Publishing Company, a subsidiary of PSMG, Inc. Copyright© 2010 by PSMG, Inc., which published Charleston Arts from July 1987 - Dec. 1994 and South Carolina Arts from Jan. 1995 - Dec. 1996. It also publishes Carolina Arts Online, Copyright© 2010 by PSMG, Inc. All rights reserved by PSMG, Inc. or by the authors of articles. Reproduction or use without written permission is strictly prohibited. Carolina Arts is available throughout North & South Carolina.