Feature Articles


For more information about this article or gallery, please call the gallery phone number listed in the last line of the article, "For more info..."
October Issue 2010

The Treasure Nest Art Gallery in Mount Pleasant, SC, Features Works by Karen Burnette Garner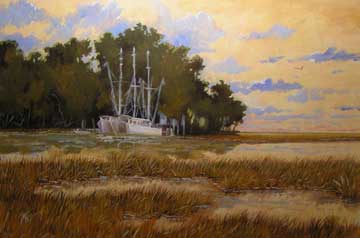 The Treasure Nest Art Gallery in Mount Pleasant, SC, will present the exhibit, Lowcountry VI, featuring new works by Karen Burnette Garner, from Oct. 23 - Nov. 30, 2010.
The exhibition continues Garner's tradition of creating Lowcountry landscape paintings, with over 30 new original works in acrylic on canvas on display. This will be the sixth annual show in what has become a highly anticipated art event for area collectors.
Garner, a Georgia native, has been represented by The Treasure Nest Art Gallery in Mount Pleasant since 2002. Her studies with mentor John Baden-Nuttall and the late Al Brouillette have helped the artist bring the Carolina Lowcountry to paint and canvas. Her works have been characterized as realistic impressionist in style, and she credits the influence of master painters Ray Ellis and the late Paul Strisik in the development of her interpretations of the Lowcountry marshes and tidal creeks.
Garner says, "These master painters understood the importance of light, composition, and touching the heart of the viewer. I continue to strive to honor their legacy by creating artworks with the same strong sense of place and emotion."

For the 2010 show, artworks will be focusing on transitions of time, the change of light from day to night, and again to day. Moonlight reflecting off marsh waters, stormy skies giving way to bright sun, and late afternoon sunsets are featured in many of the over thirty newly created artworks that will be available. Garner also collaborates with collectors to create site specific works of art on commission.

Garner's works have been avidly collected by art connoisseurs worldwide. Her clients include AT&T, Wachovia, Thomas and Hutton Engineering (Myrtle Beach), Chateau Elan Winery, Holston Valley Hospital, University of Georgia, and Mr. Larry "Chipper" Jones of the Atlanta Braves. She is also a published illustrator and award-winning poet, regularly published in The Reach of Song, a yearly anthology of verse produced by the Georgia Poetry Society.
For further information check our SC Commercial Gallery listings or call the gallery at 843/216-1235.

[ | October 2010 | Feature Articles | Carolina Arts Unleashed | Gallery Listings | Home | ]
Carolina Arts is published monthly by Shoestring Publishing Company, a subsidiary of PSMG, Inc. Copyright© 2010 by PSMG, Inc., which published Charleston Arts from July 1987 - Dec. 1994 and South Carolina Arts from Jan. 1995 - Dec. 1996. It also publishes Carolina Arts Online, Copyright© 2010 by PSMG, Inc. All rights reserved by PSMG, Inc. or by the authors of articles. Reproduction or use without written permission is strictly prohibited. Carolina Arts is available throughout North & South Carolina.