Feature Articles


For more information about this article or gallery, please call the gallery phone number listed in the last line of the article, "For more info..."
October Issue 2010

Village Studios and Gallery in Greenville, SC, Features Works by Erin Jones and Katherine Duncan Aimone

Village Studios and Gallery located in the Pendleton Arts District of Greenville, SC, will present the exhibit, Body Language, featuring works by Erin Jones, a Greenville ceramicist, and Katherine Duncan Aimone, a painter who lives in Asheville, NC. The exhibit will be on view from Oct. 1 - 30, 2010.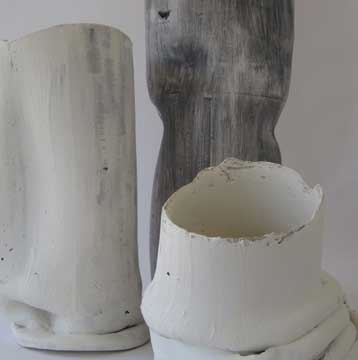 Erin Jones
Erin Jones is the niece of Katherine Aimone, and the two have paired up to create an installation of large-scale paintings and sculptural ceramics.

Both artists work abstractly and share the common theme of using movement to guide their work. "I begin with a large, blank piece of heavy paper on the wall that is almost as large as me. I work within that space, generating marks without thinking, and then I begin to find patterns and shapes, rhythms, and movements that appeal to me. It's very freeing work. Keeping the work in flux and putting my mind on hold is a goal throughout the process as I edit and complete the painting," says Aimone.

Jones notes about her work in sculptural ceramics: "For me, creating is a very intuitive, in-the-flow process, as I respond bodily to the clay and other forces, such as gravity and time. My work is very action/reaction. That's not to say that I don't think and plan, I do... but that's usually not what happens once I'm inside the studio. There's a rhythm, a dance, as I work. I find that working on a larger scale contributes to this process."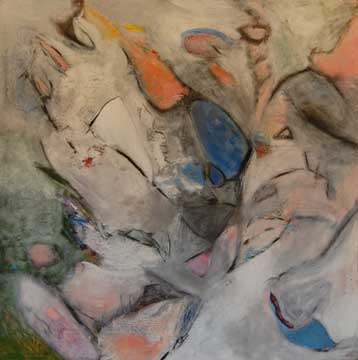 Katherine Duncan Aimone
Aimone holds an MA in Art History and for most of her career has worked as a museum curator and director as well as an editor/writer for Lark Books. She is the author of the Fiberarts Book of Wearable Art and other books and is co-owner of Aimone Art Services with her husband, Steven Aimone. She is now a studio painter and an independent arts writer. She and her husband split their time between Maine and Asheville. The works on display were created on Monhegan Island, ME.

Jones holds an MFA from Clemson University and is a Greenville native and local artist who specializes in ceramic sculpture. She is the owner of Erin Jones Studios at Gallery 1279 in the Pendleton Street Arts District. She is a full-time studio artist and pottery instructor.

For further information check our SC Commercial Gallery listings, call the gallery at 864/295-9278 or visit (www.villageartstudios.com).


[ | October 2010 | Feature Articles | Carolina Arts Unleashed | Gallery Listings | Home | ]
Carolina Arts is published monthly by Shoestring Publishing Company, a subsidiary of PSMG, Inc. Copyright© 2010 by PSMG, Inc., which published Charleston Arts from July 1987 - Dec. 1994 and South Carolina Arts from Jan. 1995 - Dec. 1996. It also publishes Carolina Arts Online, Copyright© 2010 by PSMG, Inc. All rights reserved by PSMG, Inc. or by the authors of articles. Reproduction or use without written permission is strictly prohibited. Carolina Arts is available throughout North & South Carolina.