Feature Articles


For more information about this article or gallery, please call the gallery phone number listed in the last line of the article, "For more info..."
October Issue 2010

Waterworks Visual Arts Center in Salisbury, NC, Offers New Exhibits
The Waterworks Visual Arts Center in Salisbury, NC, is presenting its Fall 2010 exhibitions, History Makes Art, including these exhibits: Norvell and Young People's Galleries, Collaboration with Historic Salisbury Foundation, featuring artwork and artifacts from the foundation's collection; Stanback Gallery Hall, Reminders of History, featuring paintings by Marina Konovalova-Bare; Osborne Gallery, Site Seeing, featuring sculptures by Lin Barnhardt; Woodson Gallery, A Vintage View of Today's South, featuring photographs by R. Wayne Wrights; and in the Stanback Sensory Garden, sculptures by Don Green. All exhibitions will be on view through Nov. 20, 2010.

Author Dr. Wayne Dyer says, "If you change the way you look at things, the things you look at change." Going through our day, we notice the function of an object. That's a house, a car, or a bureau. By taking items out of context, changing its size, removing the color, or narrowing our view, History Makes Art enables us to look past function and see the art inherent in the design of everyday items. As we begin to truly see, the lines, curves, texture, scale, light and shadows of each piece reveal themselves. Artifacts, images from the past, and paintings of items created in the past illustrate our instinctive appreciation of beauty and our need to create and communicate through a visual medium.
In collaboration with Historic Salisbury Foundation, Waterworks will feature artwork, furniture, textiles, decorative accessories, and artifacts from the Foundation's collection. Visitors to the Center will see the beauty, fine craftsmanship, and intricate details of days gone by. Each piece is a work of art. Each piece tells a story.
Supplementing the Foundation's collection is an assemblage of photographs depicting twenty significant properties that stood in Salisbury's Historic Districts. These photographs demonstrate the great architecture of the late 19th and early 20th Centuries and tell a story about the people who lived there. Visitors will also view a map highlighting each structure's location and reference current photographs of what occupies the site today.
A Vintage View of Today's South, showcases the work of fine art photographer, R. Wayne Wrights. His black and white photographs reflect his belief that "my photographs are most successful when they not only show beauty but also evoke a sense of wonder and mystery. I like to give a feeling of looking at a hidden world we don't normally see." Vintage describes his subject matter as well as his technique. All of Wrights' photographs were taken with vintage large- and medium-format cameras. Each negative was printed by hand at Waterworks Visual Arts Center on fiber-based paper with a high silver content to produce the widest range of tones from total black to pure white.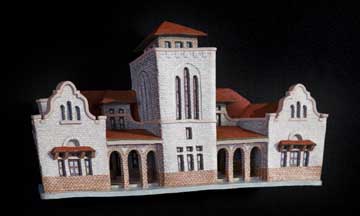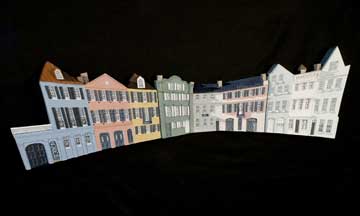 Lin Barnhardt
Incorporating architecture, sculpture, and painting into one art form, Site Seeing is the work of Kannapolis, SC, sculptor, Lin Barnhardt. His clay reconstructions document architectural styles both past and present in scaled miniature replicas. After creating an architectural model with a dropped vanishing point to establish a bird's eye point of view, he forms the structure in earthenware, adding details such as corrugated roofs, fluted columns, and textured shingles. After bisque firing and adding color, the sculpture becomes a three-dimensional painting.
Through the meeting of art and history, Barnhardt's sculptures tell the story of the architects, builders, and craftsmen who created Rowan County's iconic buildings.
Russian-born painter, Marina Konovalova-Bare's works reflect the remembrances of Rowan County surrounding us. She states, "Reminders of History is a thank you to our parents, grandparents, local enthusiasts, and museums for saving history. The United States has a great history that everyone needs to remember. It is amazing how a small city can reflect the journey of a great nation. I try to show all these memories of times past through the painting in this show."
Konovalova-Bare's warm palette and soft brush strokes provide a gentle lens to view buildings and artifacts from our past.
Along with the professional displays, a collaborative project by WVAC's 2010 Summer Art Residency students will be highlighted in the Young People's Gallery. Under the leadership of Joshua Cross, Associate Professor of Art at Pfeiffer University, assisted by Timothy Joseph (TJ) Haven, a senior art student at Pfeiffer University, sixteen middle-school students participated in a week-long photography residency entitled History Makes Art: A Young Person's View of Historic Salisbury.
Students were challenged "to live as artists for a week". Each student was provided a camera and through individual experiments in black and white photography each created their own visual documentary of historic Salisbury. After taking the photographs, students were trained in traditional darkroom practices and developed their own prints for inclusion in this group show.
The Fall 2010 Exhibitions are being presented by BB&T (Branch Banking and Trust Company). We also thank our advocates:
F & M Bank, the late Katharine W. Osborne, and James G. and the late Christine P. Whitton.

The Waterworks Visual Arts Center is accredited by the American Association of Museums. Its mission is to provide diverse opportunities in the arts for all people through exhibitions, education, and outreach. The Waterworks is funded by individual memberships, corporations and businesses, foundations, the City of Salisbury, Rowan County, and the Rowan Arts Council. The Institute of Museum and Library Sciences, a federal grant-making agency dedicated to creating and sustaining a nation of learners by helping libraries and museums serve their communities, supports the Waterworks Visual Arts Center. Waterworks receives general support from the North Carolina Arts Council, an agency of the Department of Cultural Resources and the National Endowment for the Arts, which believes that a great nation deserves great art.
For further information check our NC Institutional Gallery listings, call the Center at 704/636-1882 or visit (www.waterworks.org).

[ | October 2010 | Feature Articles | Carolina Arts Unleashed | Gallery Listings | Home | ]
Carolina Arts is published monthly by Shoestring Publishing Company, a subsidiary of PSMG, Inc. Copyright© 2010 by PSMG, Inc., which published Charleston Arts from July 1987 - Dec. 1994 and South Carolina Arts from Jan. 1995 - Dec. 1996. It also publishes Carolina Arts Online, Copyright© 2010 by PSMG, Inc. All rights reserved by PSMG, Inc. or by the authors of articles. Reproduction or use without written permission is strictly prohibited. Carolina Arts is available throughout North & South Carolina.