Feature Articles

January Issue 2001
The Elizabeth O'Neill Verner Gallery in Charleston, SC, Reviews Its History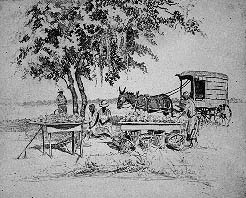 The Elizabeth O'Neill Verner Gallery, in Charleston, SC, was founded at 38 Tradd Street in 1938 by the noted Charleston artist, Elizabeth O'Neill Verner. Verner called it "The Tradd Street Press" as she had her etching press installed in the back room, which also served as her studio. The gallery moved into the 21st century continuing to feature originals and reproductions of Verner's etchings and pastels, and originals by other artists in the same fine art vein. A Charleston landmark for 62 years, Elizabeth O'Neill Verner's gallery is still owned and operated by her family and is the oldest fine arts gallery in Charleston.

Verner was a major figure of the Charleston Renaissance and her interpretation of local scenes and historic architecture helped spark the preservation movement in Charleston as well as preserve a glimpse of the way Charleston was. She was also the author of four books including three that are currently out of print; however, Prints and Impressions of Charleston, which was originally published in 1939, will be reissued in the near future. Mellowed by Time, Verner's story of Charleston illustrated with pencil drawings, has been in print since 1941. Verner's work is part of the permanent collection of the Metropolitan Museum of Art in New York, The Boston Museum of Fine Arts, The High Museum, in Atlanta, and The Gibbes Museum of Art, in Charleston, as well as many others including private collections around the world. Named in her honor, the "Verner Award", recognizes outstanding contributions to the arts and is presented annually by the Governor of South Carolina on behalf of the South Carolina Arts Commission.
In December of 1998, David Verner Hamilton, grandson of the artist and president of the Tradd Street Press announced that the name of the firm changed from The Tradd Street Press to The Elizabeth O'Neill Verner Gallery.

"We decided the name Tradd Street Press did not adequately define the nature of the business we're in," said Hamilton. "The main focus of the operation is art, both by Mrs. Verner and contemporary artists in a traditional, fine art vein."

The adjacent space at 79 Church Street, also operated by the Verner Gallery, has exhibited works by other artists. It was at one time the home of Anna Heyward Taylor of The Charleston Renaissance era.

Born Dec. 21, 1883, at 38 Chalmers Street in Charleston, Verner lived next door to her grandparents who lived at the corner of Chalmers and Meeting. She was one of 11 sisters and 2 brothers. Having showed an early passion for art at the age of seventeen, Elizabeth O'Neill was sent to live with relatives in Philadelphia to attend the Pennsylvania Academy of Fine Arts. Her most important teacher was Thomas Anshutz the well known disciple of Thomas Eakins. It was Eakins' esthetic that she learned, the direct observation of nature to discover its inherent beauty with an unflinching gaze which saw life's warts as well as its sublime. This view coupled with an almost photographic realism defined the American School of that era and Eakins was the headmaster. He shared the time with Winslow Homer and other greats, but not the podium. O'Neill took this esthetic to heart and remained faithful to it throughout her life. The Twentieth Century has seen a multitude of artistic styles and dogmas come and go, but she felt that Eakins esthetic was the closest to her own and suited her southern sensibilities. She read Ruskin and learned criticism from Anshutz. Eventually everything she learned became ammunition for there was never a more partisan Charlestonian than Elizabeth O'Neill Verner. She used her talents and mind to enlist help, aid others or batter resistance in promoting and defending her city.
Verner's first studio was in the rear of her parents house at 43 Legare Street. Starting in her teen years, she had begun painting cityscapes of Charleston. Alice Ravenel Huger Smith was a great friend and mentor to Verner (who in turn mentored and encouraged many artists including William Halsey.) From 1910 to 1932 Verner's second studio was in the garden at 3 Atlantic Street. She shared this studio with Leila Waring. On Sundays, the four artists of the neighborhood, Verner, Waring, Smith and Taylor would invite guests in for tea and to see their latest works. Her life was filled by child rearing and wifely duties that left little time for the studio during these early years. It was in the early 1920s when her children were teenagers that Elizabeth Verner got her artistic career moving. In 1922, she along with Smith and a few others learned etching. Verner took to it immediately and by 1925 when her husband died, she was in a position to declare herself a professional artist, and soon after, a writer. Between 1925 and 1932, the year of her second marriage, she accomplished a tremendous body of work. In 1926, her etchings were provided to illustrate DuBose Heyward's Porgy, and in 1928 she did etchings of Savannah. In 1930, Verner traveled to Europe, doing the drawings for her book Other Places. In 1933, she ceased etching but continued with drypoints and in 1934 began experimenting with the pastel medium.
Verner's earliest pastels were experimental and unsuccessful. However, by 1936 she had determined that is what she wanted to do. In 1937, on her trip to Japan, where she did a collection of drypoints - her last graphic work - she hit upon the idea of drawing with pastels on raw silk while it was still wet from the glue used to hold it to a substratum such as artist's board. On her return to Charleston, she did the first drawings of flower women using this medium. The two earliest examples which date from 1937 from her studio at 85 Church Street (which she had from 1936 to 1938) are in a local collection. She called this new process "Verner Colors".
Pastels became her main work, though she continued to draw and kept sketch books with her always. Some of these drawings were turned into about 115 postcard subjects, some of which were sold all over Charleston. She was commissioned to draw Williamsburg, VA, and New York City for the Rockefellers, Mt. Vernon for the Ladies Association and West Point. She drew many churches and was commissioned to make a drypoint print of the Medical School at Harvard.

Starting in her late teens she had been a strong advocate of preservation in Charleston, was a founding member of the Preservation Society of Charleston and was instrumental in funding the Historic Charleston Foundation by getting one of the first grants for it from Smith Richardson which was for the Revolving Fund which was eventually used to purchase the Nathaniel Russell house in Charleston. Always personally modest in putting herself forward, she forcefully pursued her career, always working alone, she pressed ever onwards with her work and this eventually brought her real fame and admiration for her skills and warmth. She kept a correspondence with hundreds of friends as well as many more clients whom she made her friends. Very active in all aspects of preserving Charleston throughout her life. She also participated in preservation work in Savannah, GA, and Fayetteville, NC. Verner was a founding member of The Society for the Preservation of Old Dwellings, later The Preservation Society of Charleston.

In addition to her art and preservation work, Verner was a founding delegate and president of The Southern States Arts League. She attended the London Central Arts School as an honored artist. She was also president of the Garden Club when the city fathers tried to remove the flower ladies from the Four Corners of Law.

The year Verner purchased her last studio at 38 Tradd Street was also the year her grandson David Verner Hamilton (the current owner of the gallery) was born. She was in full stride as a professional artist, writer and lecturer by this time and had a wide following. She sold all her work from her studio sometimes with the help of others, so that she could be out on location working early and late. In compensation for her demanding professional schedule, she took an annual vacation that lasted from June through September. She then traveled or stayed in the mountains of North Carolina where many Carolinians escaped the oppressive heat that was inescapable at home in the era before air conditioning.
In 1967 Verner produced her last large pastel, Day Clean at Middleton Place. By 1969 Verner was 85 and there was little work being produced. She lived until her 95th year and passed away in 1979.
David Hamilton has been associated with his grandmother's gallery since 1978 although he spent a great deal of time in it in his earlier years. He also operated an art gallery on Hasell Street, in Charleston, called The David Hamilton Gallery for many years. Opened in 1977, The David Hamilton Gallery's first show was called The New Figurative Painting and included works by Paul Georges, Alex Katz, Bruno Civitico, Lennart Anderson, Jack Beal, Philip Pearlstein, Anthony Santuoso, Donald Pearlis, Janet Chupack, Harriet Shorr, Robert Stark, Manning Williams and Daphne vom Baur. The gallery also had shows for Wolf Kahn, Emily Mason (Kahn's wife), Linda Fantuzzo, Eugene (Bud) Leake, Harry Moore Gordon, Lucy Clark, Elsie Densmore Popkin and Robert Deniro, the father of the actor. The gallery closed in 1993 when the Hamiltons moved to Virginia and began splitting their time between the horse country of Warrenton and Charleston.
Reminiscent of the Hamilton Gallery shows was the group show of contemporary American art celebrating the gallery's new name of The Elizabeth O'Neill Verner Gallery in March of 1999. The works in the show were by Marita Rappleye, Harry Sefarbi, Robert Stark, and William Woodward, as well as Charleston painters Daphne vom Baur, Douglas Balentine and Manning Williams. A full, broad range of painting styles and subject matters was represented by these artists: classic still lifes and figures, lush landscapes, and, in some cases, a fascinating blend of genres. All the artworks were rendered in oils on a variety of surfaces: linen, panel, and masonite. The artists backgrounds and interests are as varied as their painting styles. Harry Sefarbi is a Philadelphia painter and a long time teacher at the Barnes Foundation in Merion, PA. Sefarbi has exhibited in Paris at the Salon d'Automne and Galerie Huit and in numerous shows in the Philadelphia area. This exhibit marked Sefarbi's debut in the Charleston area.
Native Charlestonian Manning Williams was a professor at the College of Charleston and exhibited for many years at The David Hamilton Gallery. A love of the Lowcountry terrain and the traditional sports of hunting and fishing figure prominently in his works. His early landscapes presaged the current vogue in coastal and marsh depictions. His current works continue his fascination with war imagery and reenactments but in a comic book form which he abstracts.
Robert Stark and Daphne vom Baur have been involved in the Charleston art community since the 1970s. vom Baur has exhibited widely throughout South Carolina and served on the South Carolina Arts Commission's Acquisition Committee. A strong sense of rhythm, color and movement inform her works of allegorical figures, landscapes and coastal scenes. Over the past 30 years, numerous artists from Charleston, including Mary Walker and Bob Caviness, were artists in residence at Stark's studio in Northwestern Pennsylvania. Stark has had one person shows at both the Phillips Collection and the Corcoran Gallery in Washington. For this show, Stark exhibited strong, bold, deeply textured landscapes in lush hues.
William Woodward, a professor of Fine Art at George Washington University, has exhibited at the Hirschl-Adler Gallery in New York, as well as the Corcoran Gallery and Fendrick Gallery in Washington. At The Verner Gallery, he exhibited landscapes and coastal scenes of the French coast in Brittany. Classic still lifes were offered by Marita Rappleye. Rappleye, of Aiken, SC, studied at The Art Students League in New York and especially with Master Painter David Lefeffel in Taos, NM.
Works of Mehmet Güler and Paul Resika have also been shown at The Verner Gallery. The gallery now shows the works of Daphne vom Baur, Manning Williams, Mary Walker, Lonnie Stewart, Paul Bertholet and Lese Corrigan. Walker lives and works in Charleston creating thickly textured panels with the feel of Italian frescos. Stewart works half time in Illinois and in Charleston on his portrait and bronze commissions. Bertholet is a muralist whose small works are jewels which fall from his large works. Corrigan is a native Charlestonian depicting the world around her in an impastoed color play of light.

Hundreds of thousands of people have visited Elizabeth O'Neill Verner's small studio on Tradd Street during the years and when some return many years after her death, they say how much they liked her, how pleased they were to know her and how memorable she was as a person. Her work has given them a feeling for Charleston that emphasizes its beauty, charm and intimate magic. Her writings and pictures captured the true glamour which was to be found in its crumbling architecture and the elegantly old-fashioned manners of its citizens. Throughout her career, she accomplished much and received much recognition and many accolades. The Verner Gallery is pleased to continue offering her works to the public and giving platform to contemporary artists expressing their interpretation of Charleston and the world beyond both representationally and abstractly.

The Verner Gallery looks forward to many more years of supporting and encouraging art in this city. In the next year the gallery will more fully utilize Elizabeth O'Neill Verner's studio space on Tradd Street and in the spring the gallery will begin having intimate gatherings on the third Thursday of the month in the late afternoons to bring artists and art lovers together for visits and "art talk." The current show in the gallery is entitled Omnium Gatherum featuring a variety of work by the gallery artists, which will be on view through Feb., 2001.
For additional information, check our SC Commercial Gallery listings or call the gallery at 843/722-4246. You can also check them out on the world wide web at (http://www.vernergallery.com).

[ | Jan'01 | Feature Articles | Home | ]

Mailing Address: Carolina Arts, P.O. Drawer 427, Bonneau, SC 29431
Telephone, Answering Machine and FAX: 843/825-3408
E-Mail: carolinart@aol.com
Subscriptions are available for $18 a year.
Carolina Arts is published monthly by Shoestring Publishing Company, a subsidiary of PSMG, Inc.
Copyright© 2001 by PSMG, Inc., which published Charleston Arts from July 1987 - Dec. 1994 and South Carolina Arts from Jan. 1995 - Dec. 1996. It also publishes Carolina Arts Online, Copyright© 2001 by PSMG, Inc. All rights reserved by PSMG, Inc. or by the authors of articles. Reproduction or use without written permission is strictly prohibited. Carolina Arts is available throughout North & South Carolina.