Feature Articles

January Issue 2002
Hidell Brooks Gallery in Charlotte, NC, Features Works by Arless Day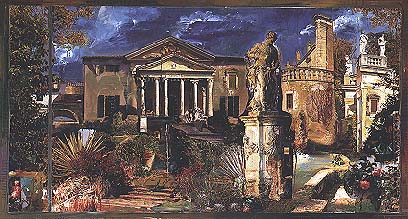 Hidell Brooks Gallery in Charlotte, NC, is pleased to announce Arless Day's first solo exhibition since newly representing him exclusively in NC. Day's exhibition opens Jan. 4 and is on view through Feb. 23, 2002.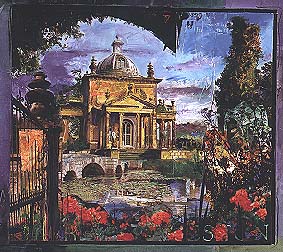 Day builds the best of all possible worlds in his collage paintings. He creates buildings, landscapes and room interiors that could only exist in one's imagination. Day literally constructs environments from scores of images collected, cut and torn from books, magazines and catalogues to produce his unique architectural visions. His newest collages have departed from their usual Italian influences moving toward a more Southern atmosphere. The Italian facades which have dominated Day's collages over the last few years have been replaced by American architecture. The European influence is still present throughout his collages especially in two interior cathedrals but he has taken a sabbatical from Italian images. The emphasis of the exhibition is incredibly detailed interiors which are full of plants, books, paintings, and windows into another world.
Day has exhibited at the Morris Museum of Art, the Asheville Museum of Art, the Birmingham Museum of Art, the Arnot Art Museum, the Ogden Museum of Southern Art and the Greenville County Museum of Art.
For more information check our NC Commercial Gallery listings or call the gallery at 704/334-7302.
[ | January'02 | Feature Articles | Home | ]

Mailing Address: Carolina Arts, P.O. Drawer 427, Bonneau, SC 29431
Telephone, Answering Machine and FAX: 843/825-3408
E-Mail: carolinart@aol.com
Subscriptions are available for $18 a year.
Carolina Arts is published monthly by Shoestring Publishing Company, a subsidiary of PSMG, Inc.
Copyright© 2002 by PSMG, Inc., which published Charleston Arts from July 1987 - Dec. 1994 and South Carolina Arts from Jan. 1995 - Dec. 1996. It also publishes Carolina Arts Online, Copyright© 2002 by PSMG, Inc. All rights reserved by PSMG, Inc. or by the authors of articles. Reproduction or use without written permission is strictly prohibited. Carolina Arts is available throughout North & South Carolina.