Feature Articles


For more information about this article or gallery, please call the gallery phone number listed in the last line of the article, "For more info..."
January Issue 2006
Gallery 80808 in Columbia, SC, Offers Feng Shui Exhibition
The first show of the new year at Gallery 80808 at Vista Studios in Columbia, SC, features works by four Carolina artists within a Feng Shui-designed installation. The show, entitled Elements, opens Jan. 19 and will remain on view through Jan. 24, 2006. A variety of art forms will comprise the show, including paintings and collages by Eileen Blyth, mosaic tile work and other ceramics by Jeri Burdick, ceramic sculpture by Pat Gilmartin, and collages by Emily Whittle. Feng Shui consultant, Toni Forrest, will guide the design and arrangement of the gallery for this exhibition.
Eileen Blyth studied art and design at the College of Charleston and the University of South Carolina. Although she works in a variety of media, such as paintings, woodcuts, and collages of found objects, a common theme found in many of her pieces is that of nature, of the beauty and mystery of the natural environment. Blyth has participated in many exhibitions in North and South Carolina and has twice won the Fine Arts Purchase Award at the SC State Fair. She has exhibited in galleries such at the Blue Pony in Charlotte, NC, Fish or Cut Bait at Edisto Island, SC, and the Lewis and Clark Gallery in Columbia.
Jeri Burdick will contribute both functional and sculptural ceramics to the Elements show. Burdick, who has exhibited widely both within the southeast and elsewhere in the US, has won numerous awards for her creative and energetic approach to ceramic form and surface. She was a recipient of a SC Crafts Association fellowship, and the State Museum has purchased her work for their permanent collection. Although Burdick is best-known for her ceramics, she has also produced paintings and works in mixed media. Most recently her focus has turned to mosaic installations. She has exhibited in many fine galleries, including Nina Liu and Friends in Charleston, SC, Blue Spiral in Asheville, NC, Carol Saunders in Columbia, and the Hampton III Gallery in Greenville, SC.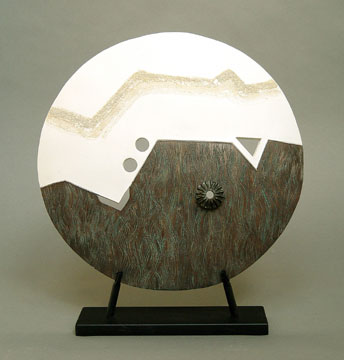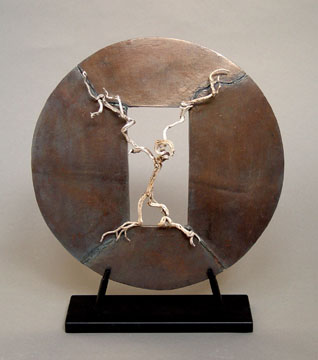 Pat Gilmartin
Pat Gilmartin's ceramic sculptures accent the figurative genre as well as some abstract work. Her new works for this show include a series of slim, elongated female figures finished with a bronze patina. In addition, she will be exhibiting a set of abstract disk forms designed with various surface textures, colors, and additions of natural found objects. Gilmartin has participated in various juried shows in the region, including the Aiken County Historical Museum Sculpture Show, the Open Eyes exhibition, and the SC Philharmonic fundraisers.
Emily Whittle has a BFA from Ohio Weslyan University and lives in Red Springs, NC. A studio artist and writer, she has worked in calligraphy, decorative papers, and eastern and western book-binding techniques. For the Elements show, she will exhibiting collages.
The exhibition will be installed in Gallery 80808 under the guidance of Toni Forrest, a Feng Shui consultant. Feng Shui is the traditional Chinese practice of arranging one's environment so as to enhance energy flow and harmony. The goal for this exhibition is to achieve a cohesive flow and fluid backdrop for the art which will allow the observer to focus on the art and yet feel a heightened sense of energy (chi). Forrest brings an extensive background in teaching, decorating and spiritual studies to the practice of Feng Shui.
Gallery 80808 is located at 808 Lady Street in Columbia's Congaree Vista. Although Lady Street is under construction, it remains open to traffic and parking; the gallery is accessible from either Lady or Gervais Street.
For further information check our SC Commercial Gallery listings, call the gallery at 803/252-6134 or at (www.gallery80808vistastudios.com).


[ | Jan'06 | Feature Articles | Gallery Listings | Home | ]
Carolina Arts is published monthly by Shoestring Publishing Company, a subsidiary of PSMG, Inc.
Copyright© 2006 by PSMG, Inc., which published Charleston Arts from July 1987 - Dec. 1994 and South Carolina Arts from Jan. 1995 - Dec. 1996. It also publishes Carolina Arts Online, Copyright© 2006 by PSMG, Inc. All rights reserved by PSMG, Inc. or by the authors of articles. Reproduction or use without written permission is strictly prohibited. Carolina Arts is available throughout North & South Carolina.