Feature Articles

November Issue 2000
Nina Liu and Friends in Charleston, SC, Features Works by John B. Clingempeel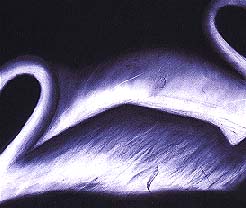 Nina Liu and Friends gallery in Charleston, SC, will present an exhibition of works in charcoals and encaustics by Roanoke, VA, artist, John B. Clingempeel. The exhibit will be on view from Nov. 3 through 30, 2000.

Clingempeel's work is complex but simple, dark but filled with light, permeated with symbolism and grounded in reality. Working with encaustic, a mixture of wax and pigment, he builds up thick surfaces to create paintings of remarkable beauty. His charcoal drawings focus on the effects of line, shape, and shadow and how one "reads" an image.

Clingempeel obtained his BFA from Roanoke College in Salem, VA, and he completed his MFA at Virginia Commonwealth University in 1988. He has been part of group exhibitions in New York, Georgia, Virginia, and Pennsylvania, showing his work at Artists Space, the High Museum of Arts's Georgia Pacific Center venue, the Alleghany Highlands Arts and Crafts Center, Virginia Polytechnic Institute and State University, and other sites. Clingempeel has had numerous solo exhibitions in Virginia, but this exhibition will be his first in South Carolina. His work is in the collection of the Art Museum of Western Virginia, the Longwood Fine Arts Center, and Virginia Western Community College.

For further info check our SC Commercial Gallery listings or call 843/722-2724. You can also see images by artists represented on the web at (http://www.CarolinaArts.com) then click on the Nina Liu and Friends link.

[ | Nov'00 | Feature Articles | Home | ]

Mailing Address: Carolina Arts, P.O. Drawer 427, Bonneau, SC 29431
Telephone, Answering Machine and FAX: 843/825-3408
E-Mail: carolinart@aol.com
Subscriptions are available for $18 a year.
Carolina Arts is published monthly by Shoestring Publishing Company, a subsidiary of PSMG, Inc.
Copyright© 2000 by PSMG, Inc., which published Charleston Arts from July 1987 - Dec. 1994 and South Carolina Arts from Jan. 1995 - Dec. 1996. It also publishes Carolina Arts Online, Copyright© 2000 by PSMG, Inc. All rights reserved by PSMG, Inc. or by the authors of articles. Reproduction or use without written permission is strictly prohibited. Carolina Arts is available throughout North & South Carolina.