Feature Articles


For more information about this article or gallery, please call the gallery phone number listed in the last line of the article, "For more info..."

November Issue 2003
Two New Exhibitions at Burroughs-Chapin Art Museum in Myrtle Beach, SC
The Franklin G. Burroughs-Simeon B. Chapin Art Museum in Myrtle Beach, SC, is presenting its final exhibits of the year. The exhibitions Lynne Clibanoff: 25 Years in Perspective and J. Chris Wilson: Retrospective feature two and three dimensional works by Philadelphia artist Lynne Clibanoff and oil paintings by art professor J. Chris Wilson of Barton College in Wilson, NC. Both exhibits will continue through Jan. 4, 2004.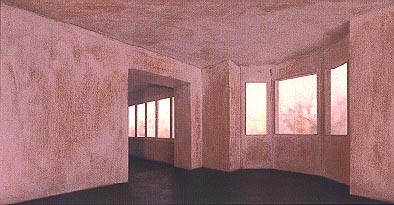 Lynne Clibanoff
It is no accident that Lynne Clibanoff: 25 Years in Perspective creates an Alice-in-Wonderland-like adventure. Lewis Carroll's renowned books have long been Clibanoffs favorites. The daughter of a popular Philadelphia magician, Clibanoff creates her own successful illusionist tricks with miniature constructions of architectural spaces that seem to contain mysteries and to be "full of emptiness." Acclaimed for their craftsmanship, her two- and three-dimensional works have been likened to empty stage sets, waiting to be peopled with actors. Clibanoffs exhibit in Myrtle Beach follows a successful 2002 exhibition at The Noyes Museum of Art in New Jersey which was described in The New York Times as "a formidable mid-career retrospective." Her works are included in the Library of Congress, the Museum of Modern Art, the Philadelphia Museum of Art and Yale University. 25 Years in Perspective will present 50 works dating from 1977 to the present with a variety of media including boxed construction, watercolor, screenprint, etching, gelatin silver, graphite and mixed media.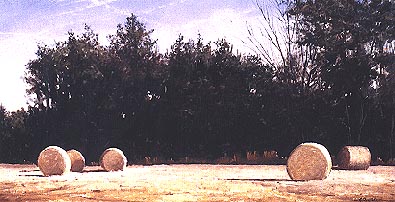 J. Chris Wilson
J. Chris Wilson: Retrospective brings together 31 works in oil on canvas from the last decade. Noted as a post-abstract Southern realist, Wilson's exhibition will depict the regionalism of his North Carolina landscape as well as still lifes. Wilson's exhibit at the Franklin G. Burroughs-Simeon B. Chapin Art Museum follows on the heels of a four-venue exhibit in art centers near his Edgecombe County home in eastern North Carolina. To prepare for these and two more exhibitions in the near future, Wilson has taken a year's sabbatical from Barton College, where he has taught art for 30 years. A hardback coffee-table book on Wilson's work has also been published to accompany his retrospective exhibits.
For more information check our SC Institutional Gallery listings, call the museum at 843/238-2510 or on the web at (www.MyrtleBeachArtMuseum.org).

[ | Nov03 | Feature Articles | Gallery Listings | Home | ]

Carolina Arts is published monthly by Shoestring Publishing Company, a subsidiary of PSMG, Inc.
Copyright© 2003 by PSMG, Inc., which published Charleston Arts from July 1987 - Dec. 1994 and South Carolina Arts from Jan. 1995 - Dec. 1996. It also publishes Carolina Arts Online, Copyright© 2003 by PSMG, Inc. All rights reserved by PSMG, Inc. or by the authors of articles. Reproduction or use without written permission is strictly prohibited. Carolina Arts is available throughout North & South Carolina.