Feature Articles


For more information about this article or gallery, please call the gallery phone number listed in the last line of the article, "For more info..."

November Issue 2003
Cameo Fine Art in Columbia, SC, Offers Two Exhibit for Vista Lights
Cameo Fine Art in Columbia, SC, will be presenting simultaneous exhibits beginning Nov. 20 to kick of the annual Vista Lights event. One of the exhibits using a portion of the gallery titled, Fragments, will consist of new works by some of our regular featured artists. Some of the artists included are: Lee Monts, Sherie Koenig, Liisa Salosaari Jasinski, Amanda Thorne-Suber, Van Martin, Helen Fried, Leanne Kelley-Badeaux, Borys Buzkij, Carole Connely, Anne Bivens, Peter Alsen, Gary Noland, Sharon Licata, Jean McWhorter, Britta Cruz and many more. This exhibit will be on display thru Dec. 30, 2003.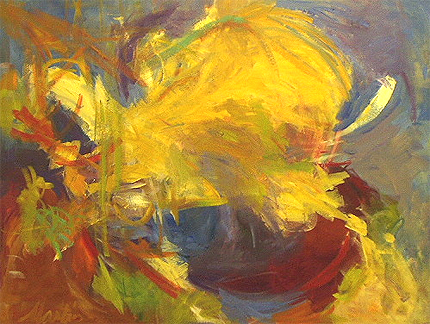 Debbie Martin
The next exhibit absorbing the other half of the gallery is to premiere, Intuition 101, a blend of contemporary paintings by local artist Debbie Martin. Martin, originally from Knoxville, TN, currently residing in Columbia, has been an art consultant with Cameo Fine Art for the last six years. She has been very successful in her full time career of promoting, selling and placing art in the residential and corporate communities, but is now ready to achieve and pursue her love of art on a more personal level. This will be the first exhibit for Martin, hence the title, Intuition 101.
Martin's approach to her paintings stems from ideas and feelings influenced by personal experiences and exploration. Her use of rich, built up color brings dimension and life to her paintings. One can see the motivation behind each piece, by their titles. Each title has significant meaning to the painting that the viewer will be able to interpret.
"My paintings are constantly in motion which I feel helps me determine and pursue the outcome of what they may convey to the viewer. The end results are more predictable and satisfying for me after exploring with techniques and surface ideas. I find it easier now to take risks and push the limits in my paintings as apposed to where in my full time job I find I have to be selective, organized and restrain from taking risks."
For more information check our SC Commercial Gallery listings, call the gallery at 803/799-8869 or e-mail at (artcam@aol.com).

[ | Nov03 | Feature Articles | Gallery Listings | Home | ]

Carolina Arts is published monthly by Shoestring Publishing Company, a subsidiary of PSMG, Inc.
Copyright© 2003 by PSMG, Inc., which published Charleston Arts from July 1987 - Dec. 1994 and South Carolina Arts from Jan. 1995 - Dec. 1996. It also publishes Carolina Arts Online, Copyright© 2003 by PSMG, Inc. All rights reserved by PSMG, Inc. or by the authors of articles. Reproduction or use without written permission is strictly prohibited. Carolina Arts is available throughout North & South Carolina.