Feature Articles


For more information about this article or gallery, please call the gallery phone number listed in the last line of the article, "For more info..."

November Issue 2003
Charles II Art Gallery in Charleston, SC, Features Works by Kevin Harrison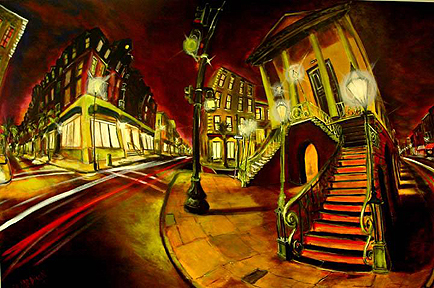 The Charles II Art Gallery in Charleston, SC, will feature a solo show of works by Kevin Harrison, from Nov. 15 through Dec. 4, 2003.
Collectors coast to coast have been attracted to Harrison's contemporary treatment of traditional subjects and familiar landmarks.
Harrison describes his painting style as "distorted realism". People have suggested that his twisted streetscapes and urban scenes would go over well in New York. Indeed they would and have, in 1999 he was accepted to show in the trendy New York gallery, Gallery 5 in Soho.
His popularity as a Charleston artist is evident to anyone who has attended any of his irreverent Piccolo Spoleto shows such as The Entropy Show, The Great Art Caper and The 13th Hour, typified by huge staged crowds, chanting and carrying picket signs. Artists arrive in stretch limos with bodyguards to hold back the barrage of protesters, fans, and media. "This year's 13th Hour Show was one of the highest attended independent art shows at Piccolo this year" says Chuck Wolf of Charles II Art Gallery, "it looked like Broad Street was shut down."
In addition to his painting, Harrison is a multimedia developer working for several national companies including: AXE Body Spray, RED BULL, SKY Vodka and McCormick Spices.
"An art historian recently quoted that 'The purpose of all art is enjoyment.'" says Chuck Wolf. "That may not apply to all art but it definitely applies to the work of Kevin Harrison. The way he takes our familiar landmarks and city-scapes and twists them on us, making the earth wobble just a little under our feet, like an amusement ride. Tickling our funny bone, at the same time we are forced to see things from a different perspective, like ourselves in a fun house mirror. Getting off the ride, or out of the fun house, we have enjoyed ourselves. After a reassuring look at our surroundings and selves, we triumphantly declare 'Terra firma, I'm whole and I'm Okay'. To me that's the pay off. There is a momentary escape from reality, and you can observe peoples' reactions immediately as they study Kevin's images. They relax, lighten up, and always smile at the discovery. Ordinarily you can't tell what people are thinking as they internalize art, but with Harrison's you can always tell. The secondary enjoyment is really in observing the viewer's enjoyment."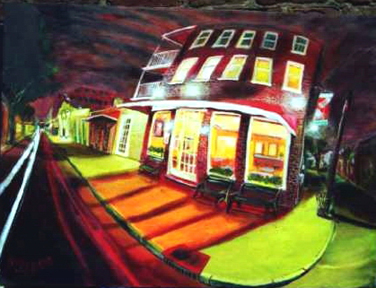 The Artist's Studio Series is a Gibbes Museum program that offers an exclusive glimpse of the creative process of Charleston's most popular artists. In 2002 Harrison was chosen as one of the five artists in the series. In 2003 Margaret Edwards went to Harrison for her CRBJ article, Creativity Index Foretells Bright Future, when she wanted the perspective of one of the areas popular visual artists.
Harrison lives on the Charleston peninsula. In 1996 he married Cathy O'Hara, an investigative reporter and anchor for an ABC affiliate in Charleston. They are in the process of adopting a baby from China. Their agency has hired Harrison to film the documentary.
For more information check our SC Commercial Gallery listings or call the gallery at 843/577-7101.

[ | Nov03 | Feature Articles | Gallery Listings | Home | ]

Carolina Arts is published monthly by Shoestring Publishing Company, a subsidiary of PSMG, Inc.
Copyright© 2003 by PSMG, Inc., which published Charleston Arts from July 1987 - Dec. 1994 and South Carolina Arts from Jan. 1995 - Dec. 1996. It also publishes Carolina Arts Online, Copyright© 2003 by PSMG, Inc. All rights reserved by PSMG, Inc. or by the authors of articles. Reproduction or use without written permission is strictly prohibited. Carolina Arts is available throughout North & South Carolina.