Feature Articles


For more information about this article or gallery, please call the gallery phone number listed in the last line of the article, "For more info..."

November Issue 2003
Furman University in Greenville, SC, Features Works by Bob Chance
by Evan A. Gatti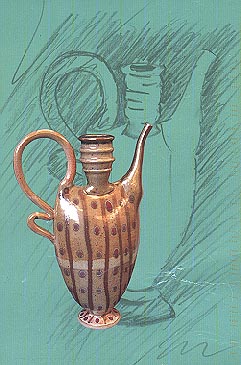 Four large raku-fired ceramic vessels decorated with Japanese koi, blue ravens, and bold geometric patterns, draw the visitor to the back of Furman University's Thompson Gallery in Greenvile, NC. These vessels are hallmarks of Bob Chance's earlier work, with which he has found much success. One can find similar pieces in the collections of the Greenville Museum, the Governor's Mansion and the State Museum of South Carolina, as well private, university and corporate collections through the southeast. This exhibition, on view through Nov. 15, 2003, however, was about new work. In Transition, Sabbatical Work: New Ceramic Vessels and Monotypes draws on new forms and inspirations, inviting the viewer into Chance's personal progression and pottery's art historical past. Looking from the vessels in the back of the gallery, to the those perched on small shelves lining the right gallery wall, or the jugs and monotypes at the left and behind you, or finally to the group of Big Round vessels in the center of the gallery, one is immediately struck by Chance's subtle yet tangible evolution.
The work featured in the exhibition, completed during a recent sabbatical from Furman University, where Chance teaches ceramics, sculpture and three-dimensional design as well as serves as Art Department Chair, was inspired in part by a summer spent teaching ceramics in Cortona, Italy. Chance was intrigued by the long history of Mediterranean pottery and found inspiration in the 'Kamares Ware Jugs' of ancient Crete, and the enigmatically beautiful and practical wine vessels of the Etruscans and Romans. Chance returned to his Greenville studio, sketches in hand. The vessels borne out of this experience are grouped on small shelves lining the right wall of the gallery. They are modern amphorae - bottles, pitchers and vases, with playful, elongated and organic forms, enhanced by brilliant blue and mauve glazes on top of earthy terra cottas, coppers and bronze. These alarmingly beautiful, yet functional, drinking vessels are stacked one on top of the other, as artifacts in a museum, as a beautiful cache of modern relics. Each small vessel is weighty with historical reference; The Graces, elegant, feminine porcelain vases decorated with a striking gun metal glaze and winged handles, hover together near the entrance to the gallery, reminding one of the gauze-draped women in Sandro Botticelli's Birth of Venus.
At the left wall of the gallery, four large jugs, Ode to Kamares, reflect not only the ancient Minoan tradition of large storage jars with sharp 'beak' lips, but Early American whiskey and molasses jugs, such as those created in South Carolina's famous Edgefield potteries. As with the pitchers, bottles and vases across the gallery, however, strikingly vibrant glazes in red and blue, modernize the antique form. Each color slides from the neck, down the body of the jugs, exaggerating the beautifully turned full forms of these vessels.
A series of monotypes, single prints pulled from an inked Plexiglas plate, flank and frame the ceramic vessels. Even these graphic arts, however, illustrate a history with ceramics, Chance has literally removed the old motifs from his earlier work and reintegrated them as familiar subject matter for an unfamiliar print medium. He relegated ideas to print and frame, working them off his pots and as he has said out of his head. Working with Phil Garrett, master printer at the Kingsnake Press, Chance experimented with colors, textures and processes though repetition and series. Another group of ceramic vessels, called Big Rounds, grouped together in the center of the room, benefit from Chance's printmaking, allowing him to draws on both old and the new themes this time on a his familiar canvas of clay. These large bulbous forms, reminiscent of his earliest work, become a field for new textures - intentional marks of scraffito - and color; stoneware glazes in copper, bronze and blue drip and pool in the recesses of the clay along the body of the pots.
In Transition, is a beautifully told personal and professional history. Each new form invites an appreciation of the history of the medium, while each vessel, an appreciation of the steps along the way; from wet clay on a wheel, in able hands, to hallmarks in an exhibition marking a potter's past, present and future.
For further information check our SC Institutional Gallery listings or call the gallery ar 864/294-2074.
Evan A. Gatti is an Instructor in Art History at Furman University and a Ph.D. candidate in Medieval Art History at The University of North Carolina at Chapel Hill.
[ | Nov03 | Feature Articles | Gallery Listings | Home | ]

Carolina Arts is published monthly by Shoestring Publishing Company, a subsidiary of PSMG, Inc.
Copyright© 2003 by PSMG, Inc., which published Charleston Arts from July 1987 - Dec. 1994 and South Carolina Arts from Jan. 1995 - Dec. 1996. It also publishes Carolina Arts Online, Copyright© 2003 by PSMG, Inc. All rights reserved by PSMG, Inc. or by the authors of articles. Reproduction or use without written permission is strictly prohibited. Carolina Arts is available throughout North & South Carolina.