Feature Articles


For more information about this article or gallery, please call the gallery phone number listed in the last line of the article, "For more info..."

November Issue 2003
Gallery 80808 in Columbia, SC, Offers Show for Vista Lights
Gallery 80808 in Columbia, SC, presents A*L*O*N*G*L*A*D*Y as part of Columbia's annual Vista Lights on Nov. 20. The exhibit continues through Dec. 2, 2003. Gallery 80808 is located within Vista Studios at 808 Lady Street, Columbia.
A*L*O*N*G*L*A*D*Y includes the work of Vista Studio artists Carol Barks, Ethel Brody, Pat Callahan, Charles Dillingham, Pat Gilmartin, Robert Kennedy, Sharon Licata, Susan Lenz, Laura Spong, and Mike Williams.

Intentionally open-ended in word division, the exhibition title precipitated rich and varied responses from the participating artists.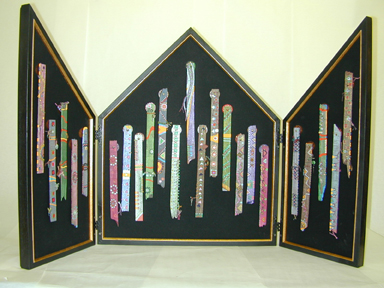 Susan Lenz
In her interpretations of the exhibit, fiber artist Susan Lenz blends the mundane and sacred. With humor and reverence, Lenz marries discarded items found along Lady Street with her digital images of an Italian shrine to the Virgin Mary. The resulting constructions Our Long Lady: Patroness of Found Art Objects and Altar of Pardon with Spirit Totems of Mean People invoke the beauty and presence of traditional altar art.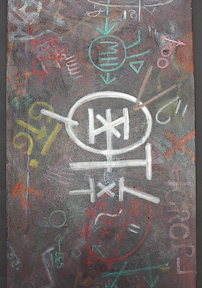 Laura Spong
Laura Spong, an adamantly self-titled non-objective painter, incorporates recognizable motifs into her paintings for this exhibition. A Long Lady's Shadow includes a nearly figurative shape and A long "Lady" Street references signs marking road construction that Spong sees on her frequent walks.
Sculptor Carol Barks adds abstract and mythic figures to A*L*O*N*G*L*A*D*Y. A Long Lady is just that, a long, feminine figure carved of white marble. In contrast, Lilith, with its circular design and serpent motif, invokes the biblical figure that embodied feminine wisdom.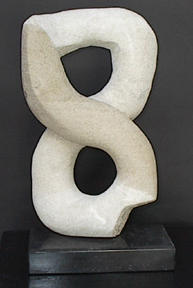 Sharon Licata
Sharon Licata displays two new limestone sculptures, the abstract Along the Road and the figurative A Lady Longing. Licata cites celebration of the arts and the longing to create as the genius behind these pieces.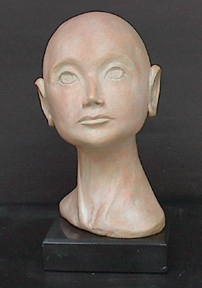 Pat Gilmartin
Terra cotta and bronze figures by Pat Gilmartin complete the sculpture entries.
Works by Pat Callahan also examine the feminine form. Her mixed-media constructions delve in current beauty standards. One work, aptly titled Eternal Beauty, explores this seeming certainty given advertising claims culled from one issue of Glamour magazine. The language guarantees a longer-lasting lady. Callahan's other constructions explore the idealized feminine shape.
Ethel Brody explores the feminine through pattern and personal motifs in her mixed-media works.
For more information check our SC Institutional Gallery listings or call Vista Studios at 803/252-6134.

[ | Nov03 | Feature Articles | Gallery Listings | Home | ]

Carolina Arts is published monthly by Shoestring Publishing Company, a subsidiary of PSMG, Inc.
Copyright© 2003 by PSMG, Inc., which published Charleston Arts from July 1987 - Dec. 1994 and South Carolina Arts from Jan. 1995 - Dec. 1996. It also publishes Carolina Arts Online, Copyright© 2003 by PSMG, Inc. All rights reserved by PSMG, Inc. or by the authors of articles. Reproduction or use without written permission is strictly prohibited. Carolina Arts is available throughout North & South Carolina.