Feature Articles


For more information about this article or gallery, please call the gallery phone number listed in the last line of the article, "For more info..."

November Issue 2003
Hickory Museum of Art in Hickory, NC, Features Works by Mary Whyte
The Hickory Museum of Art in Hickory, NC, is presenting the exhibition, Mary Whyte: Alfreda's World - Paintings of Life in the South Carolina Lowcountry, featuring an amazing collection of watercolors by Mary Whyte, depicting scenes of everyday life on Johns Island, a barrier island of the South Carolina coast. The exhibit will be on view through Jan. 4, 2004.

Whyte was born in Cleveland, OH, in 1953. She studied at the Tyler School of Art in Philadelphia and later married and settled nearby, operating a gallery with her husband, Smith Coleman. In 1991, as she recovered from surgery and a yearlong regimen of chemotherapy, Whyte moved to the Lowcountry in search of a deeper meaning for life. She found it at the Hebron Zion St. Francis Senior Center on Johns Island, SC, where she discovered the women she portrays in Alfreda's World.
These women, most descendants of slaves, gather at the Center each Wednesday for prayer, song, cornbread, and fellowship. They also make quilts, a longstanding tradition brought from Africa, which they sell to raise money for the church. Erected from timbers washed up after a shipwreck, the building dates to the years following the Civil War. Johns Island, like many other sea islands, preserves traces of the Gullah culture that are still evident in the group's language, music, cuisine, dress, basketry, and quilt making.
Initially, Whyte was a passive observer: she had discovered the women while searching for people who would model for her paintings, and some of them were shy about allowing her to paint them. Now, however, Whyte has become a participant-threading needles, serving coffee, and sharing in their joys and sorrows. She has witnessed the passing of some: Mariah, Emily, Elizabeth, and Myrtle, among others. Whyte has succeeded in preserving their likenesses and their communal activities for posterity in her paintings. Reflecting upon these works, Whyte commented: "A person never decides to become an artist. Rather, at some point, one discovers that he or she was already an artist all along. It is in the same manner that artists never choose their subject matter. Instead, our paintings find us."
Whyte works in watercolor, a medium intimately associated with Charleston, SC, and with other realist figurative artists known for their portrayals of African-Americans. She has been compared with such Southern watercolorists as Alice Ravenel Huger Smith, Hubert Shuptrine, Henry Casselli and Stephen Scott Young. In her most recent paintings, Whyte explores the expressive potential of rich darks and the ephemeral nature of steam. Her combination of tightly controlled brushstrokes and loose, broad washes, coupled with contrasts of light and dark, produce an intensity not usually associated with watercolor. Whyte and her watercolors have recently received national recognition in a series of articles in Watercolor, American Artist, and The Artist's Magazine.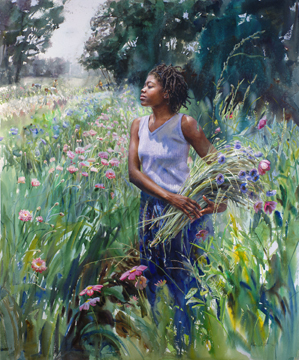 Alfreda's World heralds the artist's accomplishments at mid-career and consists of twenty watercolors.
An accompanying full-color publication provides a first-person narrative detailing Whyte's interactions with the Johns Island quilting group. In understated paragraphs, Whyte tells how she first met the women and how she gradually gained their confidence. Her prose poetically conjures the places and people, while her paintings colorfully portray them.
Whyte sees one of the goals of her work as documentary. "Like so many remote cultures, this sea island is being paved over by the influences of mainstream America, and I feel a sense of urgency to capture this before it's gone. It's why I paint the Gullah residents here, as I once did the Amish in the Ohio countryside. I am grateful to be a link that might allow these images to endure." One of the more amusing episodes recounted in the book tells how Alfreda taught the tall, thin artist how to make sweet potato pie. Dutifully writing down the ingredients, Whyte was baffled by measurements given as "scoops" or "dashes," but was even more perplexed about the length of time she should cook the pie. Alfreda had a simple and direct answer: "I guess thirty-five to forty minutes. Long enough to fold and tote laundry."
Alfreda's pragmatism is demonstrated by the painting The Hugo Sweater, which is featured on the cover of Alfreda's World. In her narrative, Whyte describes how the 1989 hurricane devastated areas of Johns Island, leaving many homes flooded and roofless. The church received boxes of clothing from well-meaning people far from Charleston. One contained brand new sweaters that had been slashed with holes, evidently so they could not be sold. Undeterred, Alfreda sewed on brightly colored flower patches, thus creating a one-of-a-kind sweater that was uniquely hers.
Whyte is a popular teacher, offering workshops in a variety of venues that draw aspiring artists from as far away as Colorado and Arizona. In addition, she has a devoted coterie of collectors in locales from California to Florida. Many own second homes near Charleston and have purchased more than one painting from Whyte. She is represented in Charleston by Coleman Fine Art, where her husband Smith Coleman crafts custom frames for his wife's paintings.
The gallery recently located to the corner of Church and Tradd Streets in downtown Charleston to a building which was once the home and studio of Elizabeth O'Neill Verner. Whyte succeeds in keeping alive Verner's tradition of rendering older African-American women at work; just as Verner depicted flower vendors in her numerous pastels, so, too, Whyte portrays - and befriends - members of the Johns Island quilting group. Significantly, Whyte elects to portray her sitters in their worlds, rarely bringing them back to her studio. She is also conscientious about compensating her models, and pays them an hourly wage.
For further info check our NC Institutional Gallery listings, call the Museum at 828/327-8576, or at (www.hickorymuseumofart.org). For info about purchasing the book Alfreda's World, check with the Museum's gift shop or contact Coleman Fine Art at 843/853-7000, e-mail at (info@colemanfineart.com) and at (www.colemanfineart.com).

[ | Nov03 | Feature Articles | Gallery Listings | Home | ]

Carolina Arts is published monthly by Shoestring Publishing Company, a subsidiary of PSMG, Inc.
Copyright© 2003 by PSMG, Inc., which published Charleston Arts from July 1987 - Dec. 1994 and South Carolina Arts from Jan. 1995 - Dec. 1996. It also publishes Carolina Arts Online, Copyright© 2003 by PSMG, Inc. All rights reserved by PSMG, Inc. or by the authors of articles. Reproduction or use without written permission is strictly prohibited. Carolina Arts is available throughout North & South Carolina.