Feature Articles


For more information about this article or gallery, please call the gallery phone number listed in the last line of the article, "For more info..."

November Issue 2003
Melberg Gallery in Charleston, NC, Features Works by Dale Chihuly & Charles Basham
Through Dec. 27, 2003, the Jerald Melberg Gallery in Charlotte, NC, will feature two exhibitions featuring recent work by Dale Chihuly in An Intimate Gathering and new landscapes by Charles Basham in Exploring the Elements.
Jerald Melberg Gallery celebrates Dale Chihuly with an intimate exhibition of the remarkably organic, innovative sculptures that have made his name synonymous with glass. The exhibition will feature Chihuly's well-known series of works, such as baskets, persians, macchias and seaforms, as well as a few lesser known forms that he has recently created. Chihuly also creates paintings on paper to flesh out ideas for new work and to serve as visual aides for his team of glassblowers. New works on paper will also be on view at the gallery.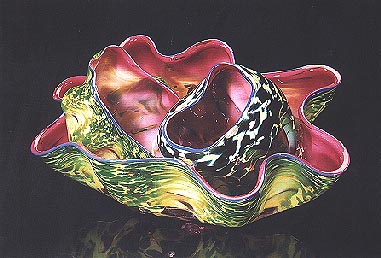 Dale Chihuly
Chihuly's work is included in over two hundred museum collections worldwide. He has been the recipient of many awards, including seven honorary doctorates and two fellowships from the National Endowment for the Arts. He is also one of only three Americans to have had a solo exhibition at the Louvre.
Jerald Melberg Gallery also announces its fifteenth solo exhibition for Ohio artist Charles Basham. Basham has been making art for over thirty years, capturing in oil and pastel the landscape near his family's farm in Medina. Soaring midwest skies and lush fields, both saturated with dramatic color, are hallmarks of his work. Recently, however, Basham has let his eye scrutinize the landscape more carefully, breaking it down into basic elements. This is particularly evident in a new series of water paintings, where there is little or no evidence of the earth or sky. The viewer is brought deep into the landscape to more closely contemplate each element of nature.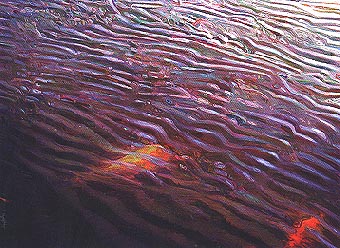 Charles Basham
Basham received his BFA and MFA from Kent State University in his native state of Ohio. He has been honored with numerous solo and group exhibitions across the US, and his work can found in such prestigious collections as the Butler Institute of American Art, Youngstown, OH; Bank of America; the Hunter Museum of Art, Chattanooga, TN; and the Mint Museum of Art in Charlotte.
For more information check our NC Commercial Gallery listings, call the gallery at 704/365-3000 or on the web at (www.jeraldmelberg.com).

[ | Nov03 | Feature Articles | Gallery Listings | Home | ]

Carolina Arts is published monthly by Shoestring Publishing Company, a subsidiary of PSMG, Inc.
Copyright© 2003 by PSMG, Inc., which published Charleston Arts from July 1987 - Dec. 1994 and South Carolina Arts from Jan. 1995 - Dec. 1996. It also publishes Carolina Arts Online, Copyright© 2003 by PSMG, Inc. All rights reserved by PSMG, Inc. or by the authors of articles. Reproduction or use without written permission is strictly prohibited. Carolina Arts is available throughout North & South Carolina.