Feature Articles


For more information about this article or gallery, please call the gallery phone number listed in the last line of the article, "For more info..."

November Issue 2003
Museum of York County in Rock Hill, SC, Features International Quilt Exhibit
Quilts today may contain a variety of fabrics, dyes, paints and objects that have been pieced, layered and stitched together. Like their traditional predecessors, contemporary quilts also tell stories and relay compelling experiences of their makers. Experience the unique and fascinating world of art quilting at the Museum of York County in Rock Hill, SC, in the exhibition, Piecing a Quilt of Life: World Connections. On exhibit through Apr. 25, 2004, this international collection features contemporary art quilts made by 23 women with stories to tell.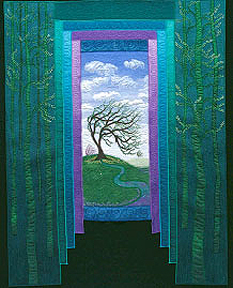 Dottie Moore
Some of the displayed quilts are from as far away as Asia, Africa, Australia and Europe, while others are from the United States. Created and co-curated by artist and Rock Hill, SC, resident Dottie Moore, the exhibit documents the stories of women quilt artists over the age of fifty. Moore's seven-year research project, Piecing a Quilt of Life, resulted in connecting with like-minded women throughout the world who have found joy and fulfillment by channeling meaningful life experiences through the layering and manipulation of cloth. Moore said, "Everywhere I go I find senior women moving into the world in unique ways, waking up to their creativity, and following their passions. "The fastest growing segment of our population, (senior women) are using the process of creativity to live more meaningful and imaginative lives."
Through quilting, the artists featured in Piecing a Quilt of Life: World Connections have made connections from their innermost selves to nature, family, community, the world and new ideologies. These connections are sewn into the quilters' art and attempt to connect with the viewer. The artists represented in the exhibit represent a broad range of perspectives and subjects. Materials and ideas used for the art quilts in this exhibit are truly unique from computer parts representing an example of 21st century adaptive reuse to an "earth quilt" installation of a garden designed to look like a quilt and used to celebrate earth and its people. Moore said, "This exhibit celebrates that we are all citizens of one world and we have a lot in common. Regardless of our race, age or gender we want freedom to express our uniqueness, to live and age in meaningful ways, and have our personal stories validated."
For more information check our SC Institutional Gallery listings, call the Museum at 803/329-2121 or on the web at (www.yorkcounty.org).
[ | Nov03 | Feature Articles | Gallery Listings | Home | ]

Carolina Arts is published monthly by Shoestring Publishing Company, a subsidiary of PSMG, Inc.
Copyright© 2003 by PSMG, Inc., which published Charleston Arts from July 1987 - Dec. 1994 and South Carolina Arts from Jan. 1995 - Dec. 1996. It also publishes Carolina Arts Online, Copyright© 2003 by PSMG, Inc. All rights reserved by PSMG, Inc. or by the authors of articles. Reproduction or use without written permission is strictly prohibited. Carolina Arts is available throughout North & South Carolina.