Feature Articles


For more information about this article or gallery, please call the gallery phone number listed in the last line of the article, "For more info..."

November Issue 2003
North Carolina Museum of Art in Raleigh, NC, Presents an Exhibition Celebrating the Centennial of Flight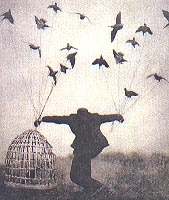 Robert & Shana Parke Harrison
On Nov. 2, 2003, the North Carolina Museum of Art in Raleigh, NC, and Blue Cross and Blue Shield of NC launch the nation's most ambitious contemporary art exhibition celebrating the centennial of powered flight. Defying Gravity: Contemporary Art and Flight presents more than 90 major works and several special commissions derived from the interaction between aviation and the imagination and exploring the timeless human desire to fly.
The exhibition is part of Into the Blue, the Museum's yearlong celebration to commemorate the 100th anniversary of the Wright Brothers' historic 1903 flight. Presented by Blue Cross and Blue Shield of NC, Into the Blue will include concerts, films, family events, workshops, lectures and more during the Defying Gravity exhibition on view through March 7, 2004.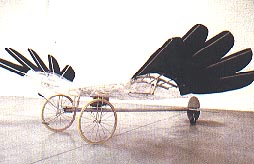 Panamarenko
"The Wright brothers changed the world with that first flight at Kitty Hawk, NC, in 1903, and the Museum plans to commemorate that event with an exhibition and celebration of appropriately historic proportions," said Museum Director Lawrence J. Wheeler. "Works chosen for Defying Gravity will come from 13 countries on five continents, and they offer widely varying perspectives on flight and its impact on the world we live in today."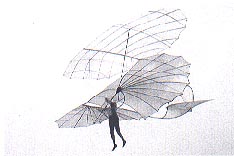 Kara Hammond
Works included in Defying Gravity were created during the last quarter of the 20th century and the first years of the 21st, and they span a diverse range of styles, approaches and media, including painting, sculpture, installations, photography, video and film. Artists featured in the show range from American masters Jonathan Borofsky, Roger Brown, James Rosenquist, Frank Stella and Wayne Thiebaud to international art figures such as Alighiero Boetti, Malcolm Morley and Panamarenko, and to young masters and emerging artists including Lawrence Gipe, Margot Gran, Vera Lutter, and Robert and Shana ParkeHarrison. Also featured are several artists with North Carolina connections, such as Brent Cole, Kara Hammond and Marvin Jensen.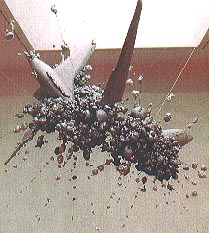 Heide Fasnacht
Although straightforward imagery of the airplane is represented in the show, the exhibition also investigates aviation's wide-ranging metaphorical implications. For instance, a plane can be a source of anxiety and fear, as revealed in such works as Exploding Plane by Heide Fasnacht and a modern-day Saint Sebastian - an airman whose body is pierced by airplanes rather than arrows-by the late Michael Richards, an artist killed in the attacks on the World Trade Center. It can also triumphantly be a symbol for creativity and transcendence, as in Rosemary Laing's color photographs of an effervescent human figure, reveling in being airborne.
Man's longtime, burning desire to fly is explored as well, in a video of a self-propelled flight over Greenland by Simone Aaberg Kærn and works by Jamaica-born Albert Chong and North Carolina resident Hoss Haley, who were each inspired by the myth of Icarus and Daedalus. Flight's effect on artistic perspective can be detected in Ed Ruscha's maplike painting of Los Angeles streets and is more explicitly found in the aerial view Yvonne Jacquette paints, based on what she sees out an airplane window. And equally engaging perspectives can be found at airports themselves: Striking, large color photographs taken from inside airport terminals by the Swiss team of Peter Fischli and David Weiss will be joined by John Schabel's photographs, taken from the tarmac, of passengers seen through planes' porthole windows and by Leo Rub infien's views of passengers taken aloft.
Additionally, several artists use actual airplane parts and materials to create art, including Donald Lipski, who draws materials from the salvage yard of Grumman Aero-space Corporation, and Mark Newson, who uses the aluminum and rivets more commonly associated with fuselage to construct futuristic furniture. And Chilean Eugenio Dittborn uses the airplane in a much different manner folding each of his paintings to fit into an envelope and sending them around the world via airmail, a practice he began in the mid-1980s to circumvent the censorship of the Augusto Pinochet regime and the resulting cultural boycott. Two paintings by Dittborn, each with its envelope detailing the work's itinerary, will be on view.
The Museum is also commissioning several pieces for the exhibition. Inside the galleries, Boston-based collaborators Ralph Helmick and Stuart Schechter are creating what they call three-dimensional pointillism, a "sculpture" consisting of approximately 1,000 small butterflies, suspended from the Museum's three-story ceiling, that coalesce to form a modern fighter plane. Outdoor installations include Bill and Mary Buchen's Flight Wind Reeds, kinetic and sound sculptures inspired by aerial stunts performed by Russian fighter jets, and Chris Drury's Chamber for the Trees and Sky, a large camera obscura constructed with stone walls and a log roof within the Museum Preserve.
An exhibition catalogue reproduces in color every work in the exhibition and includes essays by exhibition co-curators Huston Paschal and Linda Johnson Dougherty, and scholar Anne Goodyear, with an introduction by cultural historian Robert Wobl.
Admission is charged for Defying Gravity. For further information check our NC Institutional Gallery listings, for tickets or other info, call the Museum Box Office at 919/715-5923 or on the web at (www.ncartmuseum.org).


[ | Nov03 | Feature Articles | Gallery Listings | Home | ]

Carolina Arts is published monthly by Shoestring Publishing Company, a subsidiary of PSMG, Inc.
Copyright© 2003 by PSMG, Inc., which published Charleston Arts from July 1987 - Dec. 1994 and South Carolina Arts from Jan. 1995 - Dec. 1996. It also publishes Carolina Arts Online, Copyright© 2003 by PSMG, Inc. All rights reserved by PSMG, Inc. or by the authors of articles. Reproduction or use without written permission is strictly prohibited. Carolina Arts is available throughout North & South Carolina.