Feature Articles


For more information about this article or gallery, please call the gallery phone number listed in the last line of the article, "For more info..."

November Issue 2003
Seagrove, NC
The Little Town That Could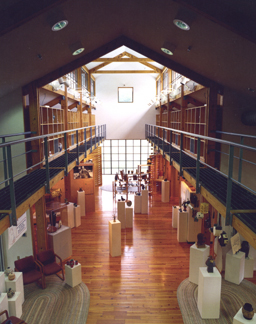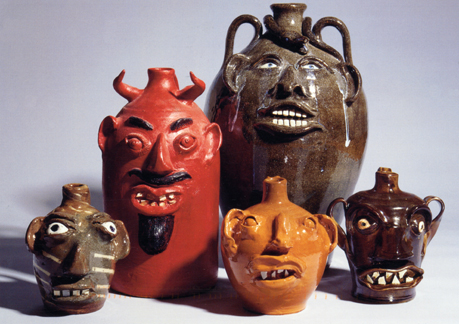 Seagrove, NC, a town of less than 300 full time residents, is known as the "pottery" capital of North Carolina. The town is just south of Asheboro, NC, situated in Randolph County, about a mile or so off Highway 220, in NC's Piedmont area. The surrounding communities of Star, Whynot, Erect, Westmore and Robbins are home to almost 100 potteries and the North Carolina Pottery Center. The area has a 200 year old tradition of pottery making with many potters who can trace their pottery lineage back 5-10 generations. Every Nov., the area comes alive with activities, which attract pottery collectors and lovers from all over the Carolinas and some national and international visitors. You just might want to join them.
On Nov. 22-23, 2003, from 10am-4pm both days, The North Carolina Pottery Center will be free and open to the public during its annual Open House. The Open House runs concurrent with the Seagrove Pottery Festival, which is held just north of the Center in Seagrove. The Center's scheduled activities for Sat. include a silent auction of old and contemporary North Carolina pots, and a tasting of Seagrove food products in pottery bowls made by local potters. Kiln firings and pottery demonstrations with hands-on opportunities will occur on both days in the Center's educational building. The gift shop offers many pottery related gifts perfect for the upcoming holiday season.
The 22nd Annual Seagrove Pottery Festival, North Carolina's premiere pottery festival, sponsored by the Museum of NC Traditional Pottery, will be held at the Seagrove Elementary School on Nov. 22 & 23, 2003. The school is located on Old Plank Road, just north of the North Carolina Pottery Center in Seagrove. The Festival offers visitors an opportunity to meet and see the works of over 100 area potters and craftspeople. Demonstrations will be offered, as well as the chance to bid on auction items donated, signed and dated by the potters. Potters from the three county Seagrove area and carftspeople fill the school's auditorium and a hugh tent behind the school.
The Festival starts on Sat., Nov. 22 with a Festival Preview at 10am-noon (admission $10). This event is a favorite of serious collectors who want first choice of the new designs potters have made especially for the festival. Then, from noon to 6pm, admission is $5. Admission on Sun., Nov. 23, will also be $5 and is open from 10am-6pm. Children under 12 will be admitted free when accompanied by an adult. The Museum of NC Traditional Pottery's fund-raising auction of limited edition pottery is always at 4pm on Sun. All auction pieces are signed and dated and are screened for authenticity by the museum board of directors.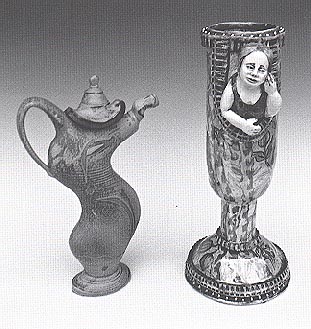 Teapot by Nicholas Joerling, Vase by Marylou Higgins
The Festival celebrates the spirit and works of the Seagrove area potters, along with several traditional craftspeople. Although categorized as traditional, the potters and craftspeople present a variety of styles, patterns and textures. As at past festivals, several potters will demonstrate turning, throwing and various stages of pottery production. This year's featured potter is Fred Bean of Old House Pottery. Local civic organizations will offer visitors food and beverages. Shuttles will provide parking from designated areas.
The 15th Annual Seagrove Sunday (and Saturday, too!) event also takes place on Nov. 22 & 23, from 9am-5pm. This event offers the diehard explorer an opportunity to wander from Seagrove to Whynot or Westmore or Robbins or Biscoe, (all just a short drive from downtown Seagrove) visiting the area potteries that might not be participating in the Festival, or to just experience the diverse and varied environment of each potter.
North Carolina Pottery Center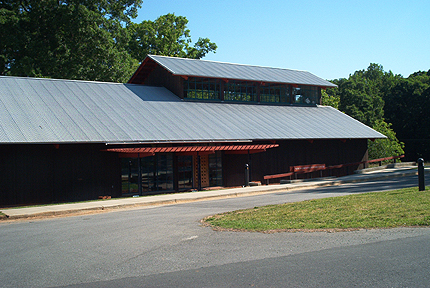 The North Carolina Pottery Center sits nestled on nine acres of rolling hills and oak trees within the town of Seagrove, a community with over two hundred years of an uninterrupted pottery making tradition. The Center is a private, not for profit institution dedicated to promoting public awareness of and appreciation for the history, heritage, and ongoing tradition of pottery making in North Carolina through educational programs, public services, collection and preservation, and research and documentation. Since opening to the public in Nov. 7, 1998, the Center has received visitors from all 50 states and 20 foreign countries interested in learning more about this unique heritage and ongoing tradition.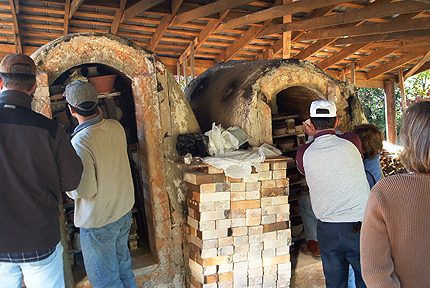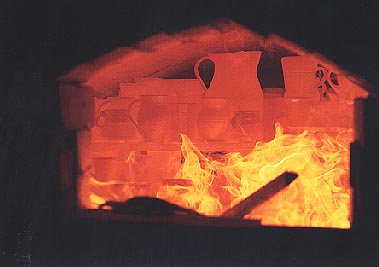 Groundhog Kiln
Classes at the center's kilns
The Center serves a very diverse audience, from tourists and the general public, to teachers and students, to collectors and folklorists, to potters. The museum and educational center consists of a permanent exhibition that traces the history of North Carolina pottery from the Native Americans to the present, changing exhibitions, a gift shop, and an educational building for workshops and classes. Two wood-fired kilns are used to teach traditional firing techniques through public demonstrations and through hands-on potters' workshops. In addition, the Center offers the chance to view a sample of the Seagrove area potter's work, maps and brochures to help in planning your visit to the area.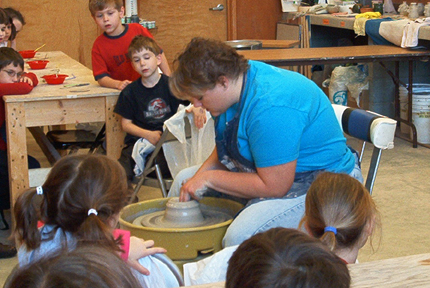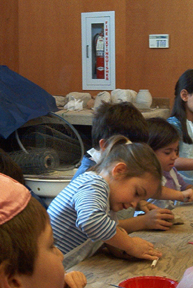 Programming at the Center is as diverse as the audience it serves, and in addition to the permanent exhibition, includes changing exhibitions with accompanying openings, a lecture series, classes for the public and workshops for potters. Special events include the annual benefit auction, "Going, Going, Gone to Pots" held the fourth Sat. in Apr. on the grounds of the Center. Next year's auction will be on Apr. 24, 2004, and will feature a live and silent auction of close to two hundred pots donated by potters who support the Center.
The current temporary exhibition being presented at the Center is, East Carolina University Ceramics: People and Their Influences, which will be on view through Jan. 3, 2004. Curated by Seo Eo and Jim Tisnado, this exhibition focuses on the people instrumental in making ECU Ceramics what it is today. Works by alumni and current members illustrate the depth and breadth of the program.
A Little History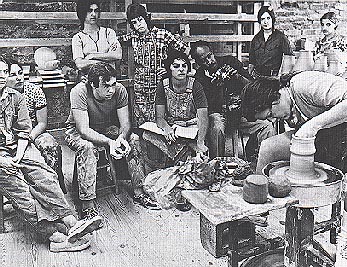 Cynthia Bringle at Penland School of Craft 1970
The initial inspiration to celebrate North Carolina's ceramic heritage came from two local potters, the late Dorothy and Walter Auman. Inspired by Dorothy's father, C.C. Cole, the Aumans very early recognized the importance and richness of the North Carolina pottery tradition and set out on their own to preserve it for future generations. They acquired the old Seagrove Railroad Station and moved it onto their yard behind their shop. Then, in 1969 they opened the Seagrove Potters Museum with a full display of pots, tools, and historical memora- bilia. Looking to the future, they also regularly featured the work of contemporary potters.
In later years, Dorothy contracted cancer, and so the Aumans sold their collection to the Mint Museum of Art in Charlotte, NC, in order to ensure it was properly preserved. However, their example encouraged local citizens to establish a new organization, the Museum of Traditional North Carolina Pottery. They enlisted the help of local potters and later, potters from across the state. Through auctions of donated pots and gate receipts from their annual Seagrove Pottery Festival they raised the funds to purchase a nine acre tract of land and a house in the heart of Seagrove.
By the late 1980s, this group realized they needed to expand their vision, and so, with the assistance of the North Carolina Arts Council, a third institution was born. Led by the Aumans, members of the Museum of North Carolina Traditional Pottery, and many potters and pottery aficionados from across the state, this organization raised two million dollars to construct the necessary facilities. The name was also changed to the North Carolina Pottery Center (rather than Museum) to better reflect the wide-ranging educational mission.
At present, the Center consists of three buildings - the main building, educational building and the Voncannon House. The remodeled Voncannon House, situated on Route 705, houses offices, a library and archive, meeting space, and an apartment for visiting potters and lecturers.
Burlon Craig, 1978
Why a North Carolina Pottery Center? Potters were essential craftsmen in most states until the late nineteenth century, but then the Industrial Revolution put the majority of them out of business. In North Carolina, however, the wheels never stopped turning. Excellent clays, strong family networks, and a remarkable ability to adapt to new tastes and needs enabled the potters to survive hard times and once again flourish. No other state possesses such a large, diverse, and continuous ceramic heritage. Pennsylvania potter Jack Troy, in his book Wood-fired Stoneware and Porcelain (1995), declared, "If North America has a 'pottery state', it must be North Carolina There is probably no other state with such a highly developed pottery-consciousness." Traditional pottery has become closely associated with North Carolina's heritage and culture. The prestigious National Heritage Fellowship from the National Endowment for the Arts has been awarded to two North Carolina potters, Vernon Owens at Jugtown Pottery in Seagrove and the late Burlon Craig of Vale, NC, and eight potters have received the North Carolina's Folk Heritage Award including several from the Seagrove area.
Area Resource Info
The Seagrove Area Potters Association, Inc. (SAPA, Inc.) has been formed "To Promote and Market the Seagrove Area Pottery Community". The organization is dedicated to promoting and marketing the historical, geographical pottery community that works and resides in a corner of Randolph, Moore, and Montgomery counties. This small area in central North Carolina has been home to many potters for somewhere between two and three hundred years. The area is rich in creativity, color and diversity! SAPA, Inc. thrives on partnership; firstly partnerships among the individuals that make up the pottery community, and secondly, partnerships with other organizations, individuals, and entities that enable SAPA to achieve it's mission statement. SAPA's first project is the soon to be released Seagrove Area Visitors Guide. The guide offers a full color map that includes all potteries in the Seagrove community as well as over 40 color photos, hours, locations and descriptions of participating SAPA member potteries. Many of the participating pottery's info and photos can be viewed at (www.discoverseagrove.com). The "What's New" section on the site provides up-to-date information about kiln openings and events in the area. For further information about SAPA contact them by e-mail at (contact@discoverseagrove.com).
Several other websites offer information about the Seagrove area, area potters, area potteries, and its rich cultural heritage. Info about the Museum of NC Traditional Pottery can be found at (www.seagrovepotteryheritage.com). And, the site, Seagrove Potteries at (www.seagrovepotteries.com) also offers info about area potteries.

Individual pottery websites can also be found on the "Red Hot Links" pages at (www.CarolinaArts.com).
For more info check our NC Institutional Gallery listings, call the Center at 336/873-8430 or at (www.ncpotterycenter.com).
[ | Nov03 | Feature Articles | Gallery Listings | Home | ]

Carolina Arts is published monthly by Shoestring Publishing Company, a subsidiary of PSMG, Inc.
Copyright© 2003 by PSMG, Inc., which published Charleston Arts from July 1987 - Dec. 1994 and South Carolina Arts from Jan. 1995 - Dec. 1996. It also publishes Carolina Arts Online, Copyright© 2003 by PSMG, Inc. All rights reserved by PSMG, Inc. or by the authors of articles. Reproduction or use without written permission is strictly prohibited. Carolina Arts is available throughout North & South Carolina.