Feature Articles


For more information about this article or gallery, please call the gallery phone number listed in the last line of the article, "For more info..."

November Issue 2003
Summit One Gallery in Highlands, NC, Offers Works in 5 x 7 Format
Summit One Gallery in Highlands, NC, will open the holiday exhibition season with a unique exhibition featuring works from some of their most popular artists produced in a 5 x 7 format. Approximately 30 artists are presenting works created in many different genres and subject matter including landscapes, waterscapes, iconography, abstracts, figurative, photography and more.

This wonderful and challenging exhibition, A 5 x 7 Holiday, will open Nov. 15 and continue through Dec. 31, 2003.
Summit One Gallery wishes to welcome six new artists to the gallery.
In 1998 Bill McInnis finally decided to stop wishing that he could turn wood on a lathe into an artistic shape and started doing it. Since then he has learned one valuable lesson, "the more I learn, the more I learn how much I have to learn". Being self-taught, many hours have been spent with little to show for his efforts except for the personal satisfaction of what he has experienced in the process of learning.
An engineer by education, McInnis has always held great appreciation for anyone with creative vision and talent. Never having considered himself to possess any artistic talent, he was humbled to find people enjoyed seeing the items that were created at his lathe. McInnis says of his work, "Rarely do I work from a pattern but rely on the wood itself to guide me to the final shape waiting to be discovered within the wood. I mostly enjoy creating artistically shaped items (natural edge bowls, vases and hollow forms) over a utility item (turned edge bowl) although I turn both. I have no specialty of shape mastered. As my work is not production-based, all items are created with attention given to form, detail and finish." In addition to his wood turning, he teaches wood turning in both group and individual sessions and performs monthly demonstrations to promote wood turning as an art form.
Wood as an art form is currently not fully acknowledged within the arts community. McInnis has chosen wood as his link to whatever artistic abilities lie within him because of his love of nature and the natural beauty of wood. Wood surrounds us in our daily lives. The trees that we pass by every day help to replenish the air we breathe. Houses serve as shelter and furniture rests our tired bodies at the end of a stressful day. Wood gives so much of itself. McInnis's desire is to give each piece of turned wood art the opportunity to be viewed and valued for its natural beauty. The finish he uses is oil based with no coloring added and most bowls are finished with "Salad Bowl" finish and are food safe. His sincere hope is that you will find beauty in turned wood art and that it will brighten your life.
Knoxville, TN, artist Ron Williams has achieved mastery in his field beyond comparison in contemporary art. One has to go back to view the paintings of such masters as Frederic Church and Albert Bierstadt in order to find American landscapes of comparable importance.
There is no question that Williams has the soul and spirit of a master. His ability to express his passionate enthusiasm for the mountains and valleys of his homeland in oils is self-taught. He continually works to improve his skills and studies both the American and European masters for insights into their techniques.

Williams is prolific in his output of oil paintings, and is equally adept in acrylic and watercolor. However, it is his majestic canvases of mountains and rivers in oils that have become legendary and widely collected. Knoxville's just-completed Convention Center is home to two of his landscapes, along with other fine art from across the country.
Vivian Jendzio says of her work, "Painting on paper is essential to the immediacy and spontaneity of which my artwork derives. The image changes as the layers are built up particularly in the collages. The brushstrokes are large and direct. The imagery becomes richer and further tactile due to the process of layering the paint and paper. It is through the combination of sheer luminosity and opacity which creates vibrant tensions while the underlying images show through. The painting becomes a kinetic creation as the image transforms."
"Many drawings and studies are completed prior to the gestural pieces. It is through this exploration which enables only the essence to be conveyed. After intense anatomical drawing, studies of light on form, the pieces are ready to begin. The paintings are built up gradually layer upon layer. Each layer must dry completely before the series of glazing and impasto may be applied. The layers consist of various mediums from acrylic, enamel, watercolor, ink, pastel, charcoal and pencil. The work becomes very intense and autonomic. Because of the in depth analysis of the subjects the pieces are depicted with complete feeling and emotion. Painting and drawing have become intuitive and entwined as one."
Jendzio also adds, "The artwork derives to communicate the struggle for life and the impermanence of our existence. Nature's internal powers have become the source of inspiration for her paintings. They reflect weight and balance, power and release, synchronization and contraposition. Many paintings utilize opposition through use of color, split planes and visual fields. It is through these visual forces which reveal the dynamics and the internalization of energy, life and the reverence for it."
The artistry of renown Raku potter, Neal Adams, is expressed by its beauty and timeless shapes. Adams' career began when he won an art scholarship to the Ringling Museum of Art, while in the fifth grade. Adams has studied at Flagler College working on a degree in Fine Arts, and continues his studies at the prestigious Ringling School of Art and Design.

Adams creates and develops his own glazes, shapes, designs, and textures in every pot ­ a unique creation that clearly demonstrates his mastery of the art of Raku. He is not only an artist, but a teacher as well. He often conducts demonstrations at his gallery shows and teaches classes in his studio. You will find his pottery in private collections and art galleries throughout the country.
The Raku process dates back to the sixteenth century. In the beginning, they used steel tongs to unload red-hot kilns in order to quickly fire another load. Some of the glowing pots were inadvertently placed in dry grass or leaves, which burst into flames. When the pots cooled, the potters found that they were crisscrossed with attractive black lines. Thus Raku, which means "happy accident" was born. The black lines appeared because the glaze crackled on the rapidly cooling pots, and carbon from the fire in the leaves penetrated the crackles and blackened the clay body beneath. The Raku firing procedure remains unchanged to this day, though most potters today drop the red-hot pots into a bed of sawdust. But regardless of the combustible material used, this is when Raku separates itself from all other forms of pottery.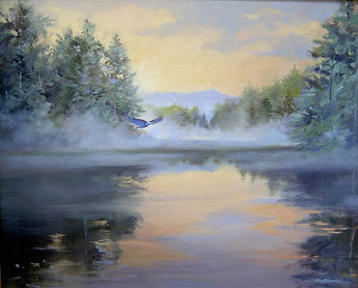 Tom Bluemlein
Tom Bluemlein focuses on land and waterscapes with an ethereal touch. He enjoys the use of conditions like clouds and fog with a strong focused light. Of course, his western landscapes tend to be more light filled, as Santa Fe, NM, is his western preference for painting. Many of Bluemlein's paintings are created in the Smoky Mountain and Southern Appalachian regions of the United States.
Schooled in Cincinnati, OH, and Woodstock, NY, Bluemlein can be found in his Fort Mitchell, KY, studio, where he blends the East and West in the lovely north light, which illuminates his custom designed studio. Bluemlein is affiliated with various art organization and societies, and chooses to keep the focus on painting.
Carroll W. Rivers paints mostly watercolors and gouaches. She has won a number of awards and her work has been accepted in many juried exhibitions. Her subjects come from the real love of the outdoors and are focused on the North Carolina mountains in the summer and Charleston, SC, the rest of the year.
Rivers has studied with a number of excellent teachers since she began painting in 1967 and is now, herself, a teacher. She chose watercolors for their portability but loves them for the light and life that emanates from them. Rivers has added gouache, pastels and acrylics to her mediums. Painting is a mental exercise and never loses its challenge and its joy. She is a founding member of Waterfront Gallery in Charleston and has had a number of solo exhibitions in the Carolinas.
Among Rivers' successes are top awards in the Rocky Mountain National Watermedia competition; South Carolina Watercolor Society, and Southern Watercolor Society, and she has had many acceptances in other national exhibitions.
For more information check our NC Commercial Gallery listings, call the gallery at 828/526-2673 or email to (summitonegallery@aol.com).

[ | Nov03 | Feature Articles | Gallery Listings | Home | ]

Carolina Arts is published monthly by Shoestring Publishing Company, a subsidiary of PSMG, Inc.
Copyright© 2003 by PSMG, Inc., which published Charleston Arts from July 1987 - Dec. 1994 and South Carolina Arts from Jan. 1995 - Dec. 1996. It also publishes Carolina Arts Online, Copyright© 2003 by PSMG, Inc. All rights reserved by PSMG, Inc. or by the authors of articles. Reproduction or use without written permission is strictly prohibited. Carolina Arts is available throughout North & South Carolina.