Feature Articles


For more information about this article or gallery, please call the gallery phone number listed in the last line of the article, "For more info..."

November Issue 2003
Waterfront Gallery in Charleston, SC, Features Works by Daryl Knox and More
Works by Daryl Knox will be featured at Waterfront Gallery in Charleston, SC, through Nov. 30, 2003.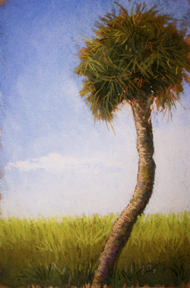 Daryl Knox
Knox is a native of Kentucky. He never lost his love of drawing and painting and decided to go back to school at the age of twenty-three. Knox studied drawing and painting at Northern Kentucky University under Howard Storm and Kevin Booker and printmaking and pottery at Western Kentucky University. After college, Knox worked at a print shop and a sign shop as a designer. He started painting at night and joined the Charleston and Summerville Artists Guilds. In 1988, Knox started working full time as an artist and joined Gallery 12 in the early 1990's. He became a founding member of Waterfront Gallery in 1995.

The award winning pastels and oils of Knox have been exhibited in juried shows throughout the Southeast. His work is also in private collections throughout the United States, Europe and Canada.
When Knox talks about his painting, he has this to say, "Although I use photographs for references, my work differs from other realists in that it includes no artifacts from the modern world. While working, I know what the image looks like, but I am never sure what the finished painting will be exactly. Though taken from nature, the imagery in my painting might, at first glance, be unnoticed. The mystery of reflection, shadow, light, and unexpected color that makes me want to paint these easily ignored landscapes. My intent is to entice the viewer to linger long enough to see and contemplate what he or she might otherwise overlook. I am surprised by the things that people see in my paintings. This delights me because I realize that they have brought their own experience into the painting with them."
Waterfront Gallery will also present a special one-day exhibition entitled, Pastimes and Memories, featuring a new collection of works by Amelia Rose Smith and J. Michael Kennedy on Nov. 8, 2003.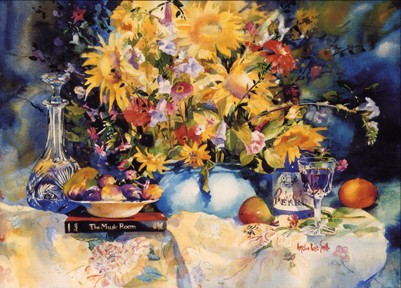 Amelia Rose Smith
Painting in watercolor and pastels during most of her professional life, Lowcountry artist Amelia Rose Smith has delved into the realm of oils. "It is so expressive and has the wonderful surface quality that I am searching for" says Smith. Working with familiar themes of still-lifes with treasured objects and quiet early morning and twilight landscapes, she seeks to convey energy and mood in her thoughtful presentations.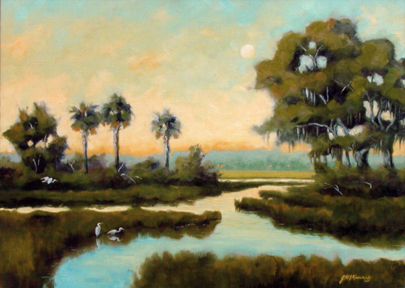 J. Michael Kennedy
Michael Kennedy's new work includes oil paintings and pastels that capture the dramatic colors of our coastal skies and our lush marshes and waterways. "We are so fortunate to live in such a beautiful part of our country. So often our busy lives keep us from seeing the beauty outside our back doors or even off to the side of the highway. I am trying to capture the natural beauty of our area and present it at the most dramatic time of day - sunset, when the sun hangs low in the sky it washes everything in a golden hue. I think that time of day is incredibly breathtaking." A recent trip to Santa Fe proved to be further inspiration as Kennedy worked on this collection of new paintings.
For further information check our SC Commercial Gallery listings, call the gallery at 843/722-1155 or on the web at (www.waterfrontartgallery.com).
[ | Nov03 | Feature Articles | Gallery Listings | Home | ]

Carolina Arts is published monthly by Shoestring Publishing Company, a subsidiary of PSMG, Inc.
Copyright© 2003 by PSMG, Inc., which published Charleston Arts from July 1987 - Dec. 1994 and South Carolina Arts from Jan. 1995 - Dec. 1996. It also publishes Carolina Arts Online, Copyright© 2003 by PSMG, Inc. All rights reserved by PSMG, Inc. or by the authors of articles. Reproduction or use without written permission is strictly prohibited. Carolina Arts is available throughout North & South Carolina.