Feature Articles


For more information about this article or gallery, please call the gallery phone number listed in the last line of the article, "For more info..."

November Issue 2003
Weatherspoon Art Museum in Greensboro, NC, Features New Exhibits this Fall
To commemorate North Carolina's centennial anniversary of flight, the Weatherspoon Art Museum in Greensboro, NC, will present a site-specific installation and film by artist Luca Buvoli. The exhibit entitled, Luca Buvoli: Adapting One's Senses to High Altitude Flying (for Intermediates), will be on view from Nov. 9 through Feb 15, 2004. Drawings by Eva Hesse: A Unique and Expressive Abstraction will be on view at the Museum through Feb. 1, 2004. Pepón Osorio will visit UNC-Greensboro as the first Falk Visiting Artist for the 2003-04 academic year. His work will be on display through Dec. 21, 2003.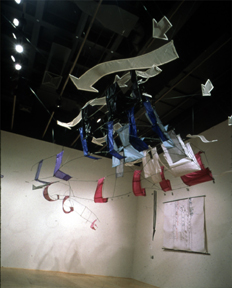 Luca Buvoli
For several years, Luca Buvoli has developed a body of works focusing on the subject of flight, and he is well known for creating unique and intricate installations that explore one of man's oldest desires - the ability to fly without the aid of mechanical devices.
The installation will originate in the museum's atrium and extend into the Tannenbaum Gallery where Buvoli's 18-minute animated film will be projected. Throughout the film, the central character - a professor played by Buvoli - delivers an instructional lecture and demonstration of his 33-step technique for unassisted flying.
The artist's sources for this installation are varied including his training as a competitive swimmer; the study of religion, meditation, and aerodynamics; and his father's experiences in the Italian Air Force.
Buvoli will speak on the Weatherspoon installation and his ongoing projects on the on Nov. 9 at 2pm.
Eva Hesse was already an established figure in the art world of the 1960s when she died prematurely in 1970 - at the age of only 34. Her work continues to exert a powerful presence and influence today. In the decade following her graduation from Yale University in 1959 until her death, she produced a remarkable body of work which tested the limits of both Abstract Expressionism and Minimalism.
Drawing always played an important role in Hesse's artistic development; she often talked of her drawings in her journals, and it was through drawing that she found her singular style. In her early drawings, she began to develop a personal visual vocabulary of what she referred to as "imagined organic and natural forms of 'growth." These compositions of circular forms and tangles of lines presaged Hesse's later sculptural forms.
In a group of works on paper from 1963 and 1964, some of which included color and collage elements, she began to experiment with filling the page with quirky, half-invented, half-real forms that shifted direction and darted in and out of a fluctuating space. Within another year or two, the forms had become bolder, more simplified, and even more specific in their resemblance to machine parts and mechanical systems.
Like many of her artist friends and peers, Hesse began to explore minimal and conceptual ideas in the mid-1960s. In 1966, she began a series of spare ink and wash drawings of circles that combined a clear debt to Minimalism with a more personal and introspective tendency. Within the grids and obsessively repeated orbs of these drawings, Hesse allowed for the elements of chance and play that were becoming characteristic of her unique brand of expressive abstraction.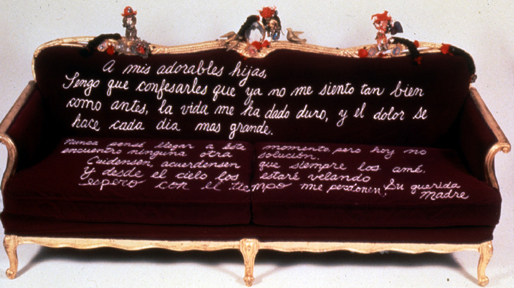 . Pepón Osorio
Born in Puerto Rico, and now living in Philadelphia, Pepón Osorio is best known for large-scale installations that engage conflicts between his native cultural and personal experience and contemporary life in America. Osorio has drawn upon themes of religion, police violence, poverty, and rites of passage in highly decorative work whose visual appeal belies its strong critique of our society.

Osorio's work has been featured in numerous exhibitions, including one-person shows at El Museo del Barrio, NY; The RISD Museum, Providence, RI; Escuela de Artes Plastics, San Juan, PR; and the Cleveland Institute of Art, OH, to name a few. He also collaborated with Merian Soto on a series of dance and art performance pieces, and designed sets and costumes for productions at the Brooklyn Academy of Music and the Joyce Theatre in New York.
The artist's work is included in a number of major public collections, and he has received such prestigious awards as the Skowhegan Medal for Sculpture, a MacArthur Foundation Fellowship, a Louis Tiffany Comfort Award, and an NEA Sculpture Fellowship, among others. A long list of writings, from books and catalogue essays to articles and reviews in art journals and newspapers, have considered his unique contribution to contemporary art.
For more information check our NC Institutional Gallery listings, call the museum at 336/334-5770 or on the web at (www.weatherspoon.uncg.edu).

[ | Nov03 | Feature Articles | Gallery Listings | Home | ]

Carolina Arts is published monthly by Shoestring Publishing Company, a subsidiary of PSMG, Inc.
Copyright© 2003 by PSMG, Inc., which published Charleston Arts from July 1987 - Dec. 1994 and South Carolina Arts from Jan. 1995 - Dec. 1996. It also publishes Carolina Arts Online, Copyright© 2003 by PSMG, Inc. All rights reserved by PSMG, Inc. or by the authors of articles. Reproduction or use without written permission is strictly prohibited. Carolina Arts is available throughout North & South Carolina.