Feature Articles


For more information about this article or gallery, please call the gallery phone number listed in the last line of the article, "For more info..."

November Issue 2003
Wofford College in Spartanburg, SC, Offers Exhibitions by Sarah Ashley Borders and Wesley W. Bates
The Sandor Teszler Library Gallery at Wofford College in Spartanburg, SC, is presenting two exhibitions this Fall. Fashion designs by Sarah Ashley Borders will be on view through Nov. 25, 2003, and wood engravings by Wesley W. Bates will be on view through Dec. 19, 2003.
Borders is a student at Wofford College who has traveled widely and has also studied at Dakar, Senegal, and London, England. In Dakar she was influenced by tribal clothing and its distinctive design and style. These ethnic influences have been the main inspirations for her clothing designs. Her work is carried by retailers in several US cities, and she has exhibited her designs in Europe, but this is her first exhibition in this country.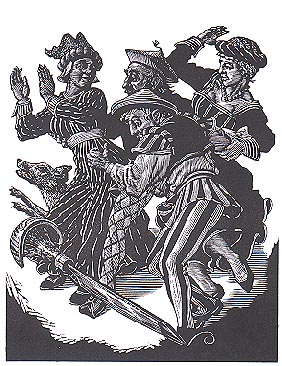 Wesley W. Bates
The wood engravings of Wesley Bates have reached an international audience. His works are held in collections in his native Canada, the US, Great Britan, Ireland, Australia, Spain and Japan. In 1999, nine of his works were presented to China by the province of Ontario. Beyond his numerous solo and group exhibitions, his pieces have illustrated books for several major publishing houses and a collection of his engravings was published in book form, Wesley W. Bates; the Point of the Graver in 1994.
Bates will give a gallery talk on Nov. 7, at 4pm.
For further information check our SC Institutional Gallery listings, call 864-597-4300 or on the web at (www.wofford.edu/library/gallery/index.htm).
[ | Nov03 | Feature Articles | Gallery Listings | Home | ]

Carolina Arts is published monthly by Shoestring Publishing Company, a subsidiary of PSMG, Inc.
Copyright© 2003 by PSMG, Inc., which published Charleston Arts from July 1987 - Dec. 1994 and South Carolina Arts from Jan. 1995 - Dec. 1996. It also publishes Carolina Arts Online, Copyright© 2003 by PSMG, Inc. All rights reserved by PSMG, Inc. or by the authors of articles. Reproduction or use without written permission is strictly prohibited. Carolina Arts is available throughout North & South Carolina.