Feature Articles


For more information about this article or gallery, please call the gallery phone number listed in the last line of the article, "For more info..."

November Issue 2003
The Wolf Art Gallery in Charleston, SC, Features New Works by Martha Sharp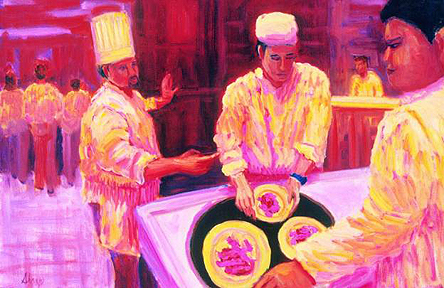 The Wolf Gallery in Charleston, SC, will feature figurative and still life oil paintings of culinary and restaurant scenes mixed with delectable food that invoke memorable moments by award winning Charleston artist, Martha Sharp. The exhibition entitled, Epicurean Delights: New Works by Martha Sharp, will be on view from Nov. 7-29, 2003.
"This past year I have focused significant time on figurative works. This show, a culmination of my figurative passion and still life interest, depicts what I feel are 'Epicurean Delights'. These paintings portray this theme through thick brushstrokes, varied uses of color, and my emotional response to the subjects. Experience this Collection," says Sharp.
Until recently, the subject matter of her work centered on the Coastal Carolina area, with its lush and richly hued waterways, wetlands and estuaries. But with her recent travels to Italy, France England and Scotland, she has begun to shift the focus of her art to other settings and locals. Sharp says this of her painting, "The real essence to my work is making an emotional statement of some type. I've been really concentrating with my brushwork to communicate through color".
Sharp now strives to reveal the implicit narrative found within captured scenes, peopled by figures momentarily caught in their daily activities. She paints with an adventurous brush, responding to her world, saturating it with pigment and light.

Sharp relocated from Charlotte, NC, to Charleston in the early nineties with her husband Nugent because "We loved all the things that you can do in Charleston, golf, the arts, especially the restaurants, and also because it is not a large city. We just wanted an elegant place to be."
For more information check our SC Commercial Gallery listings, call the gallery at 843/577-7100, or on the web at (www.thewolfgallery.com).

[ | Nov03 | Feature Articles | Gallery Listings | Home | ]

Carolina Arts is published monthly by Shoestring Publishing Company, a subsidiary of PSMG, Inc.
Copyright© 2003 by PSMG, Inc., which published Charleston Arts from July 1987 - Dec. 1994 and South Carolina Arts from Jan. 1995 - Dec. 1996. It also publishes Carolina Arts Online, Copyright© 2003 by PSMG, Inc. All rights reserved by PSMG, Inc. or by the authors of articles. Reproduction or use without written permission is strictly prohibited. Carolina Arts is available throughout North & South Carolina.