Feature Articles


For more information about this article or gallery, please call the gallery phone number listed in the last line of the article, "For more info..."

November Issue 2004
Gibbes Museum of Art in Charleston, SC, Presents Works by William Dunlap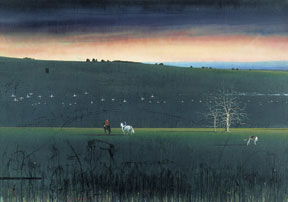 The Gibbes Museum of Art in Charleston, SC, is presenting the exhibition, Panoroma of the American Landscape, on view through Jan. 9, 2004. Originally commissioned for installation in the rotunda of the Corcoran Gallery of Art in Washington, DC, this landmark exhibition by American artist William Dunlap is comprised of fourteen distinct canvases, which together read as a large-scale narrative painting with multiple levels of meaning. On view in the round as it was originally conceived, the exhibition is on view in Rotunda Gallery of the Gibbes Museum of Art.
"We are absolutely thrilled to present, for the first time, this tour de force in painting to the community of South Carolina," states Betsy Fleming, Executive Director of the Gibbes Museum of Art. "A Southern by birth, Bill Dunlap is among the preeminent American painters working today. Anyone interested in contemporary culture and how American values may be expressed through painting will find this exhibition visually exciting and provocative. Since its debut at the Corcoran in 1985, Panorama of the American Landscape has toured the United States with installations at The Aspen Museum of Art in Colorado, the Sherry French Gallery in New York and the Southeastern Center for Contemporary Art (SECCA) in Winston-Salem, NC. It is a fitting moment for its premier showing in South Carolina. In addition, its cycloramic installation in the Gibbes Rotunda promises our visitors a fresh art-viewing experience."
From the beginning of his artistic career, Dunlap has both explored recurrent themes in the history of American art and invented an evolving repertory of personal, often autobiographical, images and subjects. Panorama of the American Landscape draws from history and memory. Dunlap uses the Blue Ridge Mountains of Virginia and Maryland as a backdrop for his commentary on contemporary culture and conflict. With its layers of meaning and multitude of stories, Panorama of the American Landscape explores the landscape of the South. The cyclorama includes a homage to the Civil War battlefield of Antietam, provocative images of animals, both living and plundered, haunting, mysterious architectural renderings, and a series of numbers and symbols that function on literal and allegorical levels.
A native of Webster County, MS, Dunlap (American, b. 1944) attended Mississippi College and received an MFA from the University of Mississippi, Oxford in 1969. He has co-curated several important exhibitions through Meridian International Center in Washington, DC. In addition to his extraordinary accomplishments as an artist, he serves as arts commentator on the Public Broadcasting Systems's program Around Town, produced by WETA-TV in Washington, DC.

Dunlap's work is part of some of the most prestigious collections in the United States and abroad, including the Metropolitan Museum of Art, Corcoran Gallery of Art, IBM Corporation and The Equitable Collection. He is the recipient of numerous awards and fellowships from the Rockefeller Foundation, the Lila Wallace/Reader's Digest Foundation, the Andy Warhol Foundation and the Southeastern Center for Contemporary Art. An inspiring speaker and lecturer on art related subjects, Dunlap has taught at Appalachian State University in NC and Memphis State University. He currently maintains studios in McLean, VA, Mathiston, MS, and Coral Gables, FL. Dunlap currently is working on an exhibition of contemporary Cuban painting.
This exhibition is made possible through the generous support of Mr. and Mrs. Thomas Waring and Gibbes, Etc. Additional media support provided by CHARLESTON magazine.
For further information check our SC Institutional Gallery listings, call the Museum at 843/722.2706 or at (www.gibbesmuseum.org).


[ | Nov'04 | Feature Articles | Gallery Listings | Home | ]


Carolina Arts is published monthly by Shoestring Publishing Company, a subsidiary of PSMG, Inc. Copyright© 2004 by PSMG, Inc., which published Charleston Arts from July 1987 - Dec. 1994 and South Carolina Arts from Jan. 1995 - Dec. 1996. It also publishes Carolina Arts Online, Copyright© 2004 by PSMG, Inc. All rights reserved by PSMG, Inc. or by the authors of articles. Reproduction or use without written permission is strictly prohibited. Carolina Arts is available throughout North & South Carolina.