Feature Articles


For more information about this article or gallery, please call the gallery phone number listed in the last line of the article, "For more info..."
November Issue 2005
Eva Carter Gallery in Charleston, SC, Offers Major Abstract Exhibition
From Nov. 4 through Dec. 4, 2005, Eva Carter Gallery will be the place for art lovers and collectors to experience artwork beyond the expectations of Charleston, SC, in the exhibition, ABSTRACT x 6. Elaborating on themes of abstract art through various media, six artists comprise this season's premier contemporary exhibition: Brian Rutenberg, Michael Tyzack, William Halsey, Corrie McCallum, Gene Speer, and Eva Carter.
With dedication to individual imagery and inspiration, each artist creates abstractions that visually communicate emotions and tangible forces. The artists describe the power of color through diverse media: oil on linen and canvas, acrylic and graphite collages on watercolor paper, mixed media constructions on wood, monotypes and woodblock prints on paper.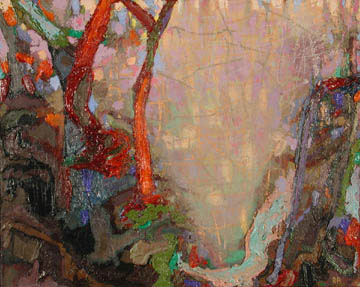 Brian Rutenberg
Brian Rutenberg, selected by Arts & Antiques as a top American painter to be collected, is a native South Carolinian and College of Charleston graduate. The inspiration for Rutenberg's intensely colored, abstracted landscapes can be traced back to his fascination with the unique quality of light found on the Lowcountry coast. According to the artist: "Especially inspiring is that point when the land meets the water and, for a moment, the two become blurred." Rutenberg's unique interpretations of nature reveal a fanatical love of paint: deep, physical brushstrokes cut through glowing translucent layers. His work is featured in numerous public and corporate collections. In March of 2006, South Carolina State Museum in Columbia, SC, will host an exhibition of Brian Rutenberg's work.
Michael Tyzack
Michael Tyzack, known for his spatially suggestive, diamond-shaped color field paintings, will be presenting new work on an intimate scale. Using several tones of one color, often white or black, Tyzack constructs "surface drama," compositions that are optically playful. Spanning 5 decades and 15 countries, the work of Tyzack has earned a place in museums and public collections as well as in history books. Born in Sheffield, England, Tyzack, who has made Charleston his home for the last 30 years, is Professor Emeritus of the Department of Studio Art, College of Charleston.
William Halsey
"The Dean of Abstract Art in South Carolina," William Halsey, exhibited nationally while remaining an integral part of the arts in his hometown of Charleston. His legacy continues to be elicited in the South and beyond. For many years, Halsey was represented at Bertha Schaefer Gallery in New York City and included in shows at Metropolitan Museum of Art, Whitney Museum of American Art and Chicago Art Institute. Halsey left an indelible mark on Charleston by establishing the Studio Art program at the College of Charleston and serving as assistant professor and artist-in-residence at the College for nearly twenty years.

Using collage and textural elements in his own distinct style, Halsey's work calls to mind the artistry of fellow Abstract Expressionists: Jackson Pollock, Mark Rothko, and Willem de Kooning. Eva Carter Gallery will be unveiling rarely seen works for this exhibit, selected directly from his Fulton Street studio.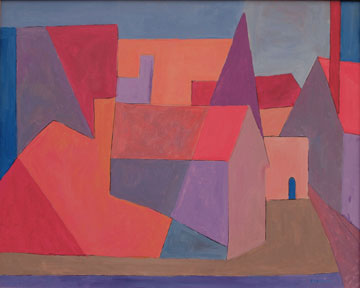 Corrie McCallum
Painter-printmaker Corrie McCallum exposes the sensual nature of her chosen materials. The work, from organic, layered block-prints to acrylic abstractions, suggests sublime moments in nature as well as the colorful geometry of city-life. In addition to the beautiful sites of her home state of South Carolina, McCallum draws much of her inspiration from her solo travels around the world.

Also an educator, McCallum was the Curator of Art Education at the Gibbes Museum of Art, established the fine art print department at College of Charleston, and helped to found the Guild of South Carolina Artists and the Charleston Art School. Corrie McCallum and William Halsey, recently honored in a retrospective show at South Carolina State Museum, have both been awarded the prestigious Elizabeth O'Neill Verner Award for Lifetime achievement, South Carolina's highest award for the arts.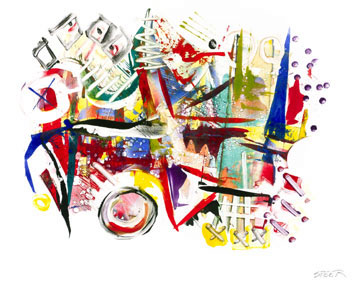 Gene Speer
Gene Speer illustrates a love of color in his multi-layered, glowing monotypes. Starting with yellow and amber hues, he creates a light source that permeates through varied translucent inks. The immediate image and the physical process of printing provide the opportunity for creative spontaneity and playful invention.
Speer's nationally award-winning works are in private and corporate collections across the Southeast. As Professor and Master Printmaker at the University of South Carolina Department of Art Atelier, Speer works with internationally recognized artists in the creation of limited edition prints.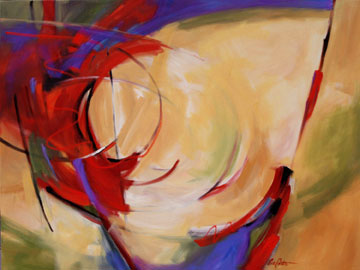 Eva Carter
Utilizing Abstract Expressionism, Eva Carter has combined her experiences in the American Southwest, the mountains of Tennessee and those from the Lowcountry of South Carolina to produce a cohesive, powerful body of work often based on nature and natural phenomena. "I am using color and form to produce an abstracted presence of space, mood and light. My work is not indicative of any specific place or thing, but an attempt to communicate an emotional and spiritual response to that experience."
Nationally known and collected, the work of Eva Carter can be seen in museum and corporate collections as well as Marion Meyer Contemporary Art, Laguna Beach, CA, and Joyce Robins Gallery, Santa Fe, NM.
For eight years, Eva Carter Gallery, the peninsula's foremost space for non-objective art, has played a key role in developing Charleston as a fine arts destination.

For further information check our SC Commercial Gallery listings, call the gallery at 843/722-0506 or at (www.evacartergallery.com).


[ | Nov'05 | Feature Articles | Gallery Listings | Home | ]
Carolina Arts is published monthly by Shoestring Publishing Company, a subsidiary of PSMG, Inc.
Copyright© 2005 by PSMG, Inc., which published Charleston Arts from July 1987 - Dec. 1994 and South Carolina Arts from Jan. 1995 - Dec. 1996. It also publishes Carolina Arts Online, Copyright© 2005 by PSMG, Inc. All rights reserved by PSMG, Inc. or by the authors of articles. Reproduction or use without written permission is strictly prohibited. Carolina Arts is available throughout North & South Carolina.