Feature Articles


For more information about this article or gallery, please call the gallery phone number listed in the last line of the article, "For more info..."
November Issue 2010

Artspace in Raleigh, NC, Features Works by Lisa M. Stroud and David Garratt
Artspace in Raleigh, NC, is presenting several new exhibits including: Departures, featuring works by Lisa M. Stroud, on view in the Lobby from Nov. 5 - 27, 2010 and Perpetual Perception, featuring works by David Garratt, on view in Gallery 1 through Nov. 20, 2010.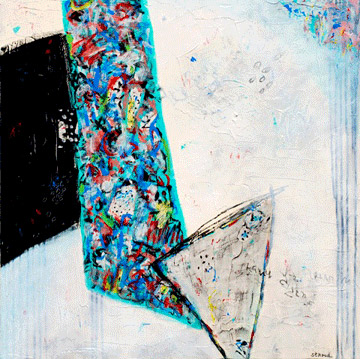 Lisa M. Stroud
Like most artists, at some mile marker in their careers, Lisa Stroud began to stretch for the "what's next" in her journey about a year ago. Thus began a struggle against what had come to feel safe and comfortable in favor of new ways of seeing. A search for more depth. More mystery. More freedom in her work.
While this series, Departures, documents her personal passage in the art world, it can easily double as a metaphor for life. "Sometimes," she notes, "it takes this kind of challenge and subsequent struggle to find a more fulfilling pathway."
Full-time artist Stroud, primarily self-taught, has an extensive background in writing that heavily influences her mixed media paintings. She is always looking for the story - whether it is hers or someone else's. Stories told in paint on canvas. Her work has hung in both local and national exhibitions and named as a Finalist in the Abstract/Experimental category by The Artist's Magazine this year.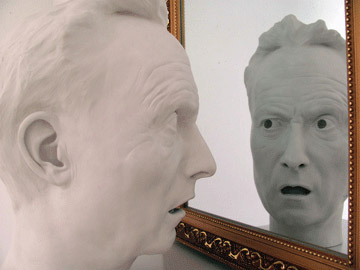 David Garratt
David Garratt's first foray with fired clay heads was in the 9th grade, when he made a bust of Caesar for his Latin class. The realistic nature of Garratt's work often leads viewers to believe that his works are made from plaster-cast molds, however, each work is hand-sculpted. The artist does not make preliminary sketches or drawings; he relies on his own observation from life. Garratt is attentive to expressions, and through his work investigates how to convey emotions in his sculpture.
Primarily self-taught, Garratt's work has been exhibited widely including solo exhibitions at The Clay Studio, Philadelphia, PA, and Pittsburgh Center for the Arts and others. He was a semi-finalist for the Outwin Boochever Portrait competition, National Gallery of Art, Washington, DC, and received honorable mention at the Incheon World Ceramic Biennale, Incheon, Korea. He has been awarded a Pennsylvania Partners in the Arts grant,an HK Mellon/Pittsburgh Foundation grant (both 2001) and has twice been a finalist for the prestigious Adolph Gottlieb Foundation grant (2008, 2010). The Cultural Magistrate of Salzburg, Austria, awarded Garratt a residency at Kunstlerhaus in 2007. He and his wife, Barbara Bernstein, are currently the Resident Artists of the Virginia Center for the Creative Arts, Amherst, VA.
Artspace, a thriving visual art center located in downtown Raleigh, brings the creative process to life through inspiring and engaging education and community outreach programming, a dynamic environment of over 30 professional artists studios, and nationally acclaimed exhibitions. Approximately 95 artists hold professional memberships in the Artspace Artists Association. Thirty-five of these artists have studios located at Artspace. Artspace is supported by the North Carolina Arts Council, the United Arts Council of Raleigh and Wake County, the Raleigh Arts Commission, individuals, corporations, and private foundations.
For further information check our NC Institutional Gallery listings, call the center at 919/821-2787 or visit (www.artspacenc.org).
[ | November 2010 | Feature Articles | Carolina Arts Unleashed | Gallery Listings | Home | ]
Carolina Arts is published monthly by Shoestring Publishing Company, a subsidiary of PSMG, Inc. Copyright© 2010 by PSMG, Inc., which published Charleston Arts from July 1987 - Dec. 1994 and South Carolina Arts from Jan. 1995 - Dec. 1996. It also publishes Carolina Arts Online, Copyright© 2010 by PSMG, Inc. All rights reserved by PSMG, Inc. or by the authors of articles. Reproduction or use without written permission is strictly prohibited. Carolina Arts is available throughout North & South Carolina.